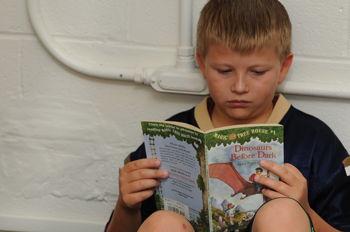 One of our most frequently asked questions is… "My child is growing tired of or has finished all of the Magic Tree House book series. What else can you recommend?"
Some of the book series that are similar to the Magic Tree House in reading level and theme include…
A to Z Mysteries by Ron Roy
Three friends and their assorted pets and siblings, help their local police officer solve mysteries around town.
Cam Jansen Mysteries by David Adler
Cam Jansen uses her photographic memory as she and her best friend, Eric, solve cases.
The Fairy-tale Detectives: Sisters Grimm by Michael Buckley
Two orphan sisters go to live with their grandmother in a town that is filled with fairy-tale beings.
Flashback Four by Dan Gutman
An enigmatic billionaire chooses four children to travel back through time and take photographs of important historical events.
Flat Stanley by various authors including Sara Pennypacker and Josh Greenhut
After an unlikely mishap, Stanley Lambchop is squashed flat. He goes on many adventures throughout the United States and the rest of the world which are made possible by his flattened state.
Jigsaw Jones Mysteries by James Preller
Jigsaw Jones is a second grader who, along with his fellow detective, Mila Yeh, solves mysteries.
The Left Behinds by David Potter
Mel's iPhone sends him back in time to stop the course of history from changing.
The Spiderwick Chronicles by Tony DiTerlizzi and Holly Black
The Grace children move into the Spiderwick Estate and learn that it is actually inhabited by fairies.
The Time Warp Trio by Jon Scieszka
Three friends are transported by the Book to different times and places.
The Treasure Chest by Ann Hood
Maisie and Felix learn about their family history through historical figures as they go back in time.
My Weird School by Dan Gutman
Hilarious events abound for A.J. and his friends at Ella Mentry School.
The Zack Files by Dan Greenburg
Three friends help Zack survive his paranormal adventures.
— Recommended by Sarah D., Programming Assistant
Photo credit: Penn State