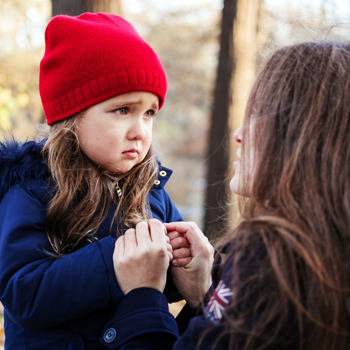 When your child has a loss in their life, having resources to start a conversation with them can be difficult. This can be especially trying if you are also going through a loss. Typically, speaking about loss directly, with realistic words, is best. Not using imaginary situations will help your child confront the loss. Sending a dog to the "farm" will not help the child deal with that pet's death in a healthy manner. A child can go through the stages of grief in a natural way, and it will allow them to handle it better when they get older.
From death, to changing of a life situation, there are many books that can help you start the conversation and the healing process.
When a Pet Dies by Fred Rogers
This book, written by the incomparable Fred Rogers, helps children share their feelings about the death of a pet. A reassuring book that grieving is a natural and healthy thing to do.
The Goodbye Book by Todd Parr
This accessible story about saying goodbye tells the tale through the eyes of a fish who has lost their companion.
The Tenth Good Thing About Barney by Judith Viorst
This comforting book about loss of a pet has ideas on how to honor the memory of the lost companion from the viewpoint of a small child.
Bug in a Vacuum by Mélanie Watt
A bug trapped in a vacuum explores the stages of grief, concluding with coming to terms with their fate.
The Dead Bird by Margaret Wise Brown
This book helps children dealing with death in the world and understanding that life goes on even after a sad loss.
The Funeral by Matt James
A family attends the funeral of a family member, and the ceremony and ritual of a funeral is explored, helping a child understand how a loved one is remembered.
Zayde Comes to Live by Sheri Sinykin
This simple story is about a young girl dealing with the impending death of her grandfather, who has come home to finish his life.
Badger's Parting Gifts by Susan Varley
Woodland creatures, grieving over the loss of their friend Badger, reminisce about the memories he left them.
When my own child went through a loss, I found these tips from Psychology Today and Parents to be helpful when communicating with my child.
–– Recommended by Dawn M., Programming Assistant