Maybe you just got home from a long day of work, and once again, you find yourself settled in for a night of endless scrolling through the Netflix queue. I'm not judging, I'm doing the same exact thing! Then a thought strikes you: "Why don't we crack open the ol' game cupboard?"
Sitting in front of you are dust-encrusted Scrabble, Life, Yahtzee, and Monopoly. Don't get me wrong, I love playing Monopoly as much as the next person. Who doesn't love becoming an unbeatable corporate juggernaut and absolutely demolishing Grandma, even if your Mom says you "ruined Thanksgiving" for the "third year in a row?" (Fun Fact: Monopoly was originally designed as a game to warn against the dangers of income inequality and corporate greed! Check out The Monopolists by Mary Pilon for an interesting history of the game. Another Fun Fact: We're all playing it wrong! You're supposed to auction off the property to all players if the person landing on it doesn't want it. I've literally just saved you hours of your time and saved your relationship with your brother-in-law!) While all of those games are still a treat to play, sometimes it's fun to try something new!
We are living in a golden age of tabletop games. Because there is such a wealth of games on the market, with only more and more being invented every day, it is hard to know how to break into this new era of games. The library is here for you! Here are some suggestions for games to try that you can borrow from your local library: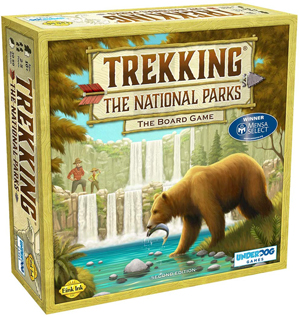 Trekking the National Parks is a great stepping stone from your classic board games to some of the newer, funkier games. Players race around the country stopping at National Parks along the way to gather items while learning about the parks. Just like when you are planning a vacation with a group of your friends, you will need tactical precision to plan your route for your own ultimate personal gains.
Short and Sweet
Players: 2-5
Time: Depends on amount of players. Not many, around an hour. A bunch, probably 30 minutes.
Difficulty: A breeze
Ages: 10+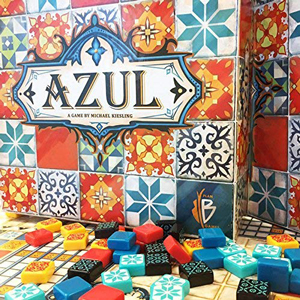 The premise of Azul is that you are a tile-laying artist working in a Portuguese palace. The set-up of the game is quick and the rules are easily digestible. Players take turns choosing tiles to place on their board. At the end of each round, points are tallied based on the patterns and completed sets you have created. The artwork and tile-design in this game are stunning, and while this doesn't necessarily add to the game, it certainly will keep you coming back to play again. I also cannot recommend highly enough the click-clacking sound the tiles make when bounced off each other.
Short and Sweet
Players: 2-4
Time: Around 30 minutes.
Difficulty: Can be learned in a jiffy.
Ages: 8+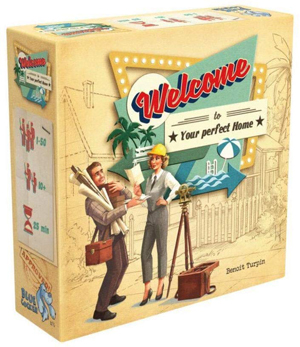 Do you ever drive through Levittown and think, "I could have designed this better?" Well, now is your chance to prove it! Welcome to Your Perfect Home (while not necessarily the catchiest title) is an immensely enjoyable game with a potentially limitless number of players. You are given a sheet with an empty grid of houses, and then, based on communal cards, have to decide where to put houses, parks, and pools to design the perfect suburban development. You race against other players to complete your development, while also attempting to rack up the most points.
Short and Sweet
Players: 1-100!
Time: 20ish minutes.
Difficulty: Will pick it up quickly through play.
Ages: 10+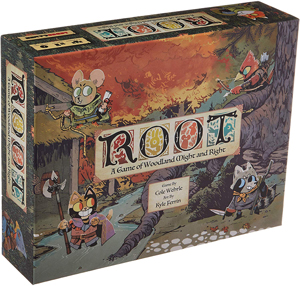 Root is a brutal war game hiding behind the guise of adorable woodland critters. Don't be fooled, though. You will need to be a bloodthirsty creature in order to take control of this wilderness. Each player in Root is in control of a different faction, such as The Vagabond (a raccoon) or army of the Marquise de Cat (shockingly, cats). Each faction has a different way to play the game and different conditions to win. Please be aware that this game can be difficult to learn. It contains three separate rules guides, and due to its asymmetric design, you may only be able to understand the rules of all the factions by completing a few play-throughs. That being said, once you do understand the basics, this is a delight of a game that will keep you coming back to play some more!
Short and Sweet
Players: 2-4
Time: The game itself only takes about an hour, but learning the rules is a time investment.
Difficulty: Buckle up.
Ages: Game recommends 10+. I think 12+ is more likely to understand.
Forbidden Series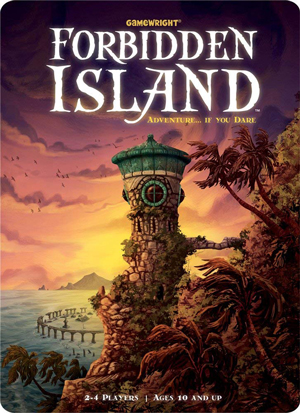 After bitterly crushing all of your loved ones in the games listed above, you decide it's time to rebuild these now-tenuous relationships. And what better way than through a cooperative game! Or rather, an entire series of games! The Forbidden game series consists of three games: Forbidden Island, Forbidden Desert, and Forbidden Sky. All three have a similar premise: you are stuck in a place that is trying to kill you, so you all need to work together to gather parts to build some sort of vehicle to help you escape. You each play as an adventurer with a set of skills specific to your job. For added stress, the board is constantly moving/being buried/sinking/being electrocuted. Give one of them a try to find out if you'll like the whole series!
Short and Sweet
Players: Varies.
Time: Maybe an hour.
Difficulty: If you understand one, you'll pick the others up quickly.
Ages: 10+
Now go forth, and ruin all of your holidays with family and friends!
Looking for more new games? Check out The Everything Tabletop Games Book.
Interested in the history and psychology of board games? Check out It's All A Game by Tristan Donovan.
See all board games in our collection.
— Alicia E., Special Services Clerk, Doylestown