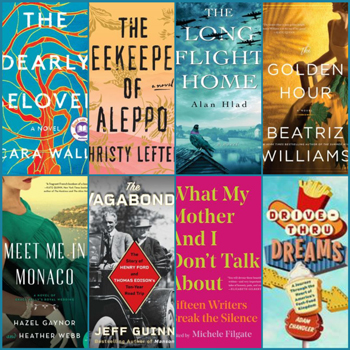 These eight books will keep you entertained with fictional stories based on real life people and events and tales about the relationships between mothers and children and the origins of road trips and fast food.
FICTION
The Dearly Beloved by Cara Wall
It's 1963 and two men interview for the position of minister of a Presbyterian church in Greenwich Village. In a surprise move, the church hires them both to be co-ministers. With this move, the lives of James and Charles and their wives become inextricably and permanently intertwined.
Charles always assumed that he would follow in his father's academic footsteps. But, as a history major, he is caught off guard by two seismic events. He realizes he wants to be a minister for reasons he can't explain and he meets and falls in love with Lily, a brilliant, reserved orphan studying at Radcliffe. She lets Charles know right from the beginning that she can never believe in God. Charles convinces her to build a life with him knowing that she will always stand resolutely apart from his faith.
James is the son of a drunken father and a worried mother and has barely thought about God at all. Then a distant uncle offers him a chance to go to college and escape his bleak Chicago neighborhood. He grows impatient with abstract philosophy and rhetoric and moves toward the church as a way to confront the injustices he sees in the world. He meets Nan, the daughter of a Southern minister. They fall in love and marry.
This is a story not about religion but about faith in all its manifestations. James and Charles hold very different thoughts on faith, and with that the role of God in their lives and the nature of their roles as stewards of God. As the church, historically comfortable, white and middle-class, struggles to adapt to the turbulent '60s, its two young ministers must adjust to their new jobs, their joint responsibilities, and each other. It's also a story that examines the relationships among all four of the main characters. At the end of the book, they have all become people "who had loved and hoped and worked and lost and failed and made amends."
This is a debut novel from an author to watch.
The Beekeeper of Aleppo by Christy Lefteri
After covering thousands of miles against all odds, few things are as nerve-wracking as the wait to see if you will be granted refugee status or put on a plane and sent back to the country you fled in fear of your life. This is the story of two Syrian refugees, Nuri, a beekeeper, and his wife Afra, forced to flee Syria where Afra, an artist, has been blinded during an incident during the war. The war also has claimed the life of their young son. Although they have remained in their homeland long after everyone else has fled the atrocities, they finally decide to seek asylum in Britain after soldiers try to recruit Nuri.
The novel follows Nuri and Afra as they undertake the perilous journey to the UK, where Nuri hopes to meet up with his cousin and best friend, Mustafa, and re-establish the beekeeping business they had in Aleppo. They travel through harsh conditions in Turkey and Greece, waiting in camps for the proper paperwork, and meeting more refugees along the way. Along the way, Nuri becomes the guardian of Mohammed, a lost boy about the same age as his son.
Ledteri knows first-hand what she writes. She is the daughter of refugees from Cyprus in the 1970s, and she also worked in a refugee center in Athens for several years. She knows that by the time people reach the stage of preparing documentation for their case, they've been through so much that they barely know how much is left of the person they once were.
"The Beekeeper of Aleppo is a relevant, timely book, but impresses most as a compassionate and truthful character study. It's a remarkable account of the dislocation endured by displaced persons across the world, an important and necessary novel that humanizes the dispossessed who are all too often demonized." — Alastair Mabbott
The Long Flight Home by Alan Hlad
With the 75th anniversary of D-Day being celebrated this year, there has been no shortage of newly-published fiction and nonfiction books dealing with WWII. This book is fiction but it deals with an aspect of the war that none of the other books do. Set in England during the Blitz (fall of 1940 through spring of 1941), when German aircraft nightly bombed British cities and infrastructure, the novel deals, not with planes but with homing pigeons. Messenger pigeons played an important part in WWI and their presence continued into WWII, especially in support of the British war effort.
On the outskirts of London, Susan Shepherd helps her grandfather fly their homing pigeons. Meanwhile, Ollie Evans leaves his home in Maine and heads for Britain in the hopes of becoming an RAF pilot and supporting Britain in the war effort against Germany. Ollie ends up fighting in northern France, and Susan becomes involved in Source Columbia, the real life intelligence operation that featured the air-drop of hundreds of homing pigeons in occupied France. Flying across the channel, pigeons were able to provide intelligence that was not available any other way.
Ollie and Susan meet through her pigeons and are able to stay in touch with each other and forge a bond, but due to a series of accidents and misunderstandings, each comes to believe that the other has become a casualty of war.
This well-researched story is inspired by an actual discovery, reported in newspapers more than fifty years after the war, of the discovery of a skeleton of a homing pigeon carrying a still-legible coded message. The novel presents a wealth of period detail. The carnage caused by the random bombing of civilian areas as well as the bravery of many citizens, along with their non-human companions are vividly portrayed. This story will speak to romance readers, WWII buffs animal advocates, and anyone who enjoys discovering quirky details that are so often hidden in history.
The Golden Hour by Beatriz Williams
Although the novel takes place during WWII, it is not the usual WWII novel. In 1941 Lenore "Lulu" Randolph, a budding journalist, sets off for the Bahamas to write a society column about the new governor of the Bahamas and his wife, the Duke and Duchess of Windsor. Lulu has ambitions of exposing the nefarious doings of the pair, suspected of being Nazi sympathizers.
On the flight to the island, Lulu meets Benedict Thorpe who introduces himself as a botanist. She suspects that he is something other than a botanist when he uses some martial arts skills to subdue a rowdy passenger. They fall in love and marry. Indeed, Benedict proves to be a British undercover agent as well as a botanist and is later captured by the Nazis in Europe. The book opens with Lulu in London working to free him.
In a second story line, set in 1900, a young German baroness, Elfriede von Kleist, falls in love with Englishman Wilfred Thorpe at a Swiss clinic. Their relationship takes many twists and turns throughout Wilfred's military career and includes betrayal and two deaths.
Past and present come together when a very complicated family history becomes known. Throughout the novel, the relationships of the two women and their Thorpe men have many ups and downs that parallel each other, but the stories of the two women remain distinct, and they face their obstacles in vastly different ways.
"Williams … illuminates the story with exotic locales and bygone ambience, and seduces with the irresistible Windsors. Readers will appreciate the wartime espionage that keeps the suspense high." — Publishers Weekly
Meet Me in Monaco: A Novel of Grace Kelly's Royal Wedding by Hazel Gaynor and Heather Webb
If the Duke and Duchess of Windsor aren't enough royalty for you, maybe a royal love story closer to home will hit the spot. This novel is another successful collaboration between Gaynor and Webb ("Last Christmas in Paris") set at the time of Philadelphian Grace Kelly's wedding to Prince Rainier of Monaco in 1956.
In 1955, James Henderson is a tabloid photographer, divorced and uncertain of his parenting skills to his young daughter. He has missed a red-carpet opportunity of photographing Grace at the Cannes Film Festival and chases her into a small perfume shop hoping to get the elusive photograph. Sophie Duval is a parfuemeur, whose livelihood is on the brink of bankruptcy. Sophie hides Grace, resulting in a life-long friendship between the women, while James has to be content to leave with Sophie's business card.
The following year James is invited to accompany the Kelly wedding party on the voyage of the SS Constitution to Monaco. But he hasn't been able to forget Sophie. Sophie has been invited to the wedding to make Grace a signature fragrance. When she and James meet again at the wedding, there is an attraction between them and love is in the air. But, the course of true love doesn't run smoothly, and the relationship is fraught with wedding fever, passions, betrayals, and tempers. James and Sophie, like Grace, must decide what they are willing to give up for love.
"Gaynor and Webb make history come alive with a beautifully crafted and expertly paced story of one of history's most celebrated stars. Their artful blend of history and imagination is a deeply satisfying tale of love and friendship, and a reminder of the power of second chances to determine our fate." — Carol Gladstein, Booklist
NONFICTION
The Vagabonds: The Story of Henry Ford and Thomas Edison's Ten-year Road Trip by Jeff Guinn
Henry Ford and Thomas Edison, road-tripping buddies! Who knew that today's road trip was popularized by an odd-ball, semi-vacation indulged in by two of the 20th century's most famous inventors? Inspired by a 1915 drive from Los Angeles to San Diego, Ford and Edison decided to take summer driving trips together, and for the next decade they did exactly that. Many of these trips also sometimes included tire magnate Harvey Firestone and naturalist John Burroughs.
Roads were terrible. Accommodations for motorists were nonexistent. Food? Pack a picnic hamper. Beds? Be sure to bring a tent. Breakdowns were frequent. Imagine Henry Ford, a Captain of Industry, having to borrow tools on the road to repair their fleet of cars himself. Gasoline was sold by the bucket. And facing an acute parking crisis, towns all across America ripped out the trees that lined their main streets and replaced them with pavement.
Guinn does point out that these trips were undertaken with an eye toward publicity. The men were followed by the press in a fleet of cars, and they were visited by two Presidents while on these trips, Warren Harding and Calvin Coolidge. But these famous millionaires wanted to "demonstrate how much they had in common with other Americans" and wanted to join "their countrymen's burgeoning enthusiasm for gypsying in automobiles" or 'autocamping' as it was called by the press. Just ten years later, the now recognizable America of campgrounds, motels, diners, and gas stations was well underway.
The book is an offbeat, anecdote-filled mix of biography and travelogue, a fascinating slice of rarely considered American history. Recommended for social historians, travel and camping enthusiasts, naturalists, automotive specialists, and general readers.
What My Mother and I Don't Talk About: Fifteen Writers Break the Silence by Michele Filgate
A collection of essays by fifteen writers which all address the authors' relationships with their mothers. They form a fascinating set of reflections on what it is like to be a son or daughter. The strength of this anthology lies in the diversity of racial and socioeconomic backgrounds represented and in the experiences depicted, some loving, others abusive.
Some contributors are estranged from their mothers, others are extremely close. Leslie Jamison writes about trying to discover who her seemingly perfect mother was before she became a mom. In Cathi Hanauer's hilarious piece, she finally gets to have a conversation with her mother that isn't interrupted by her domineering (but lovable) father. Andre Aciman writes about what it was like to have a deaf mother.
As Filgate writes, "Our mothers are our first home, and that's why we're always trying to return to them." There's relief in breaking the silence.
Drive-Thru Dreams: A Journey through the Heart of America's Fast-Food Kingdom by Adam Chandler
A delicious read! Adam Chandler explores the inseparable link between fast food and American life for the past century. Eating fast food unites almost all Americans as well as many millions throughout the world. From White Castle, the first fast-food chain established in 1921 in Wichita, Kansas (opened as a reaction to Upton Sinclair's push for clean, industrialized dining) to the postwar sprawl of prosperous highway-linked suburbs, there is scarcely anyone who has not been through the 'drive-thru' at least once in his life.
Chandler reveals the complexities of this industry through anecdotes and fascinating trivia. He interviews everyone from fans and detractors, executives, sociologists, food critics, and workers. He explores regional identities of various chains; those popular in the West may be unheard of in the East. There is much about customer loyalty and fast food restaurants as meeting places. He takes an in-depth look at the founders of some of the companies, most of whom came from modest backgrounds, but who achieved astounding personal and financial successes through hard work, secret recipes and colorful personalities, despite setbacks that would have discouraged most others.
"This fun, argumentative, and frequently surprising pop history of American fast food will thrill and educate food lovers of all speeds." — Publishers Weekly
— recommended by Regina S., Collection Management Specialist