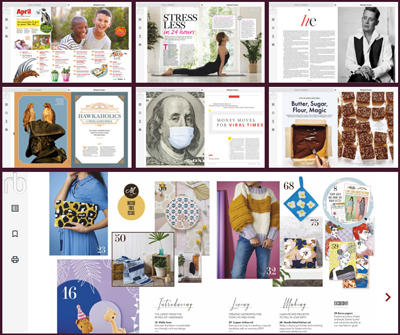 Digital magazines contain more than beautiful photos and easily digestible articles — they also contain interesting ideas and tips for ways that you and your family can pass the time, stress less, get creative, eat better, take up a new hobby, and just plain be entertained while you're staying at home.
Your library card gives you access to RB Digital, with a wide selection of digital magazines for adults and kids that you can access and read from anywhere.
Here are a few ways to use current issues of some of the eMagazines in our collection:
Keep the Kids Busy with Highlights
April's issue includes jokes, riddles, crafts, stories of Earth Day heroes, and more.
Read about vegan fitness, a perfect day of mindful exercise, how to sleep better, and more.
Catch Up with a Celebrity with Esquire
Fame is the name of the game in the current issue with features on Macauly Culkin, Elon Musk, and British film stars.
Get to Know Your Avian Neighbors with Bird Watching
Learn about birdwatching Philly-style.
Get tips on creative upcycling, DIY fashion skills, learn how to needle felt, and more.
Brownies, again? If you're stress baking, why not try something new: sticky buns, a different type of carrot cake, and a twist on that old favorite: chocolate chip cookies.
Stay informed with Newsweek
The focus of this weekly news magazine is, understandably, on Coronavirus with tips on protecting your money and a look at how scientists are racing for answers to alleviate the worst effects of the pandemic.
Head over to our e-library to download these magazines from RB Digital. One download is all it takes to make them yours forever.