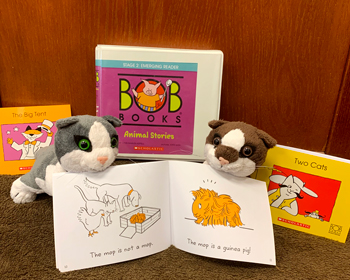 Check out a Bob Books set and begin your child's journey to reading books independently!
What are Bob Books?
Bob Books is a true first reader series, designed to make helping your child learn to read simple and straightforward. Bob Books foster success, confidence, and a love of books in children that are learning to read. Each Bob Books set is packaged with 12 books. Parents and teachers keep coming back to this series because the clean layout, short words, and simple phonics make learning to read a fun and natural step for children.
How Does it Work?
Bob Books are designed to give young children the tools to cross from learning letters to reading words. The award-winning beginning reader book sets start slowly and progress from books with three letter words, to books with more than one sentence per page. Because the books meet children at the right level, parents are often amazed at how quickly their child is able to sound out words when reading their first Bob Books.
How did Bob Books get their name?
Bob Books came about as a result of teacher Bobby Lynn Maslen's careful attention to the specific needs of children learning to read for the very first time. As a teacher, Bobby's work with 3 to 5 year-olds involved constant invention in art, math games, physical growth activities, and, of course, reading materials. When she didn't find books that she felt were the right fit for her young students, she created Bob Books. Her husband John Maslen and daughter Lynn Maslen Kertell are also involved with the creation of Bob Books. For more information on Bob Books, please visit their website.
Check out a Bob Books set from the Easy Reader section of the library today. The following sets are available in our catalog:
Reading Readiness
Stage 1: Starting to Read
Stage 2: Emerging Readers
Stage 3: Developing Readers
There are also Bob Books apps, based on the books, that will delight and surprise your youngster while teaching literacy skills.
— Kathleen L., Collection Management Librarian