It's our anniversary! The Bucks County Free Library turned 60 on October 16, and we're celebrating!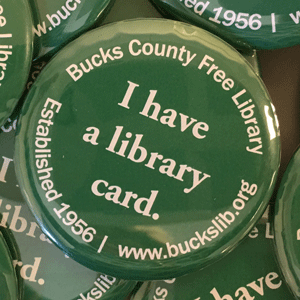 The Bucks County Free Library (BCFL) was established in 1956 by a resolution of the Board of County Commissioners who budgeted $30,000 for a centralized headquarters in Doylestown. Since that time, we've grown, along with the County; today we serve a population of more than 627,000 and have a collection of more than 977,500 items. Last year, patrons borrowed more than 2,554,000 physical items (books, DVDs, toys, music, etc.) from our branches.
A lot has changed in the past six decades, but what hasn't changed is how grateful we are for your support. If you have a library card, stop by your favorite branch, and let us give you a free "I Have a Library Card" pin. If you don't have a library card, come and get one, and we'll give you a pin!
Wear your pin proudly — like the kids below — and snap a photo and share it with us on Facebook, Instagram, or Twitter. Tag #BucksCountyFreeLibrary, and tell us how has the library has helped you.