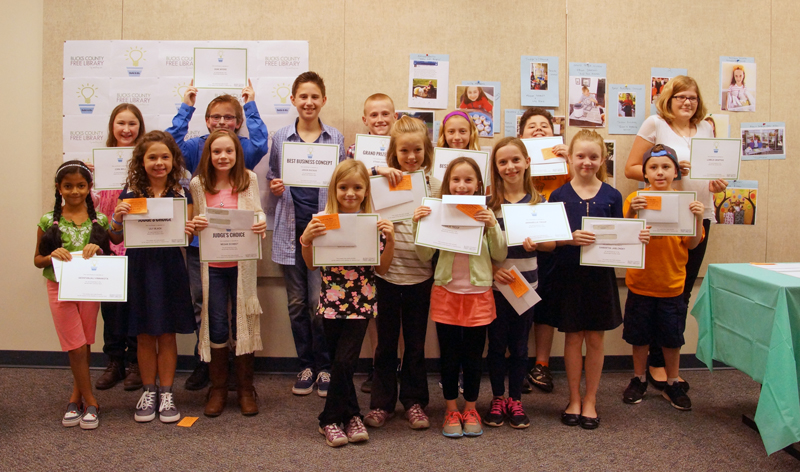 Congratulations to the winners of our Build-A-Biz contest. Winners were announced at a celebration that took place at our Yardley-Makefield Branch.
Grand Prize: Ethan Johnson from Red Dot Frames
Ethan decorated wooden frames that he sold at a stand outside of his grandmother's workplace. Ethan used flyers, posters, and social media to advertise his business. 25% of his earnings will be used to grow his business and the rest will go into a college savings accounts.
Best Business Concept: Jason Rackas from Jason's Watering Service
Jason watered his neighbor's yards and plants over the summer. To organize and plan for his business he created an email account, flyer, and pricing strategy. Part of his proceeds went to buy school supplies for children in need.
Best Marketing Plan: Christine and Samantha Jablonsky and Shannon Randall from Chic Boutique
Christine, Samantha, and Shannon designed handmade necklaces that they sold at a stand in front of Colonial Farms and McCaffrey's. The girls divided up responsibilities and tasks so everyone had a unique role in the business. Their profit was divided between saving for college and supporting animal shelters.
Judge's Choice: Megan Schmidt and Lily Black from Fruity Lemon
Megan and Lily set up a fruit salad and lemonade stand at the Bucks Club as a way to offer healthy snack options to customers. They donated all of their earnings to a food bank.
Congratulations to all participants!
Participants in Build-A-Biz came up with business ideas and put them into action over the summer. Entries were judged by the Yardley Business Association. Build-A-Biz is made possible with the support of the Hamilton G. Disbrow Trust.