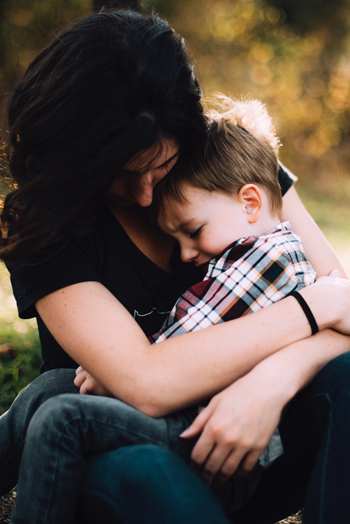 Have you ever seen your little one go from happy to sad to angry back to happy in a split second? Our little ones experience an array of emotions over the course of a day, just like we might. Even though we understand that emotions are a part of us, sometimes we find it hard to talk about them.
Books offer a great way to not only talk about the emotions we might be feeling, but also to explore other emotions through a safe and comforting medium. Below are some newer books that explore different emotions for our youngest of readers.
Fear
Be Brave like Batman by Laura Hitchcock — Follow along with our young main characters as they learn to overcome their fears of the dark with some superhero help!
Reader Note: Having familiar faces within a book (like superheroes) might help little ones connect into the story easier. It's also a great way to connect back to the story when your little one experiences some of the fears above in their daily life.
Me and my Fear by Francesca Sanna — A young girl moves to a new country and starts a new school. As she learns to share her fears, she begins to gain friendship and comfort.
Does Frankenstein Get Hungry? by John Solimine — Are you afraid of the monster under the bed? One little girl combats her fears by asking some important questions, like: Does Frankenstein get hungry?
Reader Note: The humorous tone to this story really adds to approaching this topic. Having something silly to read and point to helps ease the reader who might be nervous about monsters hiding under the bed.
No Swimming for Nelly by Valeri Gorbachev — Nelly loves her swimsuit! She wears it all day and while doing so many things, that is, except swimming! Grandma helps Nelly overcome her fear of swimming in this sweet story.
Anger and Frustration
I Do Not Like Books Anymore! by Daisy Hirst — Natalie loves books! She and her brother listen to them all the time or make up their own to tell. When Natalie gets her first book to start learning how to read, she declares: "I do not like books anymore!" Read along to see how Natalie works through her frustration to love books again.
Allie All Along by Sarah Lynne Reul — Allie's crayon breaks. Suddenly Allie is angry and bursting with emotion. Can her big brother find a way to make things right again? Follow along to see how Allie's anger and frustration plays out.
Reader Note: The illustrations in this book are great! The use of color and size of Allie throughout the book really help convey the emotions being portrayed. Sometimes associating colors with emotions is an easier way to approach the topic with little ones.
Grumpy Duck by Joyce Dunbar — Duck is in a grumpy mood. Animal friends come to cheer Duck up only to be left feeling grumpy too. What will it take to cheer everyone up?
Potato Pants! by Laurie Keller — Follow along with Potato as he goes shopping for pants during the one-day-only sale at Lance Vance's Fancy Pants Store. Before Potato can buy his pants; however, something…or someone one…is stopping him! Find out if Potato ever gets his pants in this entertaining story about misunderstandings and forgiveness! Oh, and Potato Pants!
Sadness
When Sadness is at Your Door by Eva Eland — In this story sadness takes on a shape, a face and a name. Eland treats this emotion like a visitor and encourages the reader to do the same in order to demystify and distinguish the emotion from ourselves. The simple illustrations offer up different activities to do with this emotion and invite readers to explore this emotion with their own impressions.
Sad, the Dog by Sandy Fussell — Animal lovers might find this story hard to read, but don't worry there is a happy ending! A little dog is left behind by his original owners. Heartbroken, the little dog names himself 'Sad.' When a new family arrives at the house, Sad is frightened. But the family's young boy might just be the new owner Sad has been looking for!
Grief from Loss
The Rabbit Listened by Cori Doerrfeld — Taylor experiences something terrible and doesn't know where to turn. All his animal friends suggest different ways to process his loss: talking, anger, etc. Nothing seems to be working, until rabbit does the one thing that Taylor needs.
The Rough Patch by Brian Lies — This book tackles a difficult concept for young readers: the death of a pet. In this story, Evan and his dog are best friends and do everything together, including working on their garden. One day, Evan's dog passes away. Evan is devastated and destroys his beloved garden. When something begins to grow back within the garden, Evan is drawn out of his misery and back where friendships await.
Grandmother's Visit by Betty Quan — Another hard topic to broach with young readers is the death of a grandparent. In Betty Quan's Grandmother's Visit, readers follow along with Grace as she experiences life with and without her grandmother.
Reader's Note: Quan does a great job showcasing the bond between Grace AND her Grandmother. The illustrations are beautiful and the storyline doesn't shy away from the changes that occur in Grace's daily life without her grandmother. It's easy to connect with Grace as her story will resonate with anyone who has lost a loved one.
Loneliness
The Adventures of Beekle the Unimaginary Friend by Dan Santat — Beekle lives on a magical island where imaginary friends are born. One after one his fellow imaginary friends are chosen by a real child. When Beekle is never chosen to be a friend, he sets out on an adventure to the city to find his perfect match!
Reader's Note: Beekle won the Caldecott Medal in 2015 for its beautiful illustrations, but it is its heartwarming story that makes it one of my favorites. While not everyone has experienced being the last one picked for a game or team, everyone has felt lonely at one point. Beekle offers a colorful and safe space to talk to your little one about loneliness and the knowledge that loneliness won't last forever.
The Invisible Boy by Trudy Ludwig — Like the story above, The Invisible Boy tells the story of a lonely boy who feels like nobody ever seems to notice him or include him. When a new boy, Justin, arrives in class, Brian is the first to make him feel welcome. Soon their new friendship blossoms and Brian doesn't feel so alone anymore. This sweet story showcases how small acts of kindness can make a difference in both parties' lives.
Lost and Found by Oliver Jeffers — A lost penguin shows up at a little boy's door. The boy searches all over to find where it came from. Eventually, the little boy rows the penguin out to his original home in the South Pole. But after all the time spent with the penguin, the little boy wonders if he did the right thing. A colorful and sometime humorous story, Jeffers brings readers a story about friendship found, lost, and found again.
Reader's Note: While this story focuses on friendship, it still offers the opportunity to talk about loneliness before a friendship and after a friendship. It's also a great story to talk about friendships we don't always think we need until we don't have them anymore.
Inclusion and Compassion
Mixed: a Colorful Story by Arree Chung — Three colors, Red, Blue, and Yellow, all live in harmony together. Until one day Red decides it is best that they should all separate. Then over time, one Yellow and one Blue decide that separate might not be the best way to live. Follow along to see how these two colors change the story for one colorful town!
Reader's Note: This story is one of my new favorites! Chung does a wonderful job introducing the topics of inclusion, tolerance, and embracing differences through color and story.
How Do You Do? by Larissa Theule — Buffalo and Crane spend their days upset that their field is dry, empty and hot. Then one day they hear something new! Goat dances with joy into Buffalo and Crane's life. Soon Buffalo and Crane are seeing a whole new world in their field. Theule introduces a colorful story that touches on how new perspectives can sometimes help change things for the better.
Everybody's Welcome by Patricia Hegarty — Frog's pond has dried up and he has nowhere to live. Luckily, Frog's friend Mouse is just starting to build a new house. Follow along as animals from all over join together to build a new place where everybody is welcome!
Reader's Note: Another new favorite of mine, this book offers a sweet story about lending a hand to those in need and offering a sense of welcome to everyone. The peek-through illustrations will keep little one engrossed as the story continues, as will the familiar forest animals. This would be a great first story on this topic.
Hedge Hog! by Ashlyn Anstee — Winter is coming and all the animals are in need of homes. Some animals pair up and share a space to live, but soon it's clear that they're all going to need a bigger place to stay. Meanwhile, Hedgehog isn't sharing his hedge with anyone. Will all the animals find a home before winter? Will Hedgehog change his mind?
Bitter and Sweet by Sandra V. Feder — Hannah's grandmother tells her that leaving the old country was both bitter and sweet. When Hannah has to move to a new town she remembers these words from her grandmother. At first all Hannah feels is bitter and she wonders if her grandmother was wrong about the sweetness. Then small moments begin to add up to some much wished for sweetness.
Happiness
Grow Happy by Jon Lasser — Kiko loves her garden. She shows readers how she takes care of the seeds and soil in her garden. Readers watch as she not only grows her garden, but also grows happiness.
Perfect Square by Michael Hall — Square begins as a perfect square—four equal sides and identical corners. Then things begin to happen to Square. Each time Square is greeted with new changes, Square adapts into new creations. Filled with bright colors, fun textures and few words, this book is sure to be a crowd pleaser!
Reader's Note: Michael Hall's book is great for introducing creativity and shapes. What I love about it is how readers can go deeper into the story and reflect on how perfect life doesn't always stay perfect, but life can still stay happy even with changes.
Happy! by Pharrell Williams — Williams' 2014 hit "Happy" was turned into this fun and colorful story. Combined with the lyrics to "Happy" are photos of children across cultures celebrating what it means to be happy.
The Fox on the Swing by Evelina Daciute — For a bit of a deeper read, try out The Fox on the Swing. Readers follow along with Paul who befriends a wise, friendly Fox. Fox gives Paul the space and opportunity to think about what make him happy.
Love and Friendship
Love by Stacy McAnulty — Join multiple characters as they show where you can find love in the everyday moments of life.
A Hug is for Holding Me by Lisa Wheeler — Readers explore the theme of love through different types of hugs found in the world. Some are tight and some are sung…but someone gives the best hugs!
Mango, Abuela, and Me by Meg Medina — Mia's abuela has moved in with her and her family in the city. Her abuela had to leave her home of sunshine, parrots and palm trees, and the change has been a bit hard. While Mia and her abuela adjust to the change, Mia helps her abuela learn English while her abuela teaches Mia some Spanish. This heartwarming tale introduces themes of patience, love and learning new things while highlighting the special bond between family members.
Want to Play Trucks? by Ann Stott — Jack sees Alex at the sandbox almost every morning. Jack loves trucks and Alex loves dolls, but Jack doesn't want to play dolls and Alex doesn't want to play trucks. Will these two characters find a game to play together or maybe even friendship?
Zola's Elephant by Randall de Sève — Zola moves into a new neighborhood, but her new neighbor is too shy to come over and introduce herself. So, Zola spends her time playing with her friend—Elephant! Will Zola's neighbor join her? Find out in this sweet tale about new friendships in new places.
Confidence and Self-Esteem
Wallpaper by Thao Lam — Through paper collage illustrations, Lam tells the story of one young girl who finds confidence in the magical imaginary world she creates for herself.
Elbow Grease by John Cena — Elbow Grease is the smallest monster truck of his four brothers. He wants to prove to his family that he can win the Demolition Derby. Read along to see if Elbow Grease claims a win in this fun story about never giving up!
Stardust by Jeanne Willis — Follow along with one little girl who dreams of being a star! Our main character wishes that she could be noticed and be the "star" of something, but her older sister always seems to snag the spotlight. Luckily, her grandad supports her and reminds her that everyone shines in their own way!
I am Helpful by Suzy Capozzi — For beginner readers, this story follows a young girl who gains confidence as she helps her parents with her new baby sister. This story is a part of the Positive Power series that focus on empowering kids both in life and in reading.
Mindfulness and Kindness
Quiet by Tomie dePaola — From popular author Tomie dePaola comes a story about being still and present with one another. In Quiet, readers follow along with two characters who decide to see what would happen if they just sat together and focused on the present moment.
Who Will I Be? by Abby Huntsman — Isabel's teacher asks her class what they want to be when they grow up. Isabel isn't so sure, until she realizes what she's good at is helping others—but can helping other really be a job? Find out as Isabel ponders this question and meets different community members in this positive and uplifting story.
My Heart by Corinna Luyken — Follow along with one young girl as she explores what her heart can be. From a window to a fence that keeps the world out, our hearts can be many things depending on our mood. Luyken's lyrical text and whimsical illustrations offer readers the opportunity to embrace and reflect on what our heart can do and be.
Reader's Note: This beautiful story has become another favorite. I loved how the author created the opportunity to talk about self-care through understanding one's own heart and emotions.
Try a Little Kindness by Henry Cole — Kindness is cool in this book! Readers are shown different ways they can be kind to others through different animals doing kind things like telling someone they're special!
All Emotions
Dealing with Feelings series by Courtney Carbone – Carbone, with Rodale Kids, has released a great beginner reader series focused on emotions. Filled with colorful illustrations and different stories, each book showcases an easy storyline that correlates to an emotion. This series is a great way to introduce a discussion on a particular emotion while also encouraging a young one to read. Books in the series include: This Makes Me Happy, This Makes Me Scared, This Makes Me Jealous, This Makes Me Silly, This Makes Me Angry, and This Makes Me Sad.
The Color Monster: A Story about Emotions by Anna Llenas — Color Monster wakes up one day feeling confused. His emotions are all over the place. A little girl helps him understand his emotions by showing him what his feelings mean through color. Will Color Monster be able to sort out all his emotions? Read to find out!
I Feel Teal by Lauren Rille — A young girl loves to paint. In this story, she explores feelings and emotions through color.
Reader's Note: What makes this lovely story standout are the unexpected color choices. While most stories focus on greens, blues, and reds, Rille introduces readers to colors like scarlet, jade, and, of course, teal!
— Recommended by Nicole S., Youth Services Librarian, Quakertown