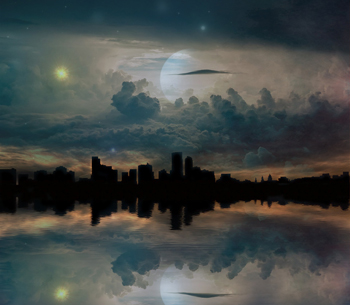 Urban Fantasy is where the story takes place in a world very similar to our own, usually in a city, with a fantasy layer. The hero could be a magic user or supernatural being. There could be werewolves, vampires, wizards, angels, or any kind of fantastical creatures. Each book usually involves a big mystery that creates conflict between these creatures and humans. There's usually a sprinkling of noir, because a magical city is still a city.
If you want your books to take you far away from the real world, you might like Urban Fantasy (where para is normal*).
Here is a list of Urban Fantasy series to get you started. We have listed the first novel in each series, and recommend you read a series from the beginning.
Moon Called by Patricia Briggs (Mercedes Thompson series): Mercedes is Volkswagen mechanic living in the Tri-Cities area of Washington. Her Native American heritage has gifted her with the ability to take the form of a coyote at will. She's surrounded by far more powerful supernatural beings, including werewolves, vampires and an assortment of fey.
Magic Bites by Ilona Andrews Magic (Kate Daniels series) — Kate Daniels is a down-on-her-luck mercenary who makes her living cleaning up magical problems. But when Kate's guardian is murdered, her quest for justice draws her into a power struggle between two strong factions within Atlanta's magic circles. Pressured by both sides to find the killer, Kate realizes she's way out of her league– but she wouldn't want it any other way. Features shapeshifters, vampires, and gods.
Storm Front by Jim Butcher (Dresden Files series) — Harry Dresden's investigation of a grisly double murder pulls him into the darkest depths of magical Chicago. As a professional wizard, Dresden knows firsthand that the "everyday" world is actually full of strange and magical things–and most of them don't play well with humans. And those that do enjoy playing with humans far too much. He also knows he's the best at what he does. Technically, he's the only at what he does. Features wizards, vampires, and shapeshifters.
Angel's Blood by Nalini Singh (Guild Hunter series) — Singh introduces readers to a world of beauty and bloodlust, where angels hold sway over vampires. Vampire hunter Elena Deveraux is hired by the dangerously beautiful Archangel Raphael. But this time, it's not a wayward vamp she has to track. It's an archangel gone bad.
Written in Red by Anne Bishop (The Courtyards of the Others series) — a fantasy series about the world of the Others, nonhumans (vampires, shape–shifters, and other supernatural types) who rule over and prey on humans. Meg Corbyn is a seer who escapes her servitude and hires on as a liaison for shape-shifter Simon. The tale unfolds as Meg and her gift of prophecy become a point of contention between the Others and the humans.
*From All Things Urban Fantasy
— Recommended by Ceil H., CMD Manager