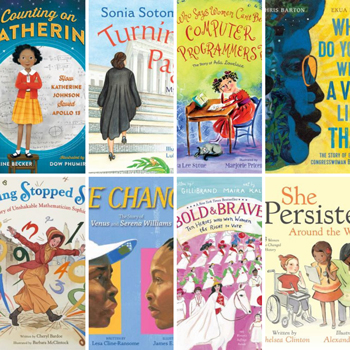 Celebrate Women's History Month with your child with these new picture books written about strong women who made a difference in our world.
Bold & Brave: Ten Heroes Who Won Women the Right to Vote by Kirsten Gillibrand
This is an inspiring picture book with gorgeous illustrations about ten suffragists who fought for women's right to vote.
Counting on Katherine by Helaine Becker
This book tells the bold story of Katherine Johnson, an African-American mathematician who worked for NASA during the space race and was depicted in the film Hidden Figures.
Game Changers: The Story of Venus and Serena Williams by Lesa Cline-Ransome and James E. Ransome
Enjoy this inspirational story and vibrant artwork about two tennis legends who were fierce competitors on the courts, but close sisters above all.
Nothing Stopped Sophie: The Story of Unshakable Mathematician Sophie Germain by Cheryl Bardoe
This book tells the true story of eighteenth-century mathematician Sophie Germain, who stopped at nothing to solve the unsolvable and achieve her dream.
She Persisted Around the World: 13 Women Who Changed History by Chelsea Clinton
This book is the companion to Chelsea Clinton and Alexandra Boiger's number one New York Times bestseller She Persisted. It is perfect for tiny activists, mini feminists, and little kids who are ready to take on the world.
Turning Pages: My Life Story by Sonia Sotomayor
The first Latina Supreme Court Justice, Sonia Sotomayor, tells her own story for young readers for the very first time.
What Do You Do With a Voice Like That? The Story of Extraordinary Congresswoman Barbara Jordan by Chris Barton
Congresswoman Barbara Jordan had a big, bold, confident voice, and she knew how to use it. Learn all about her amazing career in this illuminating and inspiring picture book biography of the lawyer, educator, politician, and civil rights leader.
Who Says Women Can't Be Computer Programmers? The Story of Ada Lovelace by Tanya Lee Stone
This picture book biography tells the true story of Ada Lovelace, the woman recognized today as history's first computer programmer.
– Recommended by Kathleen L., Collection Management Librarian