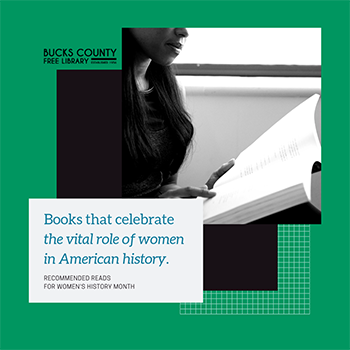 Celebrate the vital role of women in our society by reading one or more titles from this list of nonfiction and fiction books by and about strong women.
Non-Fiction
If You Ask Me: Essential Advice from Eleanor Roosevelt by Eleanor Roosevelt – from one of the greatest and prolific first ladies of all time who gave us quotes like "You must do the thing you think you cannot do," this book chronicles her role as advice columnist for Ladies Home Journal and McCalls Magazine.
Lab Girl by Hope Jahren – Jahren tells her story of how she came to love science at early age, and her success as researcher and promoter of women in science shine through in this autobiography.
Galaxy Girls by Libby Jackson – filled with full-color illustrations, this book is short one-page biographies about 50 amazing and inspirational women who helped fuel space exploration from the 19th century to the present.
I'll Be Gone in the Dark by Michelle McNamara – a true crime book detailing the author's story of tracking down the Golden State Killer. Her work describes not only the search but also towns and lives irrevocably altered by the horror of the killer.
Hidden Figures: the American Dream and the Untold Story of the Black Women Mathematicians Who Helped Win the Space Race by Margot Lee Shetterly – before John Glenn orbited the earth or Neil Armstrong walked on the moon, a group of dedicated female mathematicians used their problem-solving skills to help launch those first rockets.
Becoming by Michelle Obama – an intimate, powerful, and inspiring memoir from the former First Lady of the United States.
Brazen: Rebel Ladies Who Rocked the World by Penelope Bagieu – this graphic-style book offer 29 compelling biographies of renowned women artists, scientists, athletes, explorers, activists, and more. This book is a great mix of famous women but also includes less recognized names and women of all ages and national origins.
Fiction
Little Women by Lousia May Alcott – this story of a family of women bonded when the patriarch of the family is off at war has lasted for generations for its timeless messages of love, sisterhood, and fighting for what you want.
Children of Blood and Bone by Tomi Adeyemi – magic has disappeared under orders from the ruthless king in Zelie's world. Now her mother has been killed, and Zelie has the magic running through her. She has one chance to strike against the brutal monarchy with the help of a rogue princess.
Recommended by Holly A., Collection Management Director