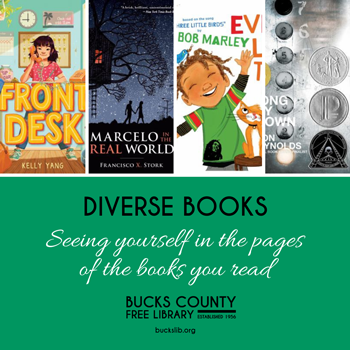 Do you remember the first time you started a new book and encountered a character who looked just like you? It can be a magical experience to read about someone who has hair or eyes or freckles like yours going on wonderful, thrilling adventures. For many of us, it's an experience that's easy to take for granted. But unfortunately, it's an experience that not everyone gets to have.
Fortunately, literature for children and young adults has made great strides in diversifying the stories that are told, but we have a long way to go until everyone's experiences and identities are reflected in the books available to them. Until we get there, check out these books: they might show you someone who looks just like you, or someone you've never met before.
Young Adult
When Dimple Met Rishi by Sandhya Menon
Dimple is far more interested in computer coding than in the arranged marriage that her traditional Indian parents have set up for her. But when Dimple heads to San Francisco for a coding summer camp, her two worlds collide in ways she never imagined possible.
Also try: From Twinkle With Love
Marcelo in the Real World by Francisco X. Stork
As Marcelo, who is on the Autism spectrum, nears the end of high school, his father presents him with an ultimatum. If Marcelo can spend a summer in the "real world," he can continue going to his special school and working with the hippotherapy ponies he loves so much. If Marcelo does not succeed, he'll spend his senior year at a "normal" public school. Working in the mailroom at his father's law office, Marcelo finds himself grappling with questions of morality, loyalty, and what it means to be "normal."
Also try: Memory of Light
Secrets of a Heart Note by Stacey Lee
This novel, which feels like a quirky-sweet mashup of Clueless, Pushing Daisies, and The Raven Cycle, tells the story of Mim, a sixteen-year old perfumer whose supernatural sense of smell allows her to help her mother make and sell love potions. The only catch is that if Mim ever falls in love herself, she'll lose her sense of smell, and…well, I'm sure you can guess what happens next.
Also try: Outrun the Moon and Under a Painted Sky
The Long Way Down by Jason Reynolds
Boys in Will's neighborhood live by certain rules: No crying. No snitching. Get revenge. So when his brother is murdered, Will knows what he has to do next. But when he steps into his apartment building's elevator, gun tucked in his pants, everything changes.
Also try: Miles Morales or All American Boys
Me, Earl, and the Dying Girl by Jesse Andrews
Greg spends his days making movies with his best friend Earl, but when Rachel, a childhood friend from Hebrew school, is diagnosed with leukemia, Greg's mother insists that he rekindle their acquaintance. And when Rachel decides to quit receiving treatments, Greg and Earl set out to make her a film that will change her mind.
Juvenile
Code Talker by Joseph Bruchac
This book tells the story of Ned Begay, a Navajo boy who grew up in a Residential School and went on to become a Code Talker in WWII, using his Navajo language to transmit messages that no Axis spy could crack.
It Ain't So Awful, Falafel by Firoozeh Dumas
It's the 1970s in Newport Beach. Zomorod Yousefzadeh just isn't fitting in at all. And when Iran starts making U.S. headlines with gradually intensifying protests and riots, the anti-Iranian/Muslim attitudes that Zomorod has had to deal with get much harder to ignore.
Akata Witch by Nnedi Okorafor
All Sunny wants is to play football and survive one day without being bullied for her albinism, which does not look to be very possible. But when Sunny is thrust into the world of magic, she learns that she's more powerful than she thought…what remains to be seen is if it's enough to defeat the evil man who has been kidnapping children across Nigeria. You can follow it up with the sequel, Akata Warrior
Paper Things by Jennifer Richard Jacobson
Before Ari's mama died, she had two wishes: one, that Ari and her older brother Gage would stay together; and two, that Ari would attend Carter, a middle school for gifted students. So when Ari's forced to choose between staying with their guardian or staying with Gage, she chooses her big brother without much hesitation. The only thing is that Gage doesn't actually have a place to live, and suddenly, as the two are couch surfing or living out of Gage's car, fulfilling Mama's second wish seems a whole lot harder.
Front Desk by Kelly Yang
When Mia Tang's family immigrated from China, she imagined things like California beaches and eating all the hamburgers she could get her hands on. But things didn't quite go as planned, and now her parents are stuck running a hotel for a nasty boss, Mia's wearing dorky thrift store pants to her new school, and the Tangs have started hiding immigrants who need a place to stay from the evil hotel owner. But Mia's nothing if not determined, and she'll find a way to run the hotel's front desk while surviving middle school and helping as many people as she can!
Picture Books
One Family by George Shannon
This counting picture book celebrates all the differences from one family to the next and how those differences make each family different.
What Can You do with a Rebozo by Carmen Tafolla
You might think that a rebozo (a long, woven scarf) should be used for keeping warm, but that's not all it can be! This book shows the beauty of Mexican culture and heritage through an exploration of the uses of a single garment.
Also try: Fiesta Babies
Every Little Thing by Bob Marley and Cedella Marley
This book takes the lyrics of Bob Marley's song Three Little Birds and pairs it with adorable, heart-warming illustrations to remind us that "every little thing is gonna be alright."
Also try: Let Freedom Sing
– written by Mindi P., Youth Services Librarian, Yardley-Makefield Branch