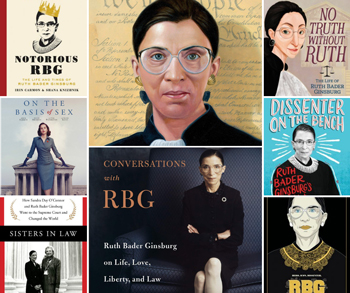 Ruth Bader Ginsburg was the pioneering Supreme Court Justice who became the second female on the nation's highest court, the leader of its liberal wing, and a pop culture icon known as Notorious RBG. Celebrate her legacy with films, a magazine special cover, and books for all ages that will honor her extraordinary life and service to our country.
The inspiring Academy Award-nominated documentary "RBG," chronicling the Supreme Court Justice's life is available from our library's catalog, to stream on Hoopla (watch on your device or stream Hoopla to your big screen at home) or to watch on DVD/BluRay.
"On the Basis of Sex" is an old-fashioned Hollywood drama about Ginsburg's early years and her prominent role as co-litigator with her husband, Martin Ginsburg, on the 1972 gender rights case Charles E. Moritz v. Commissioner of Internal Revenue. This 2018 biopic can also be purchased on Amazon Prime Video and in the iTunes store.
Time magazine will feature Ginsburg on one of multiple special covers for an October double-issue presenting the 2020 Time 100 list of the world's most influential people. It will include a special tribute to the justice, who was featured on the list in 2015. The library has an extensive selection of print magazines, including Time, available to patrons.
Dozens of books for all ages have been written about Ginsburg. Learn more about her remarkable life, career, and views—and tell her story to a young person—with these books. Some of the most popular and current biographies about her are listed below.
Adult Reads
Children's/Juvenile/YA Reads
Ruth Bader Ginsburg was a trailblazer who will forever remain a public figure who stood for equal rights, integrity, and justice in this country. Click here to see the library's full selection of print and digital materials celebrating her exceptional and unforgettable life.
— Kathleen L., Collection Management Librarian