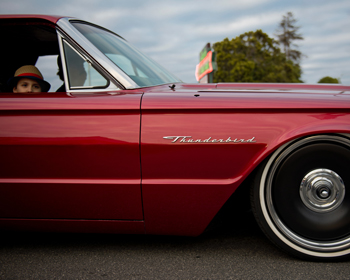 This summer, banish backseat squabbles, highway boredom, and endless refrains of "Are we there yet?" If you're planning a long road trip with the family, audiobooks can make the journey as exciting as the destination! So, let the adventure begin!
Summer According to Humphrey by Betty G. Birney
What's a classroom hamster to do when the 'unsqueakable' happens and school comes to an end? Humphrey can't imagine what he'll do without the teacher and students of Room 26, but he soon learns that a trip into the great outdoors, with friends old and new, will lead to a summer full of adventure! Approx. 4 hrs. Best for ages 6+
Who Is/Was? series
Whether you're in love with the new Netflix series or think that fact is always more interesting than fiction, the whole family will be drawn in by these short yet intriguing biographies written about almost every author, artist, athlete, celebrity, and historical figure you can think of! You'll find these titles on cloudLibrary. Approx. 1 hr. each. Best for ages 7+
Diary of a Wimpy Kid series by Jeff Kinney
Laugh your way through miles of highway or hours of gridlock with a series kids and adults alike say leaves them cracking up so hard, people in the next car roll down their windows to listen in. Approx. 2 hrs. each. Best for ages 8+
Harry Potter series by J. K. Rowling
All aboard the Hogwarts Express! Whether you're new to the magic or revisiting an old favorite, you'll fall under the spell of narrator Jim Dale and his many voices. Spoiler alert: No matter how fun the destination, you won't want to get out of the car until you've listened to the end! Approx. 8-21 hrs. each. Best for ages 8+
The Candymakers by Wendy Mass
Four kids in a candy factory on a quest to invent the next award-winning confectionary! What could be sweeter? But not all is as it seems. Full of delightful twists and turns with changing points of view, this story will appeal to fans of Roald Dahl's Charlie and the Chocolate Factory or anyone with a sweet tooth! Approx. 12 hrs. Best for ages 8+
Echo by Pam Muñoz Ryan
Music lovers and time travelers will be enthralled by a story that weaves together fairy tale, history, the darkness of adversity, and the optimism of music. Threaded through the narration are the heartfelt songs of a harmonica that mysteriously finds its way through time to those who need it most. Approx. 10 hrs. Best for ages 10+
Find these and other audiobook titles by searching the catalog for books on CD, or borrow them digitally from cloudLibrary, Hoopla, and RB Digital and play them through your car speakers.
Tip: Digital audiobooks can be downloaded for enjoyment on planes, trains, boats, tuk-tuks, horses, rocket ships, or your preferred mode of transport!
— Recommended by Emily K., Youth Services Librarian, Doylestown Branch