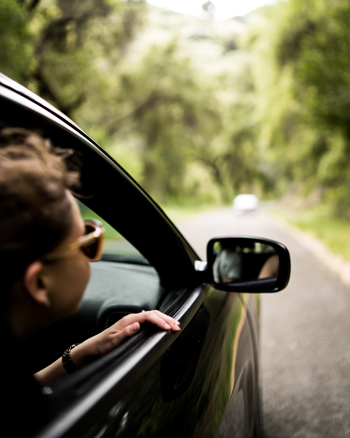 Does your summer include a vacation road trip? Or is your summer destined to be just your daily commute? In either case, keep your eyes on the road, not on a book, but listen to one of the digital audio books available through the library.
To make it easier for you, the titles featured below are organized by digital platform.
cloudLibrary
The Stationery Shop by Marjan Kamali — Roya Kayhani meets Bahman Aslan in a stationery shop in Tehran in 1953. Both are 17, and they fall in love. A coup by the Shah's forces shuts down Iran's hopes for democracy. What happened to their love and their country? Sixty years later they meet again. Readers will unearth how, as Iranian belief dictates, one's destiny is preordained at birth and what that means for people's lives.
A Place for Us by Fatima Farheen Mirza — Follow the lives of an American Muslim family in California, in particular the divergent paths followed by the oldest daughter, Hadia, 'the perfect daughter,' and the youngest son, Amar, who struggles constantly with his faith. The majority of the story is told from the perspectives of the three children and their mother, Layla. The last section is told in the first person, narrated by the father, Rafiq and is a moving mediation of a father's love for his children, no matter how difficult.
Magic for Liars by Sarah Gailey — Epic fantasy love story with expert world-building. Featuring estranged twins Tabitha, who has magic in spades, and Ivy, who has no magic at all. The story will strike a chord with anyone who has ever felt they don't belong.
Recursion by Blake Crouch — Scientist Helena Smith focused on memory research when her mother was diagnosed with Alzheimer's. She did not anticipate that technology developed by her team would allow users to travel back into their memories and change the entire fabric of reality. Suspenseful, thought-provoking book about altered memories and how technology can be used for good or for ill or should never be used at all.
The Lesson by Cadwell Turnbull — Five years ago, an alien ship appeared above Water Island, and the U.S. Virgin Islands met the Ynaa, a species on an undisclosed research mission on Earth. The residents of the island will have to choose sides in a growing standoff between the Ynaa and humanity.
Evvie Drake Starts Over by Linda Holmes — A widow and a former baseball player try to start over after life throws them some surprises in this debut novel. Evvie and Dean are both mourning their old lives, for very different reasons. The two of them quickly become friends, then, slowly, more than friends. A warm and lovely romance.
The Unhoneymooners by Christina Lauren — Two sworn enemies discover that anything can happen during the Hawaiian trip of a lifetime–maybe even love. Olive and Ethan can't stand each other, but at the wedding of Olive's twin sister, Amelia and Ethan's brother, the new groom, they are the only two not to succumb to food poisoning. Amelia insists that the pre-paid for honeymoon not be forfeited, and that Olive and Ethan, as the last two standing, should take advantage of a free vacation in paradise.
Summer of '69 by Elin Hilderbrand — The Levin children have always summered at their grandmother's house on Nantucket, but in 1969, Tiger has been deployed to Vietnam, pregnant Blair remains in Boston, and 13-year-old Jessie is stuck alone with grandma, as civil rights-crusading Kirby travels to Martha's Vineyard with her best friend Mary Jo Kopechne.
Deception Cove: Neah Bay (Book 1) by Owen Laukkanen — A thriller about an ex-Marine, an ex-convict, and a rescue dog caught in the crosshairs of a ruthless gang in remote Washington state. For fans of C. J. Box and Michael Koryta.
The Island: A Thriller by Ragnar Jonasson — The newest superstar on the Icelandic crime fiction scene has arrived with a superb follow-up to The Darkness. Detective Inspector Hulda Hermannsdóttir of the Reykjavík Police department investigates when death stalks a group of friends reconnecting at a remote hunting lodge in Elliðaey. Short-listed for the Crime Novel of the Year Award in Iceland and a best seller there.
The Last House Guest by Megan Miranda — A year after her best friend's supposed suicide, Avery must clear her name when new evidence is uncovered. The narrative flips between 2017 and 2018 and grows increasingly tense as Avery, who is a reliable narrator, gets closer to the truth. The final revelations are more than shocking.
At the Wolf's Table by Rosella Postorino — Germany, 1943. The Wolf, Hitler's nickname, is living at Wolfsschanze, the Wolf's Lair. One day the SS shows up at Rosa Sauer's house to announce that she has been conscripted to be one of Hitler's tasters. Three times a day, ten women report to the Wolf's Lair to eat Hitler's meals before he does, in case the food is poisoned. Forced to eat what might kill them, the women begin to divide themselves into two groups, those loyal to Hitler and those, like Rosa, who insist they are not Nazis even as they risk their lives every day. As resentments grow, this unlikely sisterhood reaches its own dramatic climax.
The Lost Girls of Paris by Pam Jenoff — From the author of the runaway bestseller The Orphan's Tale comes a remarkable story of friendship and courage centered around three women and a ring of female spies during World War II.
The Liar's Child by Carla Buckley — In this intense and intimate family portrait that moves at a thriller's pace, a troubled woman faces a gripping moral dilemma after rescuing two abandoned children from a hurricane.
The Last Year of the War by Susan Meissner — An informative look at a shameful chapter of U.S. history, this is a novel about a German-American teenager, Elise, whose life changes forever when her immigrant family is sent to an internment camp in Texas during World War II where she is befriended by a Japanese-American girl, Mariko. Although their friendship in the camp is brief, it has a profound effect on each young girl, and forty years after their separation, Elise begins a search for Mariko.
The Body Lies by Jo Baker — Psychologically as well as physically bruised by a random attack on a London street, a young woman moves to the country with her toddler only to find out that she has not put as much distance between herself and danger as she had hoped.
Normal People by Sally Rooney — In high school, Connell and Marianne pretend not to know each other. But when Connell comes to pick up his mother from her job at Marianne's house, a strange and indelible connection grows between the two teenagers—one they are determined to conceal. As Marianne veers into self-destruction and Connell begins to search for meaning elsewhere, they both must confront how far they are willing to go to save each other.
Biloxi by Mary Miller — Sixty-three year old Louis McDonald is a hot mess. He's depressed, overweight, diabetic, and nearly paralyzed with inactivity. His wife of twenty-seven years has left him. He has quit his job in anticipation of a large inheritance from his father that so far has failed to materialize. He has alienated family and friends. He has little to live for. Then one day on impulse, he stops at a house with a sign in the yard that advertises "Free Dogs." It turns out that Layla, the dog he brings home, isn't really up for adoption. Then one day Layla's owner shows up. The novel captures the insecurities of an imperfect man as he tries to find purpose to his life.
Love Thy Neighbor: A Muslim Doctor's Struggle for Home in Rural America by Ayaz Virji — Responding to the need for doctors in rural America, Virji, a Muslim, left Pennsylvania in 2013, relocating his family and his medical practice to a small town in Minnesota where he felt welcome–until Trump's election. This is a vivid account of one man's efforts to make sense of political tensions, racial hatred, and religious misunderstandings.
Rough Magic: Riding the World's Loneliest Horse Race by Lara Prior-Palmer — Like many of us at 19, Lara Prior-Palmer had no idea what she wanted to do with her life. Unlike the rest of us, she impulsively decided that entering the Mongol Derby was a viable option. The race, recreating the horse messenger system established by Genghis Khan, is a ten day, 1,000 kilometer trek across Mongolia, each rider using 25 semi-wild ponies. She had absolutely no qualifications except a love of horses and minimal riding experience. She also had a spirit of adventure and a great drive to succeed, as well as the ability capture the listener with her inspiring, gorgeous prose. No spoiler alert here, but you'll be cheering for her all the way to the finish line.
Tell Me Who You Are: Sharing Our Stories of Race, Culture, & Identity by Winoa Guo and Priya Vulchi — Princeton grads Guo and Vulchi travel the United States, asking 150 people the same question: "How has race, culture or intersectionality impacted your life?" Besides the revelatory stories, the authors provide informative introductions, annotations, and a rubric for talking about identities.
OverDrive
The Friends We Keep by Jane Green — Best friends at university, Evvie, Maggie, and Topher have lost touch with one another and with their dreams. When they attend their 30th college reunion, hoping to reconnect after years of failing to stay in touch, old secrets come to light, threatening their newly reestablished friendships. Are second chances possible?
Cape May by Chip Cheek: Cape May is the honeymoon destination of Henry and Effie. They are from the South, and Effie remembers the fun summers she spent at her uncle's house in the beach community. Unfortunately, neither of them has even heard of the 'off season,' and sun and sand are not what they find there in the fall of 1957. Cape May is deserted. Disappointed and bored, they decide to leave early, but then they happen upon Clara, her rich playboy lover, Max and Max's half-sister to whom Henry finds himself attracted. They should have headed home. Max and Effie begin their long slide from innocence into darkness. The novel's ending is particularly startling.
The Guest Book by Sarah Blake — It's 1935 and a Milton family tragedy occurs. To help his wife heal, Ogden Milton buys an island off the coast of Maine, a refuge to which the family retreats during summers for the following four generations. Here the Miltons fine-tune the practice of shrouding tragedy and secrets in silence. The novel depicts the moral evolution of a part of American society.
Necessary People by Anna Pitoniak — One of them has it all. One of them wants it all. Only one of them can win. Stella is the one with the rich family and the right friends and Violet is the hard worker behind the scenes. Each strives for success and each reveals just how far she will go to get what she wants.
The American Agent by Jacqueline Winspear — Maisie Dobbs, one of the greatest fictional heroines, is back in this fifteenth title of the series, investigating the mysterious death of an American war correspondent during the Blitz. A page-turning novel of love and war and terror and survival. Several previous titles in the series are available in audio format on both OverDrive and Hoopla.
Mistress of the Ritz by Melanie Benjamin — Known for her historical fiction that draws on real-life characters and events, Benjamin's latest has Blanche Ross arriving at the Ritz Hotel in Paris eager to meet with her current paramour. When he fails to show, Blanche allows the hotel manager, Claude, to show her around Paris. They wed, but the problems are immediate. The glittering fun with the rich and famous comes to an abrupt end when the Nazis invade Paris, move into the hotel and make it their headquarters. Soon both Blanche and Claude are working for the resistance, but neither knows that that the other is doing so. Other Benjamin titles are also available on OverDrive.
RB Digital
Great Courses by the Learning Company — Do you want to keep learning while on vacation? If so, you can listen to lectures by leading experts in their field by checking out the audio versions of The Great Courses.
The library has a large collection of digital audio courses on our RBDigital platform. There are over 400 titles available and they cover almost every field you can think of, including science, history, philosophy, religion, medicine, the arts, hobbies, and life skills.
Some of the available titles are: Great Presidents; Writing Great Fiction; How to Listen to and Understand Great Music; History's Great Military Blunders and the Lessons They Teach; Nutrition Made Clear; The Art of Conflict Management; The Art of Public Speaking; Medical School for Everyone; 36 Revolutionary Figures of History; Classic Novels; How to Publish Your Book; World War II; Myths, Lies and Half-Truths of Language Usage; Peoples and Cultures of the World; The Mayo Clinic's Guide to Pain Relief; America's Founding Fathers; Financial Literacy; and The Entrepreneur's Toolkit.
For a complete list of available course titles, please search within the RBDigitial app using Great Courses as the search term.
We offer more than 86,000 audio titles on four digital platforms: cloudLibrary, OverDrive, hoopla, and RB Digital. With just your library card, PIN number, and an email address, you can set up an account on each of these platforms, allowing you to download titles to your device. You can set up accounts and get additional information in our e-library.
— Recommended by Regina S., Collection Management Specialist