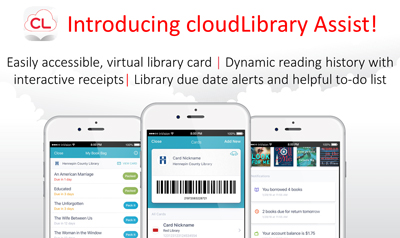 cloudLibrary has updated with a new easier-to-use interface and new features including cloudLibrary assist.
With cloudLibrary assist, you can use the cloudLibrary app to look at and renew not only your cloudLibrary checkouts, but also your physical checkouts including books, games, DVDs, tools, party supplies, etc.
The app also stores a copy of your library card so you can scan it at our kiosks to check out items. And when you use the kiosks to check out items, the cloudLibrary app gives you push notifications to let you know when your items are coming due.
If you currently use the cloudLibrary app, the app will update automatically. To see and use the new features, you may need to log out of the app and then log back in. You'll find the option to do this under "settings".
If you do not have the app, you can download it here.