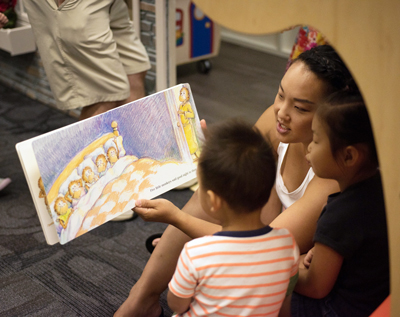 April is the Month of the Young Child. We recommend these new picture books to read during this month-long celebration focused on childhood education and literacy.
A Hundred Billion Trillion Stars by Seth Fishman: The playful illustrations from New York Times-bestselling artist Isabel Greenberg and the friendly, straightforward voice of author Seth Fishman illuminate some of the biggest numbers in the universe–a hundred billion trillion stars — and the smallest — one unique and special YOU.
Dear Girl by Amy Krouse Rosenthal: A mother-daughter team offers a love letter encouraging girls to accept and love themselves. They advise girls to be confident, to speak up, and to be curious and adaptable to anything.
Dr. Seuss's Book of Animals by Dr. Seuss: Featuring a mix of real animals and Seussian creatures, this super-simple rhymed riff about animals is both a concept book AND a funny introduction to the world of Dr. Seuss. Illustrated with art from beloved Dr. Seuss books.
Ducks Away! by Mem Fox: One by one five little ducklings tumble off the bridge into the river below — and mother duck follows them.
Grand Canyon by Jason Chin: Chin packs the geologic history of the Grand Canyon into a stunningly illustrated story of a magical father-daughter hike. The duo's daylong trek out of the magnificent landform becomes a journey through time, as discoveries along the trail transport the girl to various eras in the canyon's creation.
Here We Are: Notes for Living on Planet Earth by Oliver Jeffers: Jeffers offers a rare personal look inside his own hopes and wishes for his child — and in doing so gifts children and parents everywhere with a gently sweet and humorous missive about our world and those who call it home.
Hooked by Tom Greenwald: A boy and his dad discover all they have in common on a fishing trip in this sweet picture book about father-son bonding.
I am Loved by Nikki Giovanni: This picture-book poetry collection for children contains a selection of Giovanni's work that celebrates all manner of love, and it is beautifully illustrated by the equally renowned Ashley Bryan.
Love by Matt de la Peña: Newbery Award-winning de la Peña offers a lyrical ode to love in this stirring picture book.
Splish, Splash, Ducky! by Lucy Cousins: Ducky Duckling has a rainy day adventure, but when the rain stops he feels sad.
The Word Collector by Peter H. Reynolds: Jerome enjoys collecting and using words that he hears, reads, or sees, and then decides to share his collection with others.
When Sophie Thinks She Can't by Molly Bang: Sophie is discouraged because she always struggles with math and puzzles — until her teacher shows her the hidden value of "try" and "yet."
— recommended by Kathleen L., Collection Management Librarian