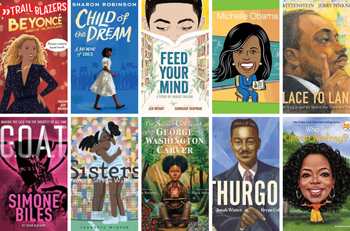 Children can learn about the contributions African Americans have made to sports, politics, the arts, and society by reading these biographies.
A Place to Land: Martin Luther King Jr. and the Speech That Inspired a Nation by Barry Wittenstein: An evocative study of the speechwriting process behind Martin Luther King's "I Have a Dream" speech, this work takes a familiar topic and shapes it into a moving portrait of undeterred determination and conviction.
Beyoncé: Queen of the Spotlight by Ebony Joy Wilkins: Beyoncé Knowles became famous as the lead singer of the popular group Destiny's Child. But on her own, she's had even bigger hits. From movies to Grammy Awards to performing at the Super Bowl halftime show, she is one of the world's most amazing superstars. Find out how the girl who entered local singing competitions became one of history's greatest trailblazers!
Child of the Dream: A Memoir of 1963 by Sharon Robinson: In this coming-of-age memoir, Robinson, daughter of baseball legend Jackie Robinson, focuses on the year 1963, when she was 13, illuminating how political activism on the national stage intertwined with her growing awareness of the civil rights movement.
Feed Your Mind: A Story of August Wilson by Jen Bryant: A compelling read that captures the life of August Wilson through biographical free-verse poems that trace key moments in Wilson's development into a world-renowned poet and playwright. Divided into two acts, the book reveals how Wilson's early love of books ignited a love of language and a passion for reading and writing about the human experience.
Michelle Obama by Katlin Sarantou: The My Itty-Bitty Bio series are biographies for the earliest readers. This book examines the life of Michelle Obama in a simple, age-appropriate way that will help children develop word recognition and reading skills.
G.O.A.T. : Making the Case for the Greatest of All Time : Simone Biles by Susan Blackaby: G.O.A.T. stands for Greatest Of All Time–and it takes lifelong dedication, nonstop work, and unbelievable talent to even be considered for the honor. In the world of gymnastics, that athlete is Simone Biles, who in 2018 became the first American to win a medal at every event in the World Championships, garnering four golds, a silver, and a bronze. And that's in addition to her Olympic golds for best individual all-around, vault, and floor, along with the US team gold.
Sisters: Venus & Serena Williams by Jeanette Winter: Before they were famous tennis stars, Venus and Serena Williams were sisters with big dreams growing up in Compton, California. In the early mornings, they head to the tennis courts, clean up debris, and practice. They compete in their first tournament and they both win. From there, the girls' trophy collection grows and grows. Despite adversity and health challenges, the sisters become two of the greatest tennis players of all time.
The Secret Garden of George Washington Carver by Gene Barretta: Gene Barretta's moving words and Frank Morrison's beautiful paintings tell the inspiring life and history of George Washington Carver, from a baby born into slavery to celebrated botanist, scientist, and inventor. Carver is best known as an agricultural expert who discovered versatile uses for the peanut. This story focuses on his first garden. Hidden beneath the trees where no one could tease or belittle him, Carver studied nature and the "more he experimented, the more he learned."
Thurgood by Jonah Winter: Was Thurgood Marshall a born lawyer? Well, six-year-old Thoroughgood made a strong enough case to convince his parents to legally change his name to Thurgood. Growing up in 1920s Baltimore, he attended segregated schools and experienced racial injustice. But his father took him to courtrooms to watch trials and, at home, challenged his son to argue positions and back them up with facts. Later, as a lawyer, Marshall would channel his anger at injustice into well-honed arguments in the courtroom, where he overturned legal precedents and won 29 cases before the Supreme Court, including Brown v. Board of Education and became America's first Black Supreme Court justice.
Who Is Oprah Winfrey? by Barbara Kramer: We all know Oprah Winfrey as a talk-show host, actress, producer, media mogul, and philanthropist, but the "Queen of Talk" wasn't always so fortunate. She suffered through a rough childhood and went on to use her personal struggles as motivation. Oprah's kindness, resilience, and determination are just some of the many reasons why her viewers–and people all around the world–love her. The richest African American person of the twentieth century, Oprah is often described as the most influential woman in the world.
–Kathleen L., Collection Management Librarian