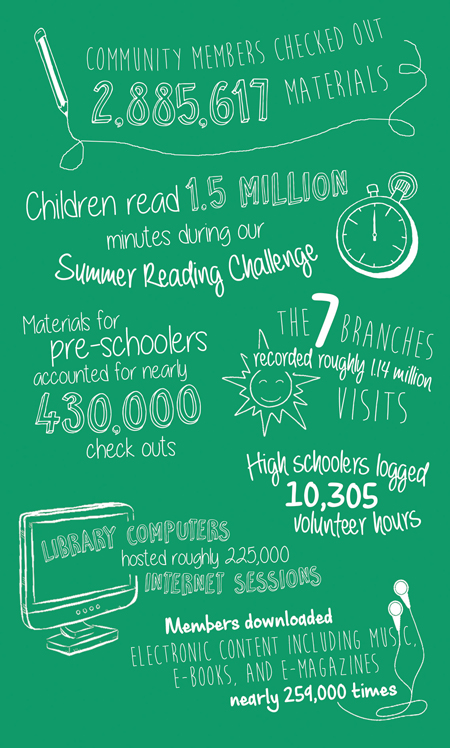 It's all about impact! 
A recent report by the Pew Research Center revealed that people see libraries as an important part of their community fabric. In addition to traditional services like book lending and reference help, libraries have become a link to access electronic materials and the Internet, a hub for civic activity, and an effective promotor of literacy.
As Andrew Carnegie once said, "A library outranks any other one thing a community can do to benefit its people. It is a never failing spring in the desert."
At the Bucks County Free Library, we are proud to be a part of this incredible community and serve the 625,000 residents of Bucks County. This past year, we enjoyed more than 1.14 million visits at our seven branches. Community members checked out roughly 2.89 million materials, including more than a quarter of a million downloads of electronic content such as music, e-books, and e-magazines. Children who participated in our Summer Reading Challenge read more than 1.5 million minutes. We hosted concerts, classes, and storytimes. And through our new program, Library Help Desk, our experts helped to clean up your computers, install new hard drives, and troubleshoot problems.
Without you, none of this would be possible. Thank you for having a library card and for recognizing the value that the Bucks County Free Library brings to this community. We look forward to seeing you in the new year.
To support Bucks County Free Library with a tax-deductible donation, please visit www.buckslib.org/donate or call Michelle Wexler at (215) 348-0332 x. 1115. Every donation will enhance the impact that the Bucks County Free Library can make within the community.
Thank you!