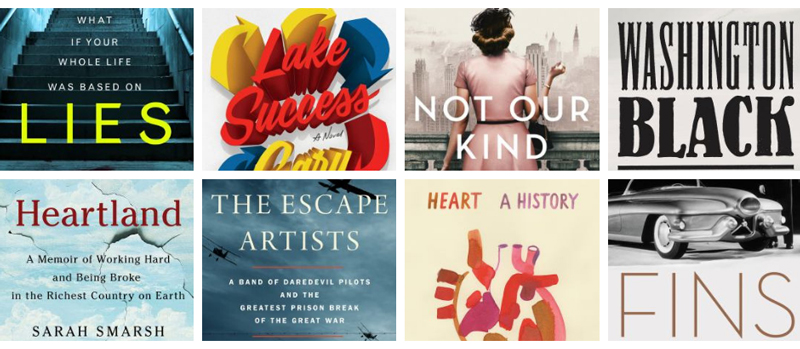 Each month, our Collection Management Specialist highlights new fiction and nonfiction titles in our system. This month, her list includes a thriller, a satire, and two books set during WWI — one fiction, the other nonfiction.
FICTION
Lies by T.M. Logan
Six days ago, Joe Lynch was a happily married man, a devoted father, and a respected teacher living in a well-to-do London suburb. But that was before he spotted his wife's car entering a hotel parking garage. Before he saw her in a heated argument with her best friend's husband. Before Joe confronted the other man in an altercation where he left him for dead, bleeding and unconscious.
Now, Joe's life is unraveling. His wife has lied to him. Her deception has put their entire family in jeopardy. The man she met at the hotel has vanished. And as the police investigate his disappearance, suspicion falls on Joe.
Unable to trust the woman he loves, Joe finds himself at the mercy of her revelations and deceits, unsure of who or what to believe. All he knows is that her actions have brought someone dangerous into their lives–someone obsessed with her and determined to tear Joe's world apart.
Logan's book is filled with unexpected twists and turns, and he does a masterful job of exploiting the paranoia that springs from fractured trust and writes viscerally about the emotional devastation wrought by marital infidelity. Lies is a page-turner, and readers will be looking forward to Logan's next book.
Lake Success by Gary Shteyngart
Set before the 2016 election, this is the story of an individual and his midlife crisis –and perhaps the crisis of the nation. We are introduced to ultra-rich and self-absorbed but clueless hedge fund manager Barry Cohen. He is upset by an impending SEC investigation and his son's recent diagnosis of autism. His wife, an ambitious social climbing, luxury-loving first generation American has her own problems.
In dawn of the Trump era, Barry measures his success by other people's incomes, while in his head he can't forget the pool cleaner's son who dreamed of becoming a novelist and who loved and lost a girl named Layla, whom he hasn't seen since college. When all of his present troubles become too much, he boards a Greyhound bus to search for Layla. He gives up all his credit cards, and almost penniless, he leaves New York with a suitcase containing one change of clothes and a lot of very expensive watches, and becomes a member of the 99 percent.
His odyssey takes him through Baltimore, Richmond, Atlanta, Jackson, El Paso, Juarez, Phoenix, and, finally, to La Jolla, home of his ex, Layla. (The bus trip actually mirrors a trip the author took in the months leading up to the 2016 election.) Throughout his travels, Barry questions his priorities and learns something about himself. Although he tries to escape the present, he is forced to confront it in the end. Shteyngart's story is wickedly funny satire of the dark side of the American dream.
Not Our Kind by Kitty Zeldis
In post WWII New York, Eleanor Moskowitz and Patricia Bellamy run into each other on Park Avenue-or rather their cabs run into each other. The elegant Patricia invites the job-seeking Eleanor back to her apartment to recover from the fender bender and freshen up before continuing on her way to a job interview. Eleanor is used to experiencing anti-Semitism, and she is job hunting, having left her teaching job after a disastrous romance. She has also been advised to change her name to Eleanor Moss so as not to scare off prospective employers. For her part, Patricia has "never entertained a Jew in her apartment before."
While in the Bellamy apartment, Eleanor meets the Bellamy's daughter, Margaux. Margaux is a polio survivor who walks with a cane and has scared off her last tutor with her surly behavior. But Margaux is immediately drawn to Eleanor and wants her for her tutor. Patricia's bigoted husband is opposed to the idea, and Patricia is concerned about what her friends will think, but Eleanor is hired.
Eleanor, who still lives with her mother above a hat shop, begins to get sucked into the Bellamy's world of privilege, and when summer arrives, Eleanor accompanies the family to their summer home to continue working with Margaux. While there, the family is joined by Tom, Patricia's brother, newly arrived from France. Passion begins between Tom and Eleanor, and things begin to get complicated.
"Lively descriptions of 1940s clothing and culture complement the realistic characters" — Publishers Weekly. The novel is a compelling tale of friendship, class, prejudice, and love.
Washington Black by Esi Edugyan
George Washington Black, or "Wash," an eleven-year-old field slave on a Barbados sugar plantation, is terrified to be chosen by his master's brother as his manservant. To his surprise, the eccentric Christopher Wilde turns out to be a naturalist, explorer, inventor, and abolitionist. Soon Wash is initiated into a world where a flying machine can carry a man across the sky, where even a boy born in chains may embrace a life of dignity and meaning–and where two people, separated by an impossible divide, can begin to see each other as human. But when a man is killed and a bounty is placed on Wash's head, Christopher and Wash must abandon everything.
What follows is their flight along the eastern coast of America, and, finally, to a remote outpost in the Arctic. What brings Christopher and Wash together will tear them apart, propelling Wash even further across the globe in search of his true self. From the blistering cane fields of the Caribbean to the frozen Far North, from the earliest aquariums of London to the eerie deserts of Morocco, Washington Black tells a story of self-invention and betrayal, of love and redemption, of a world destroyed and made whole again, and asks the question: what is true freedom?
"Edugyan mines the tensions between individual goodwill and systemic oppression, belonging and exclusion, wonder and terror, and human and natural order" — Publishers Weekly.
The Winter Soldier by Daniel Mason
It's been a long time since Mason's "The Piano Tuner", but he's back with a gripping story set in the years of WWI. When war breaks out, Lucius, a medical student at the time, although he has never even picked up a scalpel, enlists in the Imperial Austrian Army and is sent to an outpost in the Carpathian Mountains where typhus is rampant and all other doctors have fled. There is one nurse, Sister Margarete, who remains and becomes a teacher as well as his aide as he learns medicine by practicing it.
One day a soldier arrives with no visible wounds, but he neither speaks nor eats. Margarete and Lucius nurse him back to a fragile health. But then the Hussars arrive and their leader sees only a solider with no visible wounds. The officer's brutal treatment undoes all the good that has been done. The soldier is taken away and Lucius is filled with guilt for failing to intervene.
Love and war are intimately connected, and Margarete and Lucius fall in love, providing them with some relief and joy from the suffering around them. Then she, too, disappears. The rest of the novel follows Lucius as he spends the next three years searching for her. As he follows her, he keeps getting entangled in the ever moving front of the war. He eventually returns home, has a brief, unsatisfactory marriage, then resumes his search for Margarete. Along the way he must deal with a major mystery — was Margarete really a nun at all?
Mason's story of war has almost no battle scenes but deals with war's aftermath, the scarred soldiers, and the almost equally traumatized caregivers who sacrifice their own health to provide care for the wounded.
NONFICTION
Heartland: A Memoir of Working Hard and Being Broke in the Richest Country on Earth by Sarah Smarsh
"Class is an illusion with real consequences," Smarsh writes in this candid and courageous memoir of growing up in a family of working-class farmers in Kansas during the 1980s and '90s. J. D. Vance's book, "Hillbilly Elegy", blamed poverty on individual choices; Smarsh looks at poverty through sociological circumstances and concludes that the American dream is a myth — success is less a product of an individual's choices and depends more on where you were born and to whom.
Smarsh grew up during the economic instability of the 1980s that caused many farmers to lose their farms to foreclosure and flee to the cities. Her family held onto their farm but lost their construction business. She writes with deep feeling for the women and men who married them, but exposes their hardships — "to experience economic poverty… is to live with constant reminders of what you don't have."
Smarsh comes from a family of teen-age mothers and made a conscious choice not to become one herself and to break the cycle of poverty that she saw in her family. She was able to escape their fate, but while hers is a happy ending, she is still haunted by the fact that being poor is associated with being bad. The poor often learn the value and satisfaction of being a hard, blue-collar worker, but then learn that the rest of the country sees that work as something to be pitied. When Smarsh finally reached college, she faced a new struggle, that of overcoming the stereotype of being 'white trash'. Then, she writes, "I began to understand the depth of the rift that is economic inequality."
If you read Vance's Hillbilly Elegy, read Smarsh's book to compare and contrast differing points of view of poverty in the U.S. Both authors have lived their books, each having some things in common but also seeing some things differently. Each of these books addresses all that the next generation of Middle Americans living in poverty will face.
"A potent social and economic message embedded within an affecting memoir." Kirkus
Heart: A History by Sandeep Jauhar
Jauhar ("Doctored: The Disillusionment of an American Physician and Intern: A Doctor's Initiation") takes a multifaceted look at the heart throughout history in literature, folklore, art, religion, philosophy, and science.
"Cardiologist Jauhar moves beautifully between dual tracks of 'learning about the heart… but also 'what was in my heart,' with passages of memoir counterbalancing a lay-reader-friendly history of the development of cardiac medical technology" Publishers Weekly.
Jauhar outlines modern medicine for the heart, from the first open heart surgery performed in 1892 by African American doctor Daniel Hale Williams through considering the limits of modern technology and modern day heart ailments. Readers' jaws will drop at stories of daring researchers experimenting on themselves and pioneering surgeons leaving a trail of dead patients, many of them children, as they perfected machines, devices, and techniques that often work miracles, fix fatally malformed hearts, correct defects, and, when they succeed, extend lives. Alongside these medical success stories, Jauhar shares personal experiences with heart disease, through the deaths of family members and patients and his own encounter with heart disease in form of partially blocked arteries, discovered when he was just 45.
Throughout the book, Jauhar is thoughtful, self-reflective, and profoundly respectful of doctors and patients alike; readers will respond by opening their own hearts a little bit, to both grief and wonder. It's another in the "everything-you-ever-wanted-to-know-about…" genre, but it is a superior example. Includes illustrations.
The Escape Artists: A Band of Daredevil Pilots and the Greatest Prison Break of the Great War by Neal Bascomb
In his book, Bascomb chronicles the unimaginable escape adventure of the largest Allied prison break of WWI. By way of introduction, he recounts the disparate backgrounds of the men involved as well as the various ways they were captured. The commonality is that all ended up in the German prison camp, Holzminden or as the men called it, Hellminden. It was widely known as the worst of the German camps for its punitive brutality and for the commandant, Karl Niemeyer, who greeted his newly-captured prisoners with acorn coffee and the promise that any attempt to escape would be severely punished. At the end of the war, Niemeyer himself would try to escape in order to avoid being tried for war crimes.
Eager to get back to the fight, the captured men immediately began plotting their escape, as others before them unsuccessfully had. Determined to be successful, they deliberately kept the number of men planning to escape small, deciding on twelve officers. Concluding that a tunnel had the most chance of succeeding, the engineering mastermind behind the project took advantage of weaknesses in the prison's infrastructure. They needed fake walls, numerous disguises, forged documents and above all, a steely resolve. Once they got beyond the watch towers and the around-the-clock patrols, they had to make it through 150 miles of enemy occupied territory before they reached the safety of Holland.
In the end, twenty-nine men tunneled out of the camp over two days in July 1918. Ten succeeded in reaching Holland, the rest were recaptured. Bascomb has drawn on unpublished memoirs, official histories, and family papers to spin this action-packed tale of a mostly-forgotten episode of WWI. Throughout the book, Bascomb emphasizes the escapees' continuing cheer and determination, without which survival would have almost impossible. Truth is stranger than fiction and is much more heart-stopping.
Fins: Harley Earl, the Rise of General Motors, and the Glory Days of Detroit by William Knoedelseder
Calling all car buffs!
Knoedelseder is a best-selling author and veteran journalist who honed his investigative skills for twelve years as a staff writer for the Los Angeles Times. His book, "Stiffed: A True Story of MCA, the Music Business and the Mafia", investigated payola and other corrupt practices in the music industry and resulted in grand jury investigations across the country. Two mob figures featured in that book were used as models for Tony Soprano and Herman "Hesh" Rabkin in the HBO series.
In "Fins", Knoedelseder's research is just as thorough, but much more entertaining. Knoedelseder chronicles the rise to greatness of the American automobile industry through the eyes of Harley Earl, a six-foot-five, eccentric, stuttering visionary. Earl's history is truly a family saga, beginning in Michigan after the Civil War, travelling across the Great Plains, and eventually landing in a village named Hollywood. After dropping out of college, Earl took the skills he had learned working at this father's carriage shop and began designing sleek automobile bodies for the newly emerging moneyed movie class.
As the 1920s roared on, Earl returned to Michigan at GM's invitation and introduced art and design into the staid business of automobile manufacturing. Over the next thirty years he redefined the form and function of America's premiere product. His impact was profound, not just on General Motors, but on all automobile manufacturing companies. When he retired in 1953 as GM's VP of Styling, General Motors ranked as the most successful company in the history of business.
"Knoedelseder tells the story in ways both large and small, weaving the history of the company with the history of Detroit and the Earl family as Fins examines the effect of the automobile on America's economy, culture, and national psyche" HarperCollins.
With illustrations — this book surely will solidify your love affair with the automobile.
The Poison Squad: One Chemist's Single-Minded Crusade for Food Safety at the Turn of the Twentieth Century by Deborah Blum
Concerns about clean, safe food, campaign contributions from lobbyists, political in-fighting. Sound like today's government? Blum's book investigates the U.S. Department of Agriculture using these criteria, but it's the USDA of the 1880s.
In 1883, Dr. Harvey Wiley left his position as the first chemistry professor at Purdue University to become the chief chemist for the USDA. Once in his job, he began testing food products for adulteration and mislabeling, often on human subjects to see if they got sick, and they usually did. At the time, unregulated manufacturers routinely added noxious substances to foods. Red dye #2 can't be used to color cakes today, but in Wiley's time, cakes were routinely colored yellow with lead chromate, faded canned green beans had their color restored with copper sulfate, milk was preserved with formaldehyde, brown sugar was padded out with ground up insects, and processed meats were contaminated with all kinds of filth, frequently including the rats that overran the slaughterhouses.
Wiley gave speeches, wrote articles, and worked closely with muckraking journalists to get the word out about food safety. His work was eventually responsible for the 1906 Pure Food and Drug Act. But it didn't pass without battles between industry lobbyists, scientists, food activists, and women's groups. The bill's passage illuminates the birth of the modern regulatory state and reformist zeal, policy dog-fights and sometimes overreach. Never popular with his superiors, Wiley resigned in 1912 and moved to the labs at Good Housekeeping where he continued to make waves until his death.
"An intriguing and often horrifying saga of government policy and food regulation" Library Journal.
Small Animals: Parenthood in the Age of Fear by Kim Brooks
On a perfectly ordinary day, author Brooks had no idea she was about to become a "bad mom", charged with contributing to the delinquency of a minor. One day she made the decision to leave her four-year-old son in the car, playing happily, to run into a store to pick up one item. Unbeknownst to her, someone was filming her and immediately called the police. Thus began a nightmare for her and her family that pitted friend against friend and made her question everything about herself and everything she believed about being a parent.
Brooks explores the history of American childhood (kids have never been safer nor parents more worried), the assumption of privilege (does being poor and having fewer choices make a person inherently a bad parent?), the judgment of others toward mothers, (especially that of other mothers toward their own; fathers rarely are held to the same standards — they are not expected to be with their children every minute) and the legal and societal evaluations of the risks of childhood independence over its benefits. She interviews Lenore Skenazy, founder of the "free-range" parenting philosophy, who in 2008 ignited a firestorm when she wrote about permitting her nine-year-old son to ride the New York subway alone. She also talks to other mothers who have been arrested for leaving their children unattended in various circumstances. (As I am writing this, a mother in Wilmette, IL had a neighbor call the police when she permitted her eight-year-old daughter to walk the family dog around the block. When the police came, they determined that the mother had done nothing wrong. Not satisfied that the police had found nothing amiss, the neighbor then called Child Welfare. The family was forced to hire a lawyer and it took weeks to determine that child endangerment had not taken place and the mother was not neglecting or endangering her children.)
This is a disturbing, but ultimately affirming look at why parenting in the contemporary United States is defined by fear. What is clear, Brooks says, is that "motherhood has become a battleground on which prejudice and class resentment can be waged without us ever admitting that's what we're doing".
Books recommended by Regina S., Collection Management Specialist