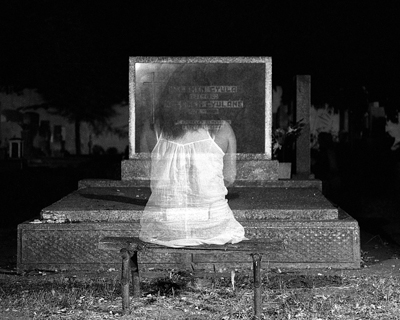 'Tis the season for scary stories! These 11 shivery reads are sure to have you looking over your shoulder every time you hear the slightest noise. BOO!
The Hunger by Alma Katsu – In this novel recommended by Stephen King, Katsu reimagines the gripping account of the Donner Party but with a supernatural twist.
The Cabin at the End of the World by Paul Tremblay – If you like your horror thought provoking and page turning, this is the novel to read. In this apocalypse scenario, several strangers are brought to a remote cabin where a vacationing family is the key to humanity's survival.
Frankenstein in Baghdad by Ahmed Saadawi – In U.S. occupied Baghdad, Hadi collects body parts and stitches them together so the government will recognize them as parts of people and give them a proper burial. But a corpse goes missing and a wave of murders sweeps through the city and Hadi realizes he may have created a monster.
Into the Drowning Deep by Mira Grant – Ancient mysteries and mythical danger comes to life as a crew assembles to go back to the Mariana Trench where seven years previously a ship disappeared filming a fake mermaid documentary. This story combines horror, science, and a mystery into a gripping novel of terror on the sea.
The Outsider by Stephen King – When a young boy's corpse is found, all signs and evidence point to the Little League Coach and English teacher Terry Maitland. He claims he is innocent and has an alibi but his fingerprints and DNA are all over the murder the scene. In King's hands, a murder mystery takes an uncanny turn toward the supernatural.
The Listener by Robert McCammon – In 1934 New Orleans, two homicidal drifters hatch a get rich quick scheme by kidnapping a wealthy businessman's son and daughter. But the daughter is "listener" who can communicate telepathically with other nearby listeners. Often violent and gritty, this is an excellent mix of crime and fantasy.
Sawkill Girls by Claire Legrand – Beware of the woods and the dark, dank deep. He'll follow you home, and he won't let you sleep. On the island of Sawkill Rock, girls have been disappearing for decades, stolen away without a trace. Marion, Val, and Zoey's stories collide as try to find out who or what is behind the disappearance.
Glimpse by Jonathan Maberry – A small crack in the lens of a borrowed pair of glasses allows Rain Thomas to see the image of boy running screaming down the subway train. But no one else has seen the boy. Soon Rain begins losing large chunks of time and starts hearing voices telling her to do terrible things.
The Chalk Man by C.J. Tudor –As children in 1986, Eddie and his friends would draw chalk stick figures as a secret code until one figure led them to a dead body. Present day Eddie receives a letter in mailbox with one of the figures on it and it leads him back to mystery he has spent years trying to forget.
The Woman in the Window by A. J. Finn – This novel gives a nod to Alfred Hitchcock and it follows Anna Fox, a reclusive woman who refuses to leave her apartment. She spends her days spying on her neighbors which leads her to see something she wasn't meant to see.
Strange Weather by Joe Hill – Horror doesn't always lurk in the shadows but can be found when everyday events are twisted. These four novellas explore Polaroid cameras, where having your picture taken could steal your memory, when instead of rain, gold and silver needles fall from the sky, when a beginner sky diver lands on a cloud, and the tale of a hero who stops a mass shooting but under the glare of spotlight, sees his story begin to unravel along with his sanity.
Books recommended by Holly A., Collections Management Director