Bucks County Free Library staff provide thousands of new library cards every year, and it's always extra special when the new cardholder is a child.
Whether you use the library frequently or want to make it a new habit, getting your children involved is a great place to start! Here's what you'll need to know about getting your child their first library card in Bucks County.
Why kids should get a library card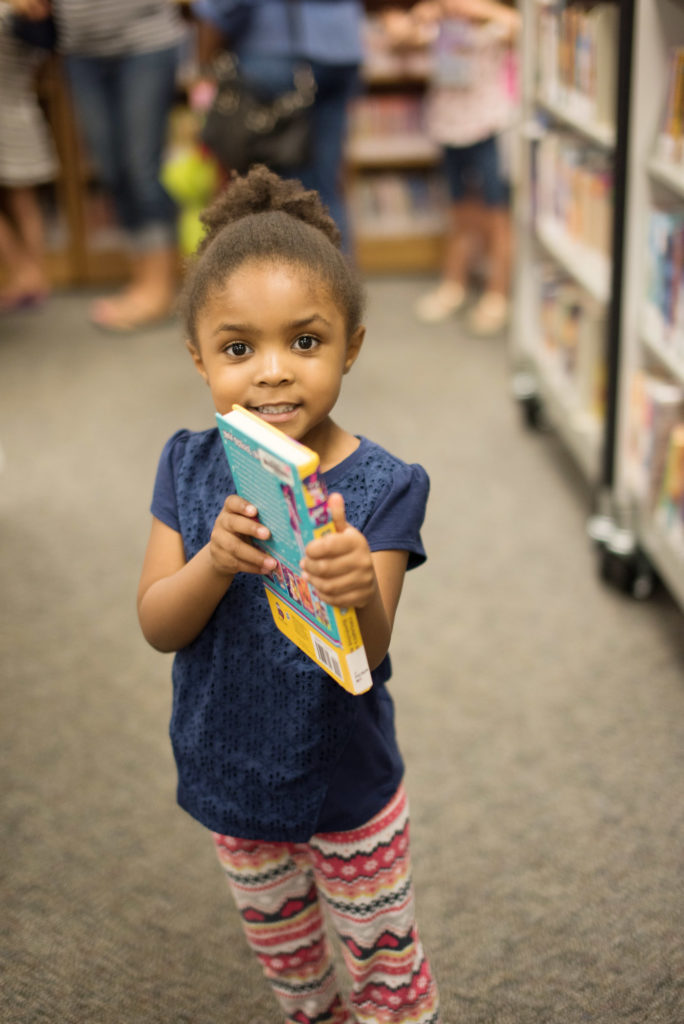 Beyond pure excitement, a library card can teach children important life skills.
Responsibility: Kids must keep track of their library card and the items they've checked out on their card. While their parent or guardian is ultimately responsible for their checkouts, giving kids their own library card is a good first step to teaching accountability.
Good citizenship: A library card connects children to a community hub. It's a great opportunity to talk about taking advantage of – and being responsible for – shared resources.
Exploration: The library is a welcoming place where kids can choose books and movies about their interests. It's often their first chance to really shape their own learning.
Self-discipline: Your local branch offers thousands of books. Kids must learn how to make decisions about what they want to read and how many items to take home.
Problem-solving: Kids in elementary and middle school can learn to find books on their own in the library's online catalog. Once they're in the library, they'll learn how books are shelved and where to pick up holds, check out items, and get help from library staff.
On the day of your visit
Before arriving, get your child excited for their first library card! Explain that once they have their card, they'll be able to borrow things from the library – just like you.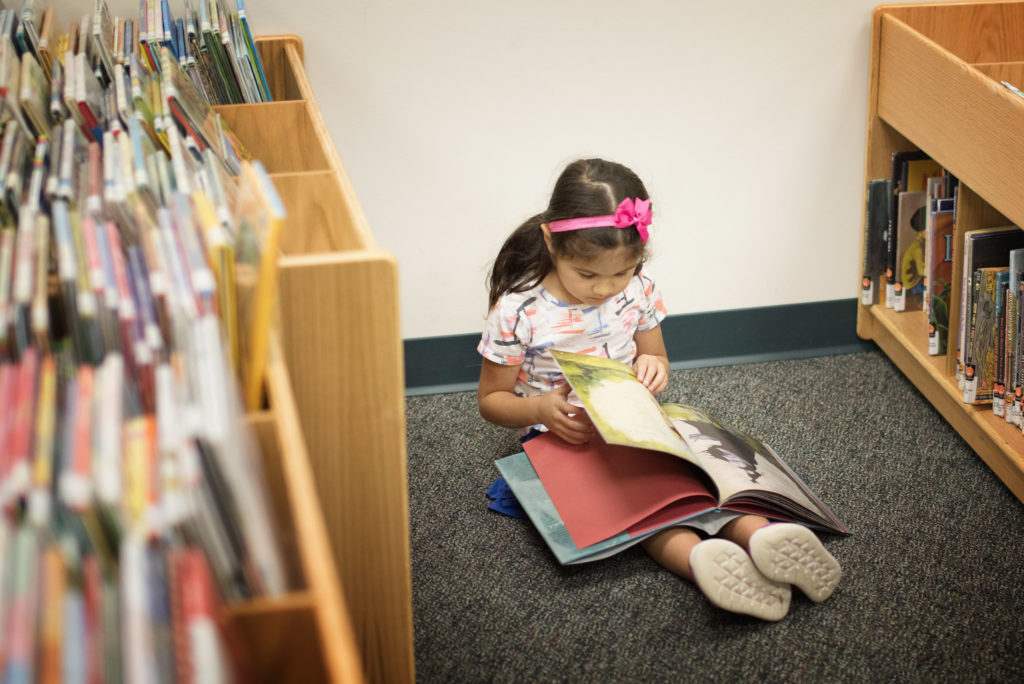 You might also want to talk about how many books to bring home. Some kids benefit from borrowing one or two books every visit, while others read a stack of books every week. This is a great opportunity to talk about setting reading goals and routines.
You can also decide whether you'll look for other items to check out, like a family board game or a movie.
Finally, consider who will be responsible for keeping the card. Some parents entrust it to their child and create a special place at home where the card is kept. Other parents choose to keep their child's card in their wallet, or give the child the wallet card and keep the key-fob version as a back-up.
Be sure to keep the sheet you're given with their new library card number and PIN. You'll need the PIN to check out items at a kiosk. If you set up an online account with their library card number, you'll create a separate password for that – not their PIN.
After they get a card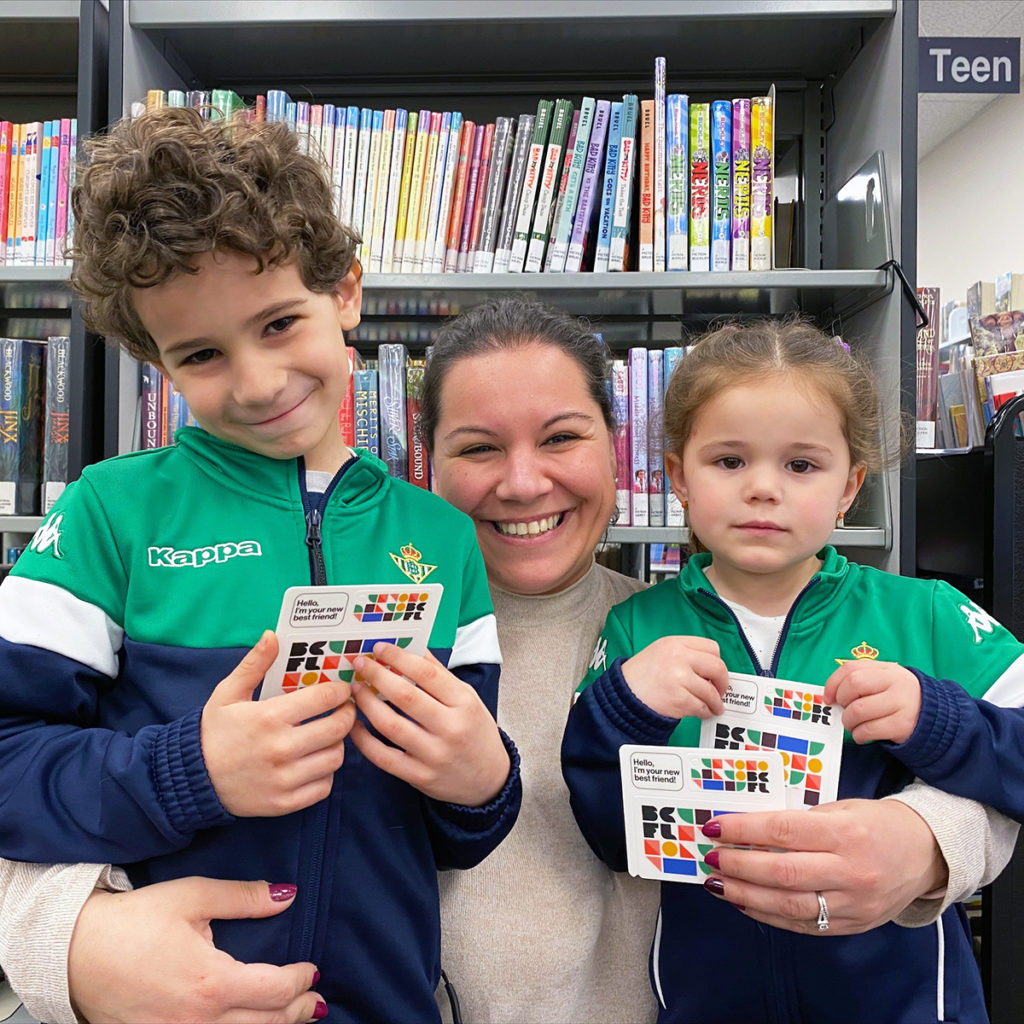 As soon as the card is theirs, take a picture! Down the road, you'll be happy you captured that milestone moment.
Then visit the children's area and pick out some books together. You can talk about the many ways to choose a book, such as:
interests
books and authors they already like
covers or plot summaries that seem promising
learning goals, such as VOX books that read books aloud in another language
Then take a moment to visit the adult area and pick out a book you'll read. To establish reading as a lifelong habit, it's important for kids to see grown-ups checking out books and reading at home.
Finally, check out your books together. Since they have their own card, they can check out their books separately from yours. If they're old enough, you can help them use the self-check kiosk; next time, they'll be able to use it on their own.
Once you're home
If your child is holding on to their card, make sure they put it in a safe place at home. You can also designate one place for keeping library books, like a shelf, a basket under the coffee table, or a special place in their room.
Make sure they understand that in two or three weeks, you will go to the library again to take back the books and get new ones.
You can set up your child's online library account to view what they've checked out and due dates. You can also link their online account to your online account so that you can renew items for them from your own account. Here's how to do that.
Child library card policies
Parents and guardians should know a few things about getting a child a Bucks County library card.
Age: There is no minimum age for library cards.
Identification: The child and their parent or legal guardian must be present when applying. The parent or guardian will need to show their identification and proof that they live, work, attend school, or own a business in Bucks County.
Privacy: Information about a child's library checkouts is protected by Pennsylvania law. The library will give information to a parent or legal guardian about a child's checkouts only if the child is present or on the phone with you when you call and gives permission. You can access a child's checkout information by logging into the My Account system with your child's card number and online account password.