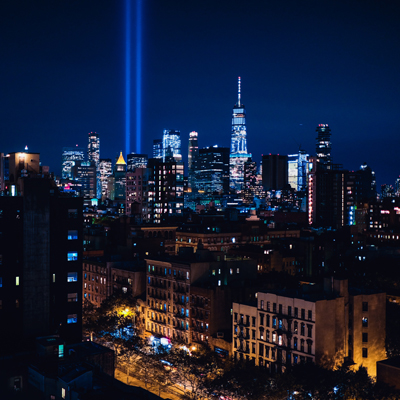 What is Patriot Day?
It is a reminder of both terrible and hopeful things.
It is a day we remember the attacks on the Twin Towers, World Trade Center, and Pentagon in 2001. It is a day we remember the lives lost to this tragedy. It is a day we remember the feelings of being scared and lost.
It's also a reminder of hope. While we remember the lives lost on September 11, 2001, we do not forget them. Each year, we do our best to do better. We do our best to not live in fear, but live in hope. Hope that by banding together, we stand united as one force. Hope that by believing in kindness and goodness that we are not defeated.
It is a difficult day, but a day we still need to remember and observe. It can also be a difficult day to talk about, or even imagine.
Literature is a wonderful way to learn and understand more about different perspectives. Assembled here are some young adult novels that show different perspectives and lives changed due to September 11, 2001.
So whether you lived through it, learned from it, or are learning about it, here are some books to help us remember and to hope.
Nine, Ten by Nora Raleigh Baskin
Nine, Ten begins on September 9th, 2001. Four children are going about their days, dealing with starting school, skipping school, hating a parent, missing a parent, and losing a parent. However, all of their lives changed drastically on September 11th, 2001.
A Very Large Expanse of Sea by Tahereh Mafi
It is a year after 9/11, and Shirin is tired of being stereotyped as the new Muslim girl, even in her new school. She is tired of the hate and comments and the violence that is thrown her way because of her race, her religion, and her clohting. She takes solace in her music and in break dancing until Ocean James comes along. He seems like he really wants to get to know her, but everyone else believes he's making a serious mistake, just because she's Muslim.
All We Have Left by Wendy Mills
Past and present intertwine in this story about Alia in 2001 and Jesse in 2016. Alia has been having a difficult time with her parents and with religion as of late. Jesse makes poor decisions based on her anger. However, when Alia finds a young man in the midst of the 9/11 attacks and it turns out to be Jesse's brother, her life and Jesse's is forever changed.
Love is Higher Than the Law by David Levithan
Peter, Jasper, and Claire might not have become the close knit trio if it weren't for 9/11. Jasper missed the event, Peter was with Claire after, and Claire needed to find her brother first. This book explores the strange surreal moments of what happens after tragedy. How do you keep going on when there is this weight of worry and fear?
Eleven by Tom Rogers
Alex wants two things for his birthday, a plane and a dog. One seems much more reasonable than the other. However, after two planes crash into the Twin Towers, it is up to Alex to keep his little sister safe. However, when a guardian angel of a dog joins them in their trek home, Alex hopes that he'll be able to keep him.
In the chaos of fleeing Afghanistan, Fadi's family loses track of his younger sister, leaving her behind as they travel for asylum in the United States. Fadi believes it is all his fault, and he must find a way to get her back. A photography competition might offer him the chance.
Love, Hate and Other Filters by Samira Ahmed
Maya Aziz is torn between who she wants to be and who her parents want her to be. After a bombing in her town, she is bullied for who she is. This book deals with a theme many of us can relate to, learning who you are and who you want to be, even during the most trying of times.
Ask Me No Questions by Marina Budhos
Nadira has never been the shining daughter, the best child. However, when her father is taken into custody due to his immigration status after 9/11, she must become the best child while they sort out his residency application. Her sister Aisha starts to falter, to panic. It is up to Nadira to hold their family together, even when it's falling apart.
— Shannon C., Children's Services Librarian