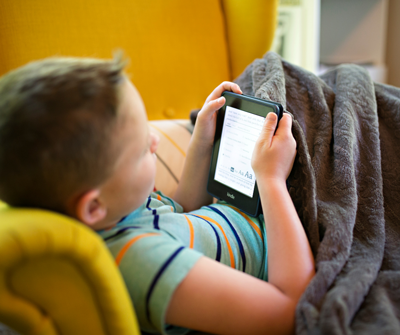 Hip hip hooray, September 18 is Read an E-book Day! To celebrate, we thought we would share with you a few of our recent favorite e-book titles available through the library's digital resources, cloudLibrary and Hoopla. So, switch on your tablet, fire up your Kindle Fire, open up your app or browser, and LET'S READ!
Picture Books and Easy Readers
My Papi Has a Motorcycle by Isabel Quintero and Zeke Peña
When Daisy Ramona zooms around her neighborhood with her papi on his motorcycle, she sees the people and places she's always known. She also sees a community that is rapidly changing around her. But as the sun sets purple-blue-gold behind Daisy Ramona and her papi, she knows that the love she feels will always be there.
Antiracist Baby by Ibram X. Kendi and Ashley Lukashevsky
One of this year's picks for the Bucks County Book Fest, Antiracist Baby introduces the youngest readers and the grown-ups in their lives to the concept and power of antiracism. Providing the language necessary to begin critical conversations at the earliest age, Antiracist Baby is the perfect gift for readers of all ages dedicated to forming a just society.
Sulwe by Lupita Nyong'o and Vashti Harrison
In this stunning debut picture book, actress Lupita Nyong'o creates a whimsical and heartwarming story to inspire children to see their own unique beauty
We Are Water Protectors – Carole Lindstrom and Michaela Goade
When a black snake threatens to destroy the Earth and poison her people's water, one young water protector takes a stand to defend Earth's most sacred resource. Inspired by many Indigenous-led movements across North America, the story and illustrations come together to create a beautiful and thought-provoking story.
Elementary Reads
You can find some of your favorite chapter books and graphic novels on our digital platforms, so if you like the Magic Treehouse, Warriors, Percy Jackson, Raina Telgemeier's graphic novels, or the Babysitter's Club, you're in luck. Here are some more titles you might enjoy!
Stepping Stones by Lucy Knisley
This contemporary middle-grade graphic novel about family and belonging from New York Times bestselling author Lucy Knisley is a perfect read for fans of Awkward and Be Prepared. Jen is used to not getting what she wants. So suddenly moving to the country and getting new stepsisters shouldn't be too much of a surprise.
Three Keys by Kelly Yang
In this sequel to the wonderful Front Desk, Mia Tang thinks she's going to have the best year ever. She and her parents are the proud owners of the Calivista Motel, Mia gets to run the front desk with her best friend, Lupe, and she's finally getting somewhere with her writing!
But as it turns out, sixth grade is no picnic…
Class Act by Jerry Craft
New York Times bestselling author Jerry Craft returns with a companion book to New Kid, winner of the 2020 Newbery Medal, the Coretta Scott King Author Award, and the Kirkus Prize. This time, it's Jordan's friend Drew who takes center stage in another laugh-out-loud funny, powerful, and important story about being one of the few kids of color in a prestigious private school.
Hand Me Down Magic: Stoop Sale Treasure by Corey Ann Hadyu and Luisa Oribe
When Del finds a special item at a neighbor's stoop sale, she gets so excited by the magic luck it brings—but doesn't see that it's driving her and her best-friend-cousin apart. Will family, friendship, and maybe a little everyday magic be enough to make things right again?
Stella Endicott and the Anything is Possible Poem by Kate DiCamillo
Stella Endicott loves her teacher and she is thrilled when the class is assigned to write a poem. Stella crafts a beautiful poem about Mercy Watson, the pig who lives next door – a poem complete with a metaphor and full of curiosity and courage. But Horace Broom, Stella's irritating classmate, insists that Stella's poem is full of lies and that pigs do not live in houses. And when Stella and Horace get into a shouting match in the classroom, Miss Liliana banishes them to the principal's office. Will the two of them find a way to turn this opposite-of-a-poem day around?
Also, if you're competing in the Reading Olympics this year, we have you covered… digitally! cloudLibrary has a great selection of titles from this year's list to help you gear up for the competition.
Bucks County Free Library has an e-book for every taste. Download the Cloud Library and Hoopla apps and get started on your digital journey today.
— Michelle K., Youth Services Librarian