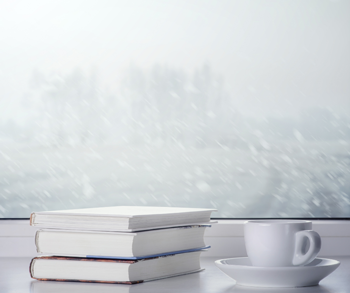 Summer may be winding down, but warmer temperatures will be with us for a while. So, to get your mind off the warmth and mugginess of late summer in Pennsylvania, we've pulled together some books set during the winter (or in a snowy climate) to help you "cool off" or at least imagine that you're somewhere colder!
Let us know if these quick "trips" to colder temps have helped you weather the weather! (I just couldn't stop myself with that pun.)
Juvenile Fiction
The Wolf of Cape Fen by Juliana Brandt
In this middle grade fantasy, two sisters set off on a journey to discover and untangle the complicated web of magical bargains within their town of Cape Fen. If they can learn the truth, maybe they can escape the Wolf and Baron Dire, the one who has struck all the bargains with the people of Cape Fen. Set in winter, the season Baron Dire returns to haunt the town, The Wolf of Cape Fen takes readers on journey of magic and mystery as Eliza and Winnie fight for Winnie's survival.
Brother's Keeper by Julie Lee
Step back in time to December 1950. Here you will find 12-year old Sora and her family as they take the dangerous journey from North Korea to the South Korean city of Busan. While on their journey an incendiary bombing changes everything and Sora must now make the journey on her own with her little brother Young. Can they survive the 300-mile trip in winter?
Skade and the Enchanted Show by Joan Holub (book #4 in the Thunder Girls series)
Readers are back at the Asgard Academy in book four of the Thunder Girls series based on Norse mythology. This time readers get to follow along with Skade, the goddess of skiing, as she tackles a skiing competition meant to mend the rift between the worlds. But something doesn't seem right about this competition. Could there be something sinister underneath it all? Find out if Skade can figure things out and show everyone what she's made of!
I Survived: The Children's Blizzard of 1888 by Laura Tarshis
This series needs no introduction. For fans of these action-packed historical fiction books, I Survived: The Children's Blizzard of 1888 takes readers back to…you guessed it…1888! Eleven-year-old Jon Hale faces one of the deadliest blizzards in American history. He must test his inner and physical strength as he battles his way through the blizzard to reach his home. Will he survive?
Hear the Wolves by Victoria Scott
Set in an isolated Alaska, Hear the Wolves follows Sloan, a 12-year-old girl who joins with a ragtag group to seek help during a blizzard. Sloan has already survived another blizzard – so she should be fine, right? Well…Sloan didn't come away unharmed in that last blizzard. Instead, she lost hearing in one ear and has since been afraid of being on her own. So, when her family leaves on a quick trip, Sloan's left on her own for the first time in a while. Then snow starts falling and then a neighbor gets hurt. Now Sloan and some of the few people still left in Rustic need to make it to the river and the boat that's tied there to get to a doctor. But to get there they need to travel through the woods where the wolves are hungry and waiting. Will Sloan and her group get to the river on time…and more importantly all in one piece?
Everest Book 1: The Contest by Gordon Korman
A thrilling tale of contest, skill and survival. The Contest is the first book in Gordon Korman's Everest trilogy. Four kids join together to compete to be the youngest kid ever to climb Mount Everest. It will take skill, stamina, and of course bravery. As the four reach the higher peaks, disaster strikes. Who will survive, and who will win?
Breadcrumbs by Anne Ursu
A twist on Hans Christian Anderson's "The Snow Queen," Breadcrumbs follows best friends Hazel and Jack. When they turn eleven, Jack suddenly stops talking to Hazel, and their friendship seems almost non-existent. But Hazel doesn't want to give up! After some digging, Hazel learns that Jack's heart has been frozen and he has been taken into the woods by a woman dressed in white. Now Hazel is on a mission to rescue Jack but these woods are nothing like what she's read about. Will she rescue Jack in time, and will they both emerge the same as they were before?
Checked by Cynthia Kadohata
Checked follows Connor—hockey obsessed and lover of his Doberman Sinbad. Both hockey and Sinbad are the two things Connor has in common with his Dad. When Sinbad gets diagnosed with cancer, Connor steps back from hockey to help pay for Sinbad's treatments. But without hockey to distract him, Connor begins to pay closer attention to his dad and his friend's difficult family life. Then he begins to question what his life and identity are without hockey. Is he really special at all?
Young Adult Fiction
Shiver by Maggie Stiefvater
Switching between winter and summer, readers follow along with Grace and Sam's story. Grace has watched a wolf with yellow eyes in the woods behind her house for years. Sam lives two lives—one as a wolf in the winter and one as a human during the summer. When the two meet one summer there's an instant connection. But as winter comes, Sam must fight to stay human—or risk losing himself, and Grace, forever.
Bittersweet by Sarah Ockler
Hudson Avery had big dreams. When her parents decide to divorce it throws her off during an important skating competition. Now three years later, Hudson might have a chance to get back to competing in the skating world once again. At the same time, a cute boy walks into her life. Filled with skating, romance and cupcakes, Bittersweet takes readers on a charming journey of figuring out what you really want out of life.
Sun and Moon, Ice and Snow by Jessica Day George
Based on the Norwegian fairy tale "East of the Sun, West of the Moon" that inspired Beauty and the Beast, George's Sun and Moon, Ice and Snow follows Lass (as she's known by her family) and her journey with an isbjorn (polar bear) that lives in an ice castle. Lass was born with a gift of understanding animals and when the isbjorn comes upon her house, her family makes a deal with the polar bear—Lass for riches. But this isbjorn isn't what he seems—instead Lass learns he's a prince that's been cursed by a troll queen and she must find a way to break him of his curse before he is forced to marry a troll princess.
Part Fantasy, part Dystopian, Frozen brings readers to the New Vegas, a city now blanketed in ice. Now the world only knows one temperature—freezing. Still, Vegas still remains Vegas—a 24-hour city with hedonistic tendencies and crowds flooding the casino floors. The casino floor is where you'll find blackjack dealer, Natasha Kestal. Natasha wants a way out. Nat's destination? The rumored paradise simply called "the Blue" where the sun still shines and the waters are turquoise—a place where Nat won't be persecuted if her darkest secret comes to light. The obstacles? The passage to the Blue is almost impossible and definitely dangerous. Her only shot is with a ragtag crew of mercenaries led by a cocky runner named Ryan Wesson. As Nat and Wes draw closer together, they'll have to manage danger at every corner and see if true love can survive the lies. A tale woven with survival and love, Frozen explores the evil men do and the awesome power within us all.
Trapped by Michael Northrop
It wasn't supposed to last for a week. Among the last seven kids at their high school waiting to be picked up, Scotty, Pete, and Jason begin to realize that no one is coming back for them. Now it's a matter of keeping warm and staying alive as it continues to snow. First the power goes out, then the heat. Soon the pipes freeze and the roof threatens to collapse. The days grow darker and colder. Will they survive at the school or will they have to make a devastating decision?
Snow Like Ashes by Sara Raasch
A start to an epic fantasy, Snow Like Ashes introduces readers to Meira, an orphaned infant who grew into a fierce warrior. Meira was raised by the Winterian's general, one of the survivors who managed to escape when the Kingdom of Winter was conquered and its citizens enslaved. Now the survivors are on a mission to steal back Winter's magic and rebuild the kingdom. When Meira learns of an ancient locket that can restore Winter's magic, she sets of to find it herself. But her mission doesn't go as expected and soon she's thrust into a world of evil magic and dangerous politics. Soon she realizes that maybe her destiny is not, never has been, her own.
The Crown's Game by Evelyn Skye
Set in a world with magic, readers will follow along with Vika and Nikolai, the only two enchanters in Russia, as they compete to become the Imperial Enchanter and the Tsar's most respected advisor. Both are eager to win the title, as the one who loses will be sentenced to death. But things become complicated as Nikolai's best friend and heir to the throne, Pasha, begin to fall in love with Vika. Can Nikolai defeat the girl they're both falling for or will he be killed himself? Told in duel point of view, The Crown's Game takes readers on a journey of love, magic, and high stakes!
With inspiration from Labyrinth, this dark fairy-tale follows Liesl as she journeys to rescue her sister who was taken by the Goblin King. She has heard tales of the beautiful, but dangerous Goblin King all her life. Now she must face him and his strange, but captivating world. Liesl soon faces an impossible decision and must discover who she truly is before her fate is sealed. Filled with magic and music, Wintersong takes readers into a world they won't soon forget!
The Edge of Everything by Jeff Giles
Not for the faint of heart, The Edge of Everything is part thriller, part fantasy. Still reeling from her father's sudden death, 17-year-old Zoe and her brother are brutally attacked during a blizzardy night while staying in a cabin in the wood of Montana. Just when it seemed things were only going to get worse; they're recused by a mysterious bounty hunter they call X. X isn't an ordinary bounty hunter. He hails from a hell called the Lowlands. X can only reveal himself to his prey—Zoe's evil attacker—when collecting their soul. But X breaks the rules for Zoe and soon their worlds collide and they begin to question the past, their fate and their future.
Adult Fiction
If you're looking for some Adult Fiction, here's a quick list of books that take place during the winter or in a snowy climate!
— Nicole S., Children's Services Librarian