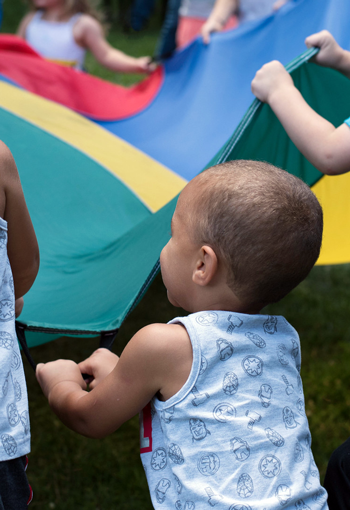 Toddler storytime is more than reading and playing. It is a special time for your child to begin a lifetime of learning. Young children can understand words long before the can say them. Remembering that there are different developmental timelines or milestones for toddlers is important. These milestones influence the understanding and meaning of words to each child at different times.
Many toddlers, as young as 18 months of age, can understand the meaning of objects and words. Along with the skill of comprehension, toddlers are developing and refining their fine motor skills. Combining these two skills and adding them to an interactive book, such as pop-ups, buttons, flaps, and 3-D elements, can increase a toddler's wish to read. Storytimes introduce and reinforce many different types of books, stories, and authors.
Not only is storytime a great form of entertainment for parents looking for activities for their children, but library storytimes can also provide a gold mine of mental and emotional benefits to a young child. Caregivers can be a big part of their toddler's learning skills. Reading to toddlers sets the foundation for later independent reading.
Toddler storytimes and reading together are important for many reasons. Below is a list of reasons why attending storytimes and reading to toddlers is significant.
Increasing vocabulary: little ones enjoy listening to books and reading reinforces their understanding of new words.
Ease into different stages of development: reading to a toddler can help ease them in tough times and with difficult topics, along with helping relieve frustration in separation from caregiver, saying goodbye to bottle, leaving diapers behind, and much more.
Introduction to early literacy skills: developing early literacy skills makes it easier for children to learn to read. Reading to a toddler starts the basis for learning. The Bucks County Free Library uses six early literacy skills in their various storytimes. These skills are vocabulary, narrative skills, letter knowledge, print motivation, print awareness, and phonological awareness.
Better prepared for school: children who are introduced to reading early tend to read earlier. Children are usually expected to start reading as early as first grade.
Books for Toddlers
Attending library storytime is exciting and educational. It is also a great way to meet other parents in your community and for your child(ren) to socialize with other children.
Let storytime be a fun and enjoyable library activity that you can share together. Storytime can be the beginning of what can become a beautiful relationship for your child and your local public library.
— recommended by Cathy G., Youth Services Assistant, North