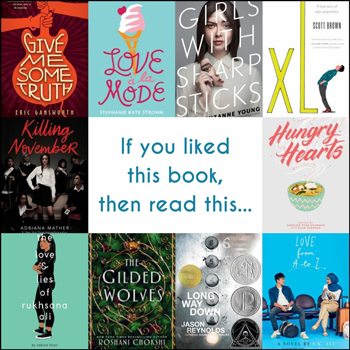 Looking to add something to your TBR? Not quite sure what to pick up next? We've got you covered!
If you liked The Absolutely True Diary of a Part-time Indian by Sherman Alexie, then try out Give Me Some Truth by Eric Gansworth
Give Me Some Truth follows two Native American teens who are struggling to find their identity both on and off the reservation. Carson thinks his best chance to make his mark is by winning the local Battle of the Bands. Of course, it might help if he actually has a band first. Maggi has just moved back to the reservation and wants to create art outside of the traditional artwork her family sells to tourists. Taking place in 1980, Give Me Some Truth explores identity, social justice, first love, political, and pop culture, as well as two teens trying to reconcile the life they have with the life they want.

Book Notes: This book has strong ties to John Lennon, Yoko Ono, and the Beatles. There's a lot of musical influence within the storyline. Like The Absolutely True Diary of a Part-Time Indian Gansworth's novel introduces readers to tough topics that might turn off readers looking for a light-hearted read. With that said, this is definitely one to try out for music lovers, Alexie lovers, and even John Green fans!
If you liked Anna & the French Kiss by Stephanie Perkins, then try out Love à la Mode by Stephanie Kate Stohm
Paris setting √ International School √ Girl Meets Boy = Possible Love? √
Love à la Mode has all the ingredients for fans of Stephanie Perkins' popular Anna & the French Kiss. Readers follow both Rosie Radeke, a girl from East Liberty, Ohio, and Henry Yi, a boy from Chicago, as they battle it out at the prestigious school owned by celebrity chef Denis Laurent in Paris, France. Competition over food isn't the only thing these two are battling over. As both Rosie and Henry struggle with the challenging curriculum and accompanying self-doubt, sparks begin to fly between them. Can Rosie and Henry prove themselves as real chefs or will they crumble under the pressure? Filled with the sights and sounds of Paris, the joy brought from watching your favorite reality cooking show, and the excitement of first love, Love à la Mode is sure to be a perfect read for summer!
If you liked The Belles by Dhonielle Clayton, then try out Girls with Sharp Sticks by Suzanne Young
Margaret Wolfe Hungerford is credited with coining the popular phrase, "beauty is in the eye of the beholder." Both The Belles and Girls with Sharp Sticks takes this phrase to a whole new level. If you enjoyed the dystopian suspense centered on beauty and politics in Clayont's The Belles then Suzanne Young's Girls with Sharp Sticks just might be your next must read! In Young's novel, readers find Mena, who attends The Girls of Innovations Academy, where she studies Growing a Beautiful and Prosperous Garden and Art Appreciation. All the girls are beautiful, obedient, and well-behaved. That is until Mena begins to question her carefully controlled existence. Soon Mena and her friends are set on uncovering the dark secrets of what's happening at the Academy and finding out who exactly they really are. Will they uncover the truth or will darker forces win?

Book Notes: With similar themes found in some of today's popular TV Shows, this novel explores topics around feminism, society's beauty standards, and power. As seen in Young's other writings, a darker tone underlines the storyline in this novel. While this tone works perfectly for the dystopian setting, it might be a bit much for readers looking for a lightly suspenseful novel.
If you liked Dumplin' by Julie Murphy, then try out XL by Scott Brown
In Julie Murphy's Dumplin', readers (and now Netflix subscribers) were introduced to Willowdean Dickson (Dumplin') who brought readers on a journey of self-assurance and body confidence as she navigated the Miss Clover City beauty pageant. Now readers who loved that body positive storyline by Murphy can explore it again in Scott Brown's XL. This time readers will follow along with Will Daughtry's story. Just shy of five feet, Will has told everyone that he's a late bloomer. Really though, he's resigned to being shorter forever. All he seems to have going for him are his friendships with his stepbrother, Drew (6'3"), and Monica (5'10"), the girl he's secretly pinning for. Then the unexpected happened—Will grows, and grows fast! While Will is enjoying his new height, it hasn't come without growing pains. Now Will has to figure out who he wants to be with all the new "himself" he never expected to have.

Book Notes: Brown's XL offers the opportunity for readers to explore insecurities from a male point of view which isn't seen as frequently in fiction.
If you liked the anthology Meet Cute: Some People Are Destined to Meet, then try out the newest anthology Hungry Hearts: 13 Tales of Food & Love
Each year there seems to be a fun new anthology filled with short stories by some of YA's popular authors. Meet Cute brought readers stories about characters meeting for the first time. Now Hungry Hearts: 13 Tales of Food & Love will bring readers interconnected tales that explore family, culture, and food in the lives of 13 teens. Featuring the writings of Sandhya Menon, S. K. Ali, Anna-Marie McLemore, Jay Coles, Adi Alsaid, and more. This short story collection will sure to be another great author collaboration hit with readers!
If you liked People Like Us by Dana Mele, then try out Killing November by Adriana Mather
In People Like Us, readers followed Kay as she sleuthed through the halls of Bates Academy to find the truth about a murder. Now readers can devour another boarding school thriller by reading Adriana Mather's Killing November. In Killing November, readers will find a school completely off the grid—no electricity, no internet, and a surrounding trap-filled forest. Classes include everything from Knife-Throwing and Poisons to the Art of Deception and Historical Analysis. These students aren't your average learners. They're here to become the next best assassins, counselors, spies, and master impersonators. November Adley, newest student, quickly learns that there are no real friendships at her new school. When one student's been killed, all eyes turn towards November. Now she has to find out who the real killer is before she's found guilty or worse—becomes the killer's next victim!
If you liked Poet X by Elizabeth Acevedo, then try out The Love & Lies of Rukhsana Ali by Sabina Khan
Xiomara Batista pours her feelings, passions and frustrations into her note book in slam poet Elizabeth Acevedo's Poet X. Xiomara struggles to find her place and identity among her mother's religion and society's reaction towards her. In Sabin Khan's The Love & Lies of Rukhsana Ali, readers meet 17-year-old Rukhsana Ali who is struggling to live up to her conservative Muslim parents' expectations. When her parents discover her kissing her girlfriend, they sent Ruskhsana off to Bangladesh, where she is thrown into a world of arranged marriages and tradition. With her grandmother's old diary offering must-needed perspective, Rukhsana must learn how to fight for her love without losing everyone and everything in her life.
If you liked Six of Crows by Leigh Bardugo, then try The Gilded Wolves by Roshani Chokshi
Fans of Bardugo's Six of Crows were introduced to a ragtag group of thieves that quickly became a beloved crew of characters. If you're looking for another magical world with a quirky, but lovable group of characters, then try out The Gilded Wolves by Roshani Chokshi. While Six of Crows was set in a well-developed world of magic and danger, Chokshi brings readers back to a reimagined Paris in 1889. With steampunk vibes galore, Chokshi brings readers on a journey to hunt down an ancient artifact. The team to do it is led by treasure-hunter and wealthy hotelier Séverin Montagnet-Alarie and filled with a band of unlikely experts: an engineer with a debt to pay; a historian banished from his home; a dancer with a sinister past; and a brother-in-arms, if not blood. Together they'll work to find the artifact that the Order seeks while trying to stay alive!
If you liked Turtles All the Way Down by John Green, then try Long Way Down by Jason Reynolds
John Green's Turtles All the Way Down took readers inside the mind of Aza Holmes, a young woman navigating OCD and anxiety. While the storyline included a mystery to find a fugitive billionaire, readers really got to dig into Aza as a character. If readers enjoyed the character study found in Green's Turtles All the Way Down, then they should try out Jason Reynolds' Long Way Down. While 15-year-old Will doesn't struggle with OCD, he does struggle with revenge. Will's brother was killed. Now Will wants to kill the guy who did it. Reynolds brings readers on a journey inside the mind of Will as he rides the elevator down—just 60 seconds to decide if Will is willing to be a murderer too. With a cast of characters to showcase the larger story at play, Reynolds weaves a dazzling story that brilliantly showcases teenage gun violence.
If you liked When Dimple Met Rishi by Sandhya Menon, then try Love from A to Z by S. K. Ali
In When Dimple Met Rishi by Sandhya Menon, readers watched as opposites Dimple and Rishi met and began to fall in love (despite being "arranged" by their parents). Now hopeless romantics can continue reading about opposites attracting in S. K. Ali's Love from A to Z. In Ali's novel, readers will meet Zayneb, who starts spring break early in Doha, Qatar after clashing with her teacher, and Adam, who was recently diagnosed with multiple sclerosis. Zayneb figures this will be a great opportunity to try being a "nicer" version of herself. Adam is intent on keeping his memory of his mom alive for his little sister and is hiding his recent diagnosis from his grieving father. Both are playing roles for others and keeping their real thoughts locked away in their journals. What might just happen if the two should meet?
-Books recommended by Nicole S., Youth Services Library, Quakertown Branch