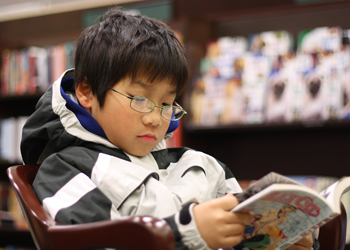 Graphic novels can be described as "novels using images, as well as words, to tell a story." This genre includes so much more than the comic books it is usually associated with, and the popularity of graphic novels is on the rise with readers of all ages. But why should you read—or allow your child to read—graphic novels?
Graphic novels can be beneficial to readers because they:
Keep a fast pace—The exciting plots and action keep the attention of readers who are very energetic and/or reluctant to read.
Build vocabulary—Fewer words does not always mean simple words. Since there is not space for many words on the pages of a graphic novel, the words that are on the page are chosen for maximum impact.
Force text interaction—Throughout the book, the reader constantly needs to figure out the relationship between the text and the images.
Develop reading skills—Graphic novels develop and reinforce reading skills like inferencing, demonstrate punctuation and grammar rules, and explain figurative language.
Aid those with learning differences—Readers with autism can learn about emotions by observing the images on the page as they read the story. Those with dyslexia can read a page or even a book without feeling too overwhelmed by the number of words on the page.
Reinforce harder to read texts—Moby Dick, Treasure Island, and the plays of Shakespeare are examples of some classic texts that are available as graphic novels. When the classic text is read alongside the graphic novel, readers can gain a greater understanding of the story.
The best part—there are graphic novels available for all reading levels and almost any interest!
Popular choices include:
– written by Sarah D., Programming Assistant, Children's Services
Image credit: Wikimedia