You've got me feeling emotions, deeper than I've ever dreamed of.
You've got me feeling emotions, higher than the heavens above.
– Mariah Carey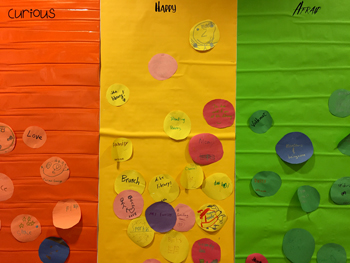 Sometimes we feel happy, and sometimes we feel bored. We feel angry, sad, hopeful, silly, and so much more. This month at the Quakertown Branch's Discovery Studio Mood Room, you can explore all of your feelings, whatever they may be.
Here are some books to get you thinking about all of the different types of emotions you can feel.
Today I Feel… by Madalena Moniz: Full-page illustrations and simple text portray an emotion for every letter of the alphabet.
When Sadness is at your Door by Eva Eland: A young child experiences sadness as if it were a visitor, acknowledging the emotion and suggesting activities to do with it.
Feeling angry! by Katie Douglass: Kids get angry for all kinds of reasons, but they need to learn to deal with this emotion in healthy ways. This book teaches emotional regulation strategies like taking deep breaths, slowing down, counting to ten, and thinking about something else. Section for adults includes discussion prompts and activities.
The Color Monster by Anna Llenas: One day, Color Monster wakes up feeling very confused. His emotions are all over the place; he feels angry, happy, calm, sad, and scared all at once! To help him, a little girl shows him what each feeling means through color. As this adorable monster learns to sort and define his mixed up emotions, he gains self-awareness and peace as a result.
I Feel Teal by Lauren Rille: Encourages the reader to enjoy all of the colors, representing feelings, that may be experienced in the course of a day.
Today I Feel Silly & Other Moods That Make My Day by Jamie Lee Curtis: A child's emotions range from silliness to anger to excitement, coloring and changing each day.
My Many Colored Days by Dr. Seuss: This rhyming story describes each day in terms of a particular color, which in turn is associated with specific emotions.
— written by Brian W., Assistant Manager, Quakertown Branch