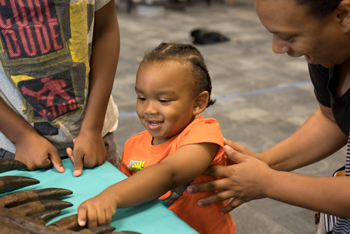 Thank you for having a library card and for recognizing the value that the Bucks County Free Library brings to this community. We are grateful to celebrate another successful year, made possible by your patronage and support.
In addition to traditional library services like book lending, we offered a variety of exciting opportunities to encourage literacy and enrich the lives of Bucks County residents in 2018. From Sensory Storytimes to small business workshops, from The Backyard to Penn's Little Village, from computer cubicles to reading nooks, we were proud to serve you.
Our Year in Review:
Patrons checked out 2,076,519 items
Of that number, nearly 25% were digital downloads
The seven branches recorded more than 1,214,688 visits
We added 69,190 items to our collection
Patrons watched 5,556 hours of educational videos on Lynda.com
Summer Quest 2018:

50,077 people attended 1,636 programs and performances
Patrons read 1,903,300 minutes during the summer reading challenge
We served 1,748 free lunches at the Levittown and Bensalem branches
Please consider supporting Bucks County Free Library with a tax-deductible donation. Visit www.buckslib.org/donate or call Michelle Wexler, Development Director, at (215) 348-0332 x1115 to make a gift today. Thank you!
We look forward to seeing you in 2019!
Bucks County Free Library is an exempt organization as described in Section 501(c)(3) of the Internal Revenue Code; EIN 23-1520310. For more information about donating to Bucks County Free Library, visit www.buckslib.org/support.