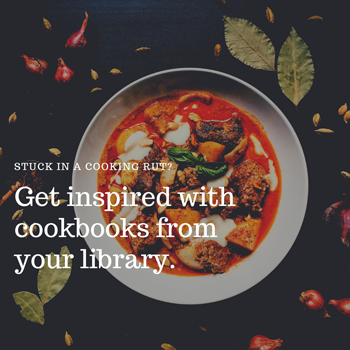 Seasons are changing. Kids are in school, and we're coming in from the outdoors and getting ready for winter. One of the things that may change is what foods we choose to eat, how we prepare them, and share them with our friends and families. If you feel that you are stuck in a rut, below are some cookbooks that may inspire you to expand your horizons.
If You Need a General Cookbook
If You Have Kids Who Take Their Lunches to School
If You Have to Consider Allergies When Cooking
If You Have College Students Are Cooking for Themselves for the First Time
If You Are Interested in Special Diet Plans or Ethnic Cooking
The library has a large selection of cookbooks dealing with eating plans such as ketogenic, vegan, paleo, and gluten-free, as well as a variety of cookbooks dealing with ethnic cooking. You can search the catalog for these specialties by using the term ketogenic cookbook, vegan cookbook, Asian cookbook, etc.
If You Are Interested in e-Cookbooks
We have hundreds of cookbooks available digitally. You can search our electronic databases using the apps for each digital platform. You can use the same search terms you would use when searching the catalog. Below are a few titles available digitally:
hoopla:
cloudLibrary
OverDrive
— Recommended by Regina S., Collection Management Coordinator