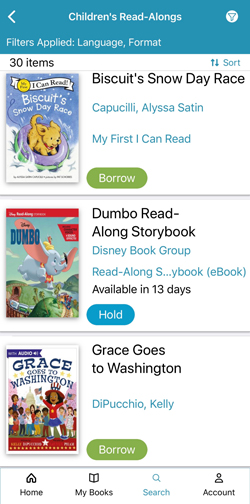 Check out a Children's Read-Along eBook from cloudLibrary today! Read-Alongs are a new picture book reading experience sure to captivate young readers. They are eBooks with professionally-recorded narration that plays along while your child reads. Many Read-Along eBooks will highlight text as the narrator reads, so kids can follow along.
With the new Read-Along feature, text, pictures, and sound come to life with page-turning titles. These titles combine the visual text of an eBook with a read-along capability to help readers better understand sentence structure, language flow, and syntax.
Read-Alongs are a wonderful way to get young children excited about reading and introduce them to technology and devices through interactive reading experiences. Explore available titles on our featured shelf in cloudLibrary. Read-Alongs are also available on Overdrive and Hoopla.
— Kathleen L., Collection Management Librarian