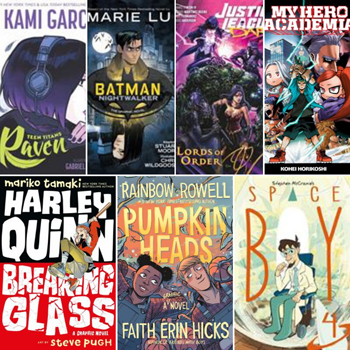 Start your 2020 reading year off with these graphic novels. Written for young adults, these stories will appeal to some adult readers, also.
Batman: Nightwalker by Marie Lu
This action-packed graphic novel based on the New York Times bestselling novel by Marie Lu transports readers to the shadowy gates of Arkham Asylum, where Gotham City's darkest mysteries reside…and now threatens to imprison young Bruce Wayne.
Harley Quinn: Breaking Glass by Mariko Tamaki
With just five dollars and a knapsack to her name, fifteen-year-old Harleen Quinzel is sent to live in Gotham City. She's not worried, though–she's battled a lot of hard situations as a kid, and knows her determination and outspokenness will carry her through life in the most dangerous city in the world. And when Gotham's finest drag queen, Mama, takes her in, it seems like Harley has finally settled in. However, she soon learns she has difficult choices to make to go about defining her world for herself.
Justice League Dark 2 – Lords of Order by James Tynion, IV
Wonder Woman and the Justice League Dark are in a race against time as the Otherkind close in on the magical community! The world's magic is fading, and new enemies have appeared to take advantage of Earth's weakness. Doctor Fate has assembled the Lords of Order, trapping the magical community on Earth. In order to save magic, the Justice League Dark must escape Doctor Fate's snares and fight the Otherkind. But can they do all of that without calling on even more dangerous powers for assistance?
My Hero Academia. Volume 20, School Festival Start!! by Kohei Horikoshi
What would the world be like if 80 percent of the population manifested superpowers called "Quirks"? Heroes and villains would be battling it out everywhere! Being a hero would mean learning to use your power, but where would you go to study? The Hero Academy of course! In this volume, Midoriya inherits the superpower of the world's greatest hero, but his greatness won't come easy.
Pumpkinheads by Rainbow Rowell
In Pumpkinheads, beloved #1 New York Times bestselling author Rainbow Rowell and Eisner Award–winning artist Faith Erin Hicks have teamed up to create this tender and hilarious adventure about two irresistible teens discovering what it means to leave behind a place—and a person—with no regrets.
Raven by Kami Garcia
When a tragic accident takes the life of 17-year-old Raven Roth's foster mom–and Raven's memory–she moves to New Orleans to recover and finish her senior year of high school. But as she grows closer to her new friends, her foster sister, Max, and Tommy Torres, a guy who accepts her for who she is now, Raven has to decide if she's ready to face what's buried in the past…and the darkness building inside her.
Space Boy 4 by Stephen McCranie
This graphic novel is a sci-fi drama of a high school-aged girl who belongs in a different time, a boy possessed by emptiness as deep as space, an alien artifact, mysterious murder, and a love that crosses light years.
— recommended by Kathleen L., Collection Management Librarian