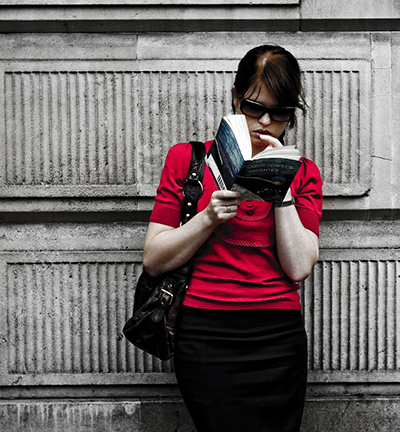 Every year as the holidays approach, the "Best Books" lists appear. This year, we've compiled our own Best Books lists with recommendations from some of our staff.
These are the adult fiction books we enjoyed most; all were published in 2015. On Wednesday, we'll publish a list of our favorite non-fiction adult books and next Monday, our picks for the best young adult, children's, and picture books that were published this year.
Did we include your favorite book? Did we overlook it? Join the conversation on Facebook and tell us which were your favorite books of 2015.
BEST ADULT FICTION BOOKS OF 2015
The Aeronaut's Windlass by Jim Butcher — Excellent world building, memorable characters, action packed, a little bit of steampunk, and talking cats! (Adult/fantasy, first in a series.) — recommended by Holly in Doylestown
Anatomy of Evil by Will Thomas — The author's eighth mystery in his Barker and Llewelyn series, which is an homage to Sherlock Holmes. In this outing, the duo take on Jack the Ripper — recommended by Ceil in Doylestown
The Cake Therapist by Judith M. Fertig — I just finished this and immediately started searching for the sequel (which, unfortunately, isn't going to be published till late spring 2016). Neely can sense your emotions and construct a cake with the flavor combinations that deepen your enjoyment, support your decisions, or ease your distress. It is reminiscent of The Language of Flowers by Vanessa Diffenbaugh; both touch on the intangibilities that flavor and color our lives in ways that are not apparent. — recommended by Chris in Doylestown
Chocolate; The Consuming Passion by Sandra Boynton — Boynton, known for her pinbacks that say "If the wearer is found depressed, administer chocolate immediately," has re-released her 1982 guide to all things chocolate. She has added new information, more of her delightful drawings, and even more incentive to eat chocolate. — recommended by Mary Catherine in Doylestown
Dreaming Spies by Laurie R. King — The author's latest suspense novel featuring Mary Russell and Sherlock Holmes, travels from India to Japan to England, following extortion and espionage. Can't wait for the next one. — recommended by Ceil in Doylestown
Funny Girl by Nick Hornby — A neat and compelling take on a woman in comedy in the "I Love Lucy" era of television. The characters are absolutely charming and the story is rich, light, and fun. Barbara Park is crowned a beauty queen at Blackpool, an English seaside town. But what she really wants is to become the British Lucille Ball. This is for anyone who likes Nick Hornby (High Fidelity, About a Boy) and/or sixties Britcoms. — recommended by Alison in Bensalem and Jen in Langhorne
The Girl in the Spider's Web by David Lagercrantz — Lagercrantz superbly brings back the return of Mikael Blomkvist and Lisbeth Salander, in this fourth book of the Millennium series. This fast-past, brilliantly convoluted, thrill-ride of a novel truly does justice to Larsson's legacy of The Girl with the Dragon Tattoo. — recommended by Kathleen in Levittown and Katharine in Doylestown
A God in Ruins by Kate Atkinson — This British saga takes its main character, Teddy, all the way from 1925 to 2012. Dense, in a good way and mostly enthralling. For those who like family sagas, unpretentious literary fiction, and/or World War aeronautics (I have to admit there was a little too much of that for me). — recommended by Alison in Bensalem
I Was Here by Gayle Forman — I had never read Gayle Forman before this; she's an excellent author. I felt like I was so a part of the character that, while reading, I was actually making hand motions that the main character in the book was described as doing. While I was unaware of it, people around me were very aware! — recommended by Michelle in Quakertown
Ladle to the Grave by Connie Archer — Because I like a good cookery cozy. (I like all of the books in her Soup Lover's mystery series). — recommended by Karen in Doylestown
Last Bus to Wisdom by Ivan Doig — I've always loved Doig's writing, and this is his last book as he died last April. It is a great story of a boy and his uncle and their love of each other, though they've only just met and take a great road trip. — recommended by Heather in Northampton
Let Me Tell You by Shirley Jackson – "From the author of The Lottery and The Haunting of Hill House, a new volume of previously unpublished and uncollected stories, essays, and other writings." —recommended by Neil in Perkasie
A Little Life by Hanya Yanagihara — This was the best book I have read in a long time. It is long and extremely sad and at times very disturbing. It is also very moving and several times brought me to tears. A portrait of an incredibly sad life, it is also a portrait of the sustaining power of love. It is a National Book Award Finalist and was short listed for the Man Booker Award. — recommended by Pat in Levittown
Lord of the Wings by Donna Andrews — This is number 18 in the Meg Langslow mystery series. "Filled with Halloween spirit and suspense," it isn't the best one of the series, but the author is witty and enjoyable. — recommended by Mary Catherine in Doylestown
Lost and Found by Brooke Davis — Davis' debut novel is charming, witty, and hilariously funny as it explores the concept of how both the very young and the very old find their way home, while enjoying some crazy adventures along the way. — recommended by Kathleen in Levittown
The Nightingale by Kristin Hannah — "The story of two sisters, separated by years and experience, by ideals, passion and circumstance, each embarking on her own dangerous path toward survival, love, and freedom in German-occupied, war-torn France." — recommended by Alice in Langhorne
Our Endless Numbered Days by Claire Fuller — Seventeen-year-old Peggy, living in London with her mother, remembers how her survivalist father kidnapped her at age eight and took her to a remote cabin, telling her that the rest of the world had been destroyed. — recommended by Ceil in Doylestown
Our Souls at Night by Kent Haruf — "A spare yet eloquent, bittersweet yet inspiring story of a man and a woman who, in advanced age, come together to wrestle with the events of their lives and their hopes for the imminent future." — recommended by Susan in Perkasie
The Outlandish Companion, Vol. 1 (Revised), The Outlandish Companion, Vol. 2 (with New Commentary) by Diana Gabaldon, et al. — Because I've been hooked on Outlander since the first paperback jumped at me from a rack in the Pathmark and demanded to be read. — recommended by Karen in Doylestown
A Red-Rose Chain by Seanan McGuire — Because the author understands that Faery have teeth and she's one of the best urban fantasy writers ever. (And all of the October Daye series … who can say no to snogging the King of the Cait Sidhe?) — recommended by Karen in Doylestown
Slade House by David Mitchell — Everything David Mitchell writes is amazing! He is my absolute favorite author, and he's known most for his genre-bending, incredibly well-written and complex stories. This book in particular was especially creepy and thought-provoking. — recommended by Jen in Langhorne
We Never Asked for Wings by Vanessa Diffenbaugh — From the bestselling author of The Language of Flowers, Diffenbaugh brings us a fascinating and heartwarming story about overcoming adversity, facing life changes, making difficult choices, and finding love at any age. — recommended by Kathleen in Levittown
Who Buries the Dead by C. S. Harris — The author's 10th mystery featuring her sleuth Sebastian St. Cyr, Viscount Devlin. Set in Regency London and full of suspects and severed heads, it is historical mystery at its best. Can't wait for the next one. — recommended by Ceil in Doylestown
Zig Zag Girl by Elly Griffiths — The first in a new mystery series set in Brighton, the English seaside town, in the early 1950s. The main characters served in an elite magician's unit in World War II and now they're got a crime to solve. Lots of twists and reveals. — recommended by Alison in Bensalem