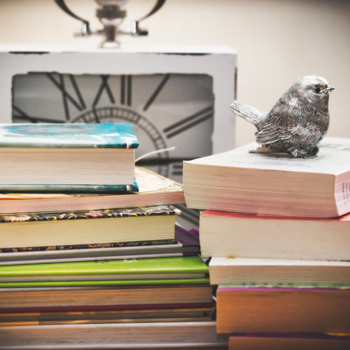 Is your TBR list growing and growing and growing — to the point that you may never finish the books on it? We're sorry to tell you that it's about to grow longer! You're sure to find one or more books of interest in this list of new fiction and nonfiction titles.
FICTION
The Care and Feeding of Ravenously Hungry Girls by Anissa Gray
We meet the devoutly Christian Butler family, a trio of sisters, Althea, Viola, and Lillian, and Joe, the lone brother, in the midst of a crisis and are immediately drawn into their story. Their family is very well-respected in their small Midwestern town, but after their mother's death, when Althea, the oldest, was twelve, the siblings were left largely on their own. Their father became an itinerant preacher who was absent much of the time and, when he was there, could be abusive. Being more different than they are alike, the sisters nonetheless unite under these conditions.
Althea, the oldest sister and her husband, Proctor, were childhood sweethearts, and own a restaurant and general store in town; they are pillars of the community. Before Thanksgiving in 2013, in a scandal that rocks the town, they are convicted of food stamp fraud and charity embezzlement. They are sent to prison, and Lillian, the youngest sister, the favorite of her father, takes over the care of Althea's teenage twins, Kim, a wild child and shy Baby Vi. They are living in the house where the sisters grew up, where Lillian is also caring for her dead ex-husband's grandmother.
Viola, the middle sister, is a therapist in Chicago with an eating disorder and a failing relationship. She's holding it all together by avoiding her family, but returns home to help Lillian.
The story is told primarily in the alternating voices of the three sisters. We get to know Joe, the brother, only through his sisters' eyes, and we learn why they want to shut him out of helping to raise his teenage nieces even though he has offered. Each sibling, in reacting to the needs of the girls, reveals their own emotional vulnerabilities. Festering resentments bubble to the surface as Althea, Viola, Joe, and Lillian are forced to reckon with each other's past behavior. The gnawing hunger that permeates their inner lives is at the crux of Gray's thoughtful and dynamic exploration of sibling relationships.
Bowlaway by Elizabeth McCracken
It can be hard, in a world with so many books, to find something truly unique to write about. But Elizabeth McCracken has done just that. She has created a sweeping family saga centered around a bowling alley. And not just any bowling alley but a Candlepin bowling alley. And not just any story but a love story: love of a spouse, love of a child, love of self, and love of a game. "Our subject is love," writes McCracken early in the novel, "because our subject is bowling. Candlepin bowling. This is New England, and even the violence is cunning and subtle."
We meet Bertha Truitt soon after the dawning of the 20th century, when she is discovered unconscious in a cemetery in Salford, Massachusetts. She is middle-aged and plump and seemingly has fallen from the sky. She knows not how she got there. She falls in love with Leviticus Sprague, the doctor who revives her in the cemetery. They marry and have a daughter, Mina. The townspeople find Bertha so charismatic that they begin to dream about her and hear her say, "I have a game for you" and "It is possible to bowl away trouble," and they credit her with magical powers.
Refusing to bend to convention and by the sheer force of her personality, Bertha crafts the life she wants to live. One thing she does is establish a Candlepin bowling alley, Bowlaway, claiming (falsely, but perhaps that doesn't matter) that since she invented the game, she can make the rules. One of the rules is that women can bowl in her alley, in public, eschewing the social conventions of the time and upsetting some of the men in the community. But the co-ed bowling alley is the scene of a great number of match-ups, many of which turn into love and marriage. "They hadn't realized that bowling was so full of suspense. A story: our hero (the ball) sets out on his journey (the approach), travels the length of his world until he runs into trouble, acquits himself well or badly, end of chapter. Turn the page!"
Readers will keep turning the pages. As the story unfolds, family members abandon each other, freak accidents occur, and ghosts haunt the living. McCracken's distinct humor enlivens the many plot twists, making for a novel "…that readers will sink into and savor." — Publishers Weekly
The Nowhere Child by Christian White
In this debut novel, we find stories within stories, but all the while a mystery is kept alive. Kim Leamy is a photography instructor at a community college in Australia. She leads a quiet life with reading her primary source of entertainment.
Her life is turned upside down one day when an American stranger approaches her in the school cafeteria and shows her an old photograph of a long-ago abducted child named Sammy Went. Kim insists she knows nothing about the kidnapping, but the man tells her that he suspects she is Sammy Went. Her initial reaction is that the kidnapped girl cannot be her. She has lived in Australia all of her life and has a birth certificate to prove it. To complicate matters, her parents are dead and there is no one that she can ask questions of.
But, Finn, the stranger, finally tells her that he is her older brother and is armed with a lot of documentation to prove that fact. He has been searching for Sammy for decades during which he has collected reams of information and even has DNA evidence to support his supposition. Kim agrees to accompany him back to America. They return to Manson, Alabama, a small town that is home to the Light Within, a fundamentalist Christian church whose members handle snakes and speak in tongues. Some of the members are also members of Sammy Went's family. Kim is about to get more enlightened than she ever dreamed.
The book moves forward in alternate chapters between the past and the present, and Sammy's previous life is slowly revealed. This juxtaposition of past and present keeps the tension high. If you're the impatient type, you may be tempted to skip ahead a few chapters, but you shouldn't. You should savor every bit of evidence the author throws into the story.
White is the Winner of Australia's 2017 Victorian Premier's Literary Award and an author to watch.
Sadness Is a White Bird by Moriel Rothman-Zecher
This searing debut novel begins in an Israeli military prison where Jonathan, who has just turned nineteen, stares at the ceiling of his cell, recalling the series of events that have led to his being there.
Raised in Pennsylvania, Jonathan has grown up on stories of his grandfather, one of the founders of Israel. Grandfather was a Salonican Jew, whose community in Greece was wiped out by the Nazis, and Jonathan has always dreamed of returning to Israel and joining the army. But he is also conflicted about the possibility of having to monitor the Palestinian occupied territories.
Two years before the beginning of the story, Jonathan and his family have moved back to Israel, where he can complete high school and serve his mandatory stint in the army. His mother is very involved in the peace movement, and Jonathan learns another side of Israel's history. He meets the twins of a friend of his mother, Laith and Nimreen. The three of them develop a close bond. They spend carefree hours exploring Haifa and the surrounding area. They hitchhike cross country and hang out in sea-side cafes.
Over time, Jonathan and Nimreen develop deeper feelings for each other, and Jonathan dreams of a future with her. A committed Zionist, Jonathan's perspective begins to change, but reality sets in when Jonathan introduces Nimreen to some of his Israeli friends and Nimreen takes him to meet her grandmother who lives on the West Bank. Jonathan wrestles with what it means to be proud of your heritage and loyal to your people but also feel love for those outside your tribe. And then the fateful day arrives that lands Jonathan in prison and changes his relationship with the twins forever.
"…Sadness Is a White Bird is part coming-of-age tale and part unblinking observation of a political situation that continues to defy solutions, treaties or agreements." — BookPage
At the Wolf's Table by Rosella Postorino, translated by Leah Janeczko
In conjunction with the 75th anniversary of the end of WWII, there are many books, both fiction and nonfiction, currently being published that deal with the war. This novel also deals with the war, but it is based on little known facts concerning women who were chosen for a very specific task in Nazi Germany.
Woldsschanze, the Wolf's Lair, was where the Wolf lived. The Wolf was Hitler's nickname.
In 1943 in Germany, Rosa Sauer is twenty-six, and her parents are gone, lost in the war. Her husband Gregor is far away, fighting on the front line. Impoverished and alone, she makes the decision to leave Berlin and go to live with her in-laws in the country.
One day the SS shows up at her in-laws' door and informs her that she has been chosen to be one of Hitler's tasters. Legions of people are trying to kill Hitler, trying many different plans. One thing the SS fears is that someone will poison Hitler's food. Rosa and nine other women are chosen to taste all of the food served to Hitler each day in case someone has managed to slip poison into his food. The women are expendable; Hitler is not.
As the tasters are forced each day to eat what might kill them, they begin to divide themselves into two different groups. One group, the Fanatics, is loyal to Hitler, and the other group is made up of Rosa and the tasters who insist they are not Nazis, even as they risk their lives daily for Hitler. As secrets and resentments grow among the tasters, this unlikely sisterhood reaches its own dramatic climax. It is the characters' unrelenting drive for survival that propels the story forward.
Postorino is an internationally-known author. She speaks fluent English, Italian, German, and French. This is her first novel to be translated into English.
The Current by Tim Johnston
Two girls, Audrey and Caroline, leave their college campus for the 700 mile drive to Audrey's home in Minnesota so she can visit her father, who is dying of lung cancer. Caroline is driving. This road trip will not end well for either girl. Nearing home, they skid on a patch of ice and are left hanging precariously over the edge of a steep cliff, but they are safe. They see the beam of another car's headlights approaching, but instead of stopping to help, they feel the other car tap on their car's bumper and they are sent plunging into the icy river below. One girl dies and the other barely survives.
The town is in shock. Rumors fly about the possible presence of another car at the scene of the crash. The accident brings back memories of a similar accident that took the life of Holly, then a teenager, ten years ago. Are the two incidents related? Tom, the town's former sheriff wonders. Holly's father has never forgiven him for not proving that a local teenager killed his daughter. Audrey, the survivor of this accident, feels that somehow she is connected to the former victim. Soon she is caught up in her own investigation that will unearth long hidden secrets. The dying sheriff, the grieving fathers, Audrey — none of them is prepared for what they will find.
Johnston's descriptions of people, places, grief, and loneliness are subtle and evocative. The characters are extremely well-developed, and the book is hard to put down and recommended for readers who love small town suspense. If you read Johnston's other book, "Descent," and liked it, you'll like his latest title. And if you haven't read "Descent," you probably should!
Golden Child by Claire Adam
The story begins in rural Trinidad with the thirteen-year-old Deyalsingh twins, Peter and Paul, and their parents, Clyde and Joy. Clyde works long, hard hours at a petroleum plant in order to give his children — or at least one of them — a better life. Peter, the scholarly, well-behaved twin, is the golden child of the title. His parents see a bright future for him, including college and escaping the hard life on the island. Paul, his twin, nicknamed Tarzan, is the wild child, socially awkward, a bundle of nervous tics, who has no interest in school and spends his time in the bush near his house. His future seems to doom him to a life of hard labor, much like his father.
Their story is roughly divided into three parts. The first part begins with Paul's disappearance after a tongue-lashing by his father. The second part revels Paul's troubled childhood, when he is labeled "mentally slow," while his brother is labeled a genius. It is also the part where a priest at the boys' school in Port of Spain gives Paul a glimmer of hope and the beginnings of some self-confidence. We learn of the tragic chain of events that leads to Paul's disappearance. In the third part, Clyde makes a heartbreaking choice — forced by a jealous family member — that seals the fate of the boys and their family.
This is a debut novel about class strife, masculinity, and brotherhood in contemporary Trinidad. It's a psychological study of how the twins are simultaneously lifted and doomed by the aspirations of their parents, relatives, and teachers.
"Adam excels at sympathetically depicting the world of economic insecurity, unpredictable violence, limited opportunity, and mutual distrust that forces Clyde and Joy to make their fateful decision." — Kirkus/BPI Communications
NON-FICTION
Maid: Hard Work, Low Pay, and a Mother's Will to Survive by Stephanie Land
"My daughter learned to walk in a homeless shelter," writes Stephanie Land in the opening line of her insightful, moving memoir. This debut memoir chronicles three years in the life of Land, a single mother raising a young daughter, and her struggle to do so on the unlivable wages of a maid. Pregnant at 28 and in an abusive relationship, Land left and was on her own. She worked for a firm that provided contract maids for residential house cleaning, It was constantly physically and emotionally draining work. Additionally, she occasionally had to rely on government assistance to get by. She describes in detail some of the hoops one has to jump through to meet some of the strange requirements needed to obtain that assistance, requirements that in themselves were confusing and emotionally draining.
When cleaning, Land imagines the lives of her clients and the chapters in the book are titled for an attribute that she mentally assigned to each house she cleaned — the Porn House, the Sad House, the Clown House, the Cat Lady House. She came to realize that despite her client's relative wealth, "They did not seem to enjoy life any more than I did."
Land's book illuminates the struggles of poverty and single-motherhood, the unrelenting frustration of having no safety net, and explores the ways in which our society is designed to keep the poor mired forever in poverty, with almost no hope of ever rising above. She also looks at people's "lousy attitudes" toward poor people.
Land's dream was always to write, and even while working she wrote, keeping journals and taking online classes with the help of grants and loans. Eventually, she was able to write this book and improve the lives of herself and her daughter.
"Some people who employ domestic labor will read her account. Will they see themselves in her descriptions of her clients? Will they offer their employees the meager respect Land fantasizes about? Land survived the hardship of her years as a maid, her body exhausted, and her brain filled with bleak arithmetic, to offer her testimony. It's worth listening to." — New York Times Book Review
Act Natural: A Cultural History of Misadventures in Parenting by Jennifer Traig
The word "misadventures" in the title provides a clue that this book is probably not the usual how-to manual for raising children. Alternately hilarious and disturbing, from the ancient Romans to the Puritans to Dr. Spock, we've come up with some strange ideas about how we raise our children. Traig traces these methods, which range from amusing to terrifying, to show how parenting (a term in use only since the 1970s — before that, children were "reared") has evolved over the years. "The things we take for granted as normal and natural strike parents in other parts of the world as absurd and dangerous," she writes in this survey of child-rearing tips through the ages.
Traig takes pains not to portray herself as an expert that anyone should emulate, although the topics explored in each chapter cover the normal topics one would expect to find in a book on childcare, including childbirth, feeding, sibling rivalry, sleep, and even children's literature, but as previously mentioned, they're not a "how to" guide for parenting children today.
In ancient Rome, for instance, parents "exposed" or abandoned their unwanted offspring, a kind of crude family planning. The Puritans often gave their children bizarre names for the purpose of moral instruction. Imagine a classroom full of Kill Sin(s) and Faint-not(s)! Traig's sardonic wit is on display throughout this book such as when she notes that "…many early gynecological texts were written by monks, who presumably knew less about female reproductive anatomy than anyone on the planet."
The book is thoroughly-researched and an incredibly interesting read. A parenting book that isn't trying to preach the latest parenting techniques is refreshing.
"The upside of reading 'Act Natural' is that you feel better about whatever nonsense your children have committed, which is the point." — The Wall Street Journal
Liquid Rules: The Delightful and Dangerous Substances that Flow Through Our Lives by Mark Miodowink
Do not start this book on a plane, even though Miodownik got the idea for the book while sitting on a plane. While listening to the flight attendant give the safety lecture, he got to thinking about how the plane was full of kerosene, an explosive 10 times more powerful than dynamite, and yet no one bothered to mention this in the safety spiel!
Miodownik begins by defining liquids as "a form of matter in which molecules swim around, making and breaking connections." Our lives are dominated by fluids. Petroleum and aviation fuel let us travel the world, coffee and tea stimulate us, and alcohol provides relaxation. But there is a price to pay for our free-flowing pleasures, and Miodownik makes this clear.
Miodownik uses the plane to explore different liquids. From beverage cart to lavatory to sky and tarmac, there are stories everywhere. Overhead air conditioning exists thanks to some of the most dangerous liquids on the planet. The beverage cart, from tea, coffee, soda, and wine holds many stories of liquids. Liquid adhesives hold planes together, the pen you use to fill out your customs forms is filled with marvelous ink. Flowing and solidifying in the right order and doing it consistently and fast is more difficult than it looks.
The author examines not just the liquids and how they work and why, but also looks at some of the consequences of using these liquids. One example he puts forth is liquid soap. We used to wash our hands with a solid bar of soap, but we grew tired of the gooey mess that forms in the soap dish as the wet soap rests there waiting for the next person to use it and after about half of the bar is used, it starts to look bad, and as it gets smaller and smaller, it gets more difficult to use, and we throw it out.
Enter liquid soaps. We can squirt them easily onto our hands with the push of a plunger or by just holding our hands below an automatic dispenser. They foam up nicely, wash off cleanly, and do not look scuzzy when half the bottle is gone. But here's the rub. Liquid soap's main ingredient is palm oil. To meet the ever increasing demand for palm oil for liquid soap, rain forests all across Malaysia have been felled. Thus the orangutan and Sumatran tiger are losing their homes at a rapid rate and are facing extinction. All this for a product that we wash down the drain.
"This popular science work straightforwardly and clearly explains 'the mysterious properties of liquids and how we have come to rely on them' in a novel, engaging manner." — Publishers Weekly
— Books recommended by Regina S., Collection Management Specialist