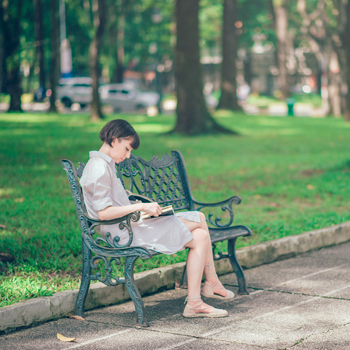 This time of year, we bet that all you want to do is sit outside and read a good book — maybe in a nice spot in The Backyard, the Doylestown library's newest outdoor space. If you're looking for something new to read, we recommend these fiction and nonfiction titles.
FICTION
The Gunners by Rebecca Kauffman
Reminiscent of The Big Chill and St. Elmo's Fire, this novel provides a cast of characters that will feel like old friends by the end of the novel. Mikey Cunningham, a thirty year old facing the loss of his vision, is trying to reconnect with his high school friends, the Gunners, as the group called themselves. After high school, the members of the group move on, growing up, learning more of the world, falling in love, drinking and exchanging secrets, until one of the group commits suicide. The center of this adventure becomes a search for the core of truth, friendship, and forgiveness. Kauffman is one of the most important young writers of her generation.
Circe by Madeline Miller
Miller reinterprets the Odyssey from the viewpoint of Circe, the goddess who turned Odysseus's men into swine. Miller's second novel may be about a goddess but also has a lot to say about being an empowered woman. Circe grows up despised by her parents and her siblings for her less than divine abilities. Seeking human relationships, she discovers her power to use herbs and spells. After transforming her poor fisherman into a god, he rejects her to partner with Scylla, Circe's archenemy. She retaliates by turning Scylla into a sea monster. Circe is now considered dangerous and exiled to an island. By the time Odysseus's ship arrives at her island on the return for the Trojan War, Circe reigns over a prosperous household. Welcome guests enjoy her hospitality. Unwelcome guests are turned into swine.
My Dear Hamilton: A Novel of Eliza Schuyler Hamilton by Stephanie Dray and Laura Kamoie
Fast forward from a woman of Greek mythology to a woman of the American Revolution. Following their book, America's First Daughter (Thomas Jefferson's daughter Patsy), Dray and Kamoie return with the story of Eliza Schuyler, raised in revolutionary New York, entering into marriage with one of the Founding Fathers and doing everything she can to ensure his place in history. This story is told by Eliza after Hamilton's death — she outlived him by fifty years. Her mature perspective of events frequently contrasts with her youthful perspectives, as when she views his early loyalty in contrast to his later infidelity. Eliza was known as "the finest tempered girl in the world" and turned down many wealthy, socially prominent suitors to marry General Washington's poor aide-de-camp. The novel details Eliza's many frustrations as Hamilton's helpmate and moral center. Hamilton often took Eliza's advice, but, the authors imply, not often enough. When a duel destroys Eliza's peace, she fights her husband's enemies to preserve Alexander's legacy. She struggles to understand the flawed man she married and the imperfect union he never could have created without her. This is a novel of historical fiction, but the authors used thousands of letters and original sources upon which to base Eliza's telling of her story.
America is Not the Heart by Elaine Castillo
This debut novel is a contemporary saga of an extended Filipino family. A former Communist insurgent, Hero de Vera, after being disowned by her parents, is forced to flee her homeland and move in with her aunt and uncle in San Francisco. For the most part, Castillo tracks Hero's experiences in the U.S. by highlighting two sustaining relationships. The most important relationship in the book, however, is the one she develops with herself. Particularly relevant in today's toxic political atmosphere, this is a rich, challenging read.
Country Dark by Chris Offutt
Tucker returns home from the Korean War in 1954 to rural Kentucky. He is not yet eighteen and has won eleven medals. Upon his return, he meets fourteen-year-old Rhonda under trying circumstances, marries her and takes a job as a driver in a bootlegging operation. He is devoted to his rural life and to his young wife and children. During the war, he underwent special training in killing other men, and when his post-war way of life is threatened, he realizes that he may have to take up his wartime skills to keep it all together. A book to be savored for its lyrical recounting of mountain life and its deep empathy for the characters.
NONFICTION
The Truth About Animals: Stoned Sloths, Lovelorn Hippos, and Other Tales from the Wild Side of Wildlife by Lucy Cooke
As founder of the Sloth Appreciation Society (Yes! There really is such a society!), Cooke, a British author, Oxford-trained zoologist and wildlife film documentarian, has an affinity for the maligned and misunderstood of the animal kingdom. Throughout time, humans studying the animal world have come to some astonishingly terrible and often hilarious conclusions. Cooke is out to set the record straight. Each chapter explores the myths surrounding a different animal, including the sloth, who can trace its ancestry back to the time of the wooly mammoth and saber-toothed tiger, both of which are now extinct while the sloth ambles on into the 21st century. There are chapters on bats, pandas, vultures, storks, and hippopotamuses, among other animals. Well researched and with an eye for the absurd, Cooke reveals that we don't know as much about the animal world as we think we do, and that some of our efforts toward conservation are misguided and that we need to take a broader view that encompasses habitat conservation. For animal lovers, natural history aficionados, and those interested in strange facts to amaze their friends.
The Girl Who Smiled Beads: A Story of War and What Comes After by Clemantine Wamariya and Elizabeth Weil
At six years old, Warmariya fled the Rwandan genocide of 1994 with her fifteen-year-old sister Claire. While visiting their grandmother, there was a knock on the door, and the girls were told to sneak out the back door. Thus began their lives as refugees. Never having even their elemental needs met, this story chronicles their six year journey through refugee camps in seven different African countries before Warmariya landed in America at the age of twelve. Her story is more than a conventional story about war and its aftermath; it is a powerful coming-of-age story. Wamariya explores her identity in the wake of a brutal war that destroyed her family. The work of finding home and feeling safe is something that every foe of immigration should ponder. This narrative is valuable in fostering such thought.
Rocket Men: The Daring Odyssey of Apollo 8 and the Astronauts Who Made Man's First Journey to the Moon by Robert Kurson
In its review of Kurson' book, the Washington Post says, "It's as close to a movie as writing gets." In December of this year we will celebrate the 50th anniversary of man's moon landing. In 1961, when President Kennedy promised to put a man on the moon before the end of the decade, the Russians were still the leaders in the space race. Most people are familiar with Apollo 11, the "one small step for man, one giant step for mankind" mission and Apollo 13, when the astronauts survived an explosion in the spacecraft while orbiting the moon — the "Okay, Houston, we've had a problem here" mission — but are less familiar with the Apollo 8 mission. Frank Borman, Jim Lovell, and Bill Anders were the first three men to orbit the moon, and this is the gripping story of the historically significant mission, which served as a test run for the eventual moon landing and was noted for capturing the famous 'Earthrise' photograph. A book for space buffs, for fans of Into the Wild by Jon Krakauer and Endurance by Alfred Lansing and for all the rest of us.
Natural Causes: An Epidemic of Wellness, the Certainty of Dying, and Killing Ourselves to Live Longer by Barbara Ehrenreich
Claiming to be "old enough to die", feminist scholar Ehrenreich (Nickle and Dimed) takes on America's obsession with aging, health, and wellness, exploring the social and cultural aspects of health and aging. And Ehrenreich knows of what she speaks; she has a PhD in cellular immunology. Her philosophy is that aging people have the right to determine the quality of their life and to forego the constant series of doctor's visits, the never-ending fads in wellness and diet, and the unending screenings that can dominate the life of an aging person. She analyzes the pervasive belief that we can control our lives. "We are not," she writes, "the sole authors of our destinies or of anything else." People should be free to decline painful and frequently ineffective treatments. She presents compelling evidence that some tests such as annual physicals have little effect on longevity or quality of life. She castigates physicians for ordering a plethora of superfluous, redundant tests and procedures. She takes on the self-help industry for its largely un-helpful ideas of selfhood and wellness. She explores the societal repercussions of how the wealthy, who have unlimited access to health care, look down on the poor who have no health care or access to inferior care. A powerful book that floods the mind with information and asks many agonizing questions, especially at this time in American with its ongoing battle about health care.
Look Alive Out There: Essays by Sloane Crosley
And now for something completely different. This is NYT best-seller Crosley's third collection of essays. But not your usual essays! A decade after I Was Told There's Be Cake, Crosley finds herself on the threshold of middle age, and she doesn't like it. Her essays give hilarious insights into the human condition, whether scaling a 20,000-foot volcano in Ecuador or inadvertently finding yourself flirting with a young clerk in the drugstore. Several essays deal with the human condition and urban life. "In "Outside Voices", the author tries to quiet a teenage neighbor's nightly carousing without becoming crotchety and square in the process ("I bit the bullet and called 311, a placebo service for cranks on the brink.") [Publishers Weekly]. Her observations are insightful and spot-on. The author uses humor to examine wealth and social mores, sex and equality, birth and death, topics that might not ordinarily lend themselves to comedy. All the essays work on multiple levels, and all are sharply written.
Books recommended by Regina S., Collection Management Specialist