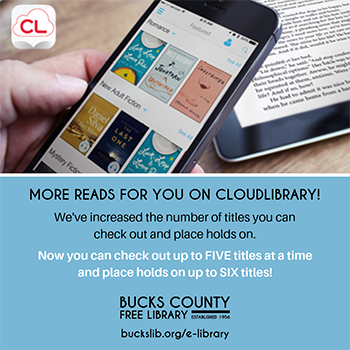 We've increased the number of titles you can check out on cloudLibrary from three to five! That means more e-books and e-audiobooks are available for you to stream or download right now.
Is the title you want currently unavailable? Then put a hold on it. We've increased your hold limit, too, from four titles to six titles. With more than 12,500 titles available in cloudLibrary, you're sure to find the perfect book to read.
What are you waiting for? Get started reading and listening now.
Are you new to cloudLibrary? You can use it on many devices, including:
Apple devices (iPad, iPhone)
Android tablets and phones
Kindle Fires
PCs and Macs
Chromebooks
Set-up is simple – download the app, log in one time with your Bucks County Free Library card, and you're set to read ebooks and listen to e-audiobooks anytime, anywhere! Keep your titles for 14 days, when they automatically expire from your account.