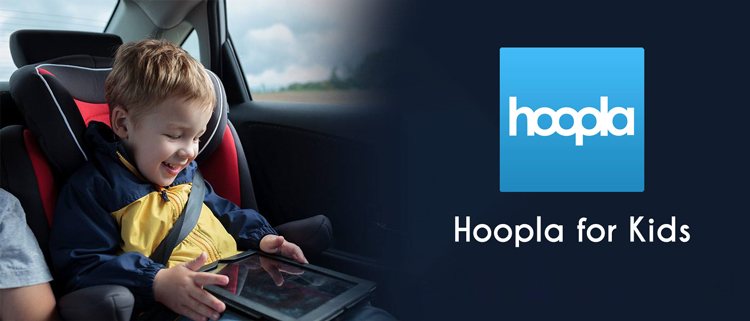 Hoopla is a digital service that brings to your devices an enormous selection of music, movies, audiobooks, comics, and television shows. No placing holds, no waiting for delivery, no disappointed kids – you can borrow instantly up to 10 items per month with your library card.
The selections are vast – so I am going to focus on the fun of choosing materials for children of all ages. Have you ever been trapped in a car with a grumpy toddler on a long road trip? Waited for a long time in the doctor's office waiting room? Here are some fun ways to make that time fly.
Let's Listen to Some Music
Start by clicking on Settings and turning on Kids Mode. Only kid-appropriate content will show in your browse and search results. If your child has a favorite musical performer, type their name in the search box. Once you have made your choice, click on borrow. Your title is available for seven days after you borrow it. Little kids will enjoy one of my favorite artists, Laurie Berkner. Her music is lively, danceable and fun to sing along with. School-aged children love the Kidz BOP series. These are Top 10 pop songs performed by teen artists with kid-friendly lyrics.
Let's Listen to Audiobooks
Children and families can listen to audiobooks as well. These are a great way to keep the entire family entertained on long car trips! Your selection is available for 21 days after you borrow it. You can learn some science with Miss Frizzle and enjoy books from the Magic School Bus series. Books that are seemingly always checked out at the library are always available on Hoopla. Check out a Wimpy Kid book, or laugh along with newest in Dav Pilkey's Captain Underpants series.
Let's Read a Comic Book/Graphic Novel
If comics and graphic novels are your child's passion, you can find many popular ones on Hoopla. How much laughter can you pack into your 21-day loan? Check out Big Nate by Lincoln Peirce. "As a popular middle-grade book character, Nate is 11 years old, four-and-a-half feet tall, and the all-time record holder for detentions in school history." Cartoon Network's most popular show is here in TEEN TITANS, as well as superheroes from Marvel and DC.
Let's Read an E-Book
E-books, such as the ever-popular Pete the Cat, are available for beginner readers. After your 21-day loan, your struggling reader will be reading with confidence and beaming with pride. Older students can enjoy the Percy Jackson series by Rick Riordan or Dan Gutman's My Weirdest School series. If you want to know more about these two popular children's authors, Hoopla offers short bios in their Children's Storytellers series.
Let's Watch a Movie
Family movie night is a tradition in many American homes. Fill a bowl with popcorn and put on your jammies! Hoopla has a great selection of movies to choose from. If the cold winter weather has you trapped indoors, remember "the sun will come out tomorrow" and check out Annie, the Musical. You can even watch a short film from Weston Woods Studios like Jane Yolen's How Do Dinosaurs series? These are part of 150+ titles to choose from in Hoopla's Weston Woods Collection bringing children's favorite books to life in audiovisual shorts. Movies are available for 72 hours after you borrow them. You can watch on your smart phone or tablet. Bring your Hoopla film to the big screen using ANY of these compatible streaming devices: AppleTV, fireTV, Roku, AndroidTV, Chromecast.
Kids can watch some favorite television series as well. The Wild Kratts are bringing early-elementary school children into the secret lives of extraordinary creatures, many of which have never been animated before – including proboscis monkeys, draco lizards, and caracals! Check out Nickelodeon favorites like Paw Patrol and and PBS Kids' Peg + Cat.
Hoopla? Hoo-ray! You're just a click away from a marvelous new adventure!
– written by Jeanne Z., Youth Services Assistant, Langhorne Branch