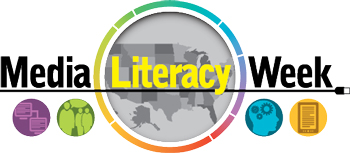 October 26 – 30 marks this year's Media Literacy Week! In a world where we're faced with information overload and evaluating conflicting information sources seems more important than ever, the National Association for Media Literacy Education (NAMLE) promotes "the ability to access, analyze, evaluate, create, and act using all forms of communication." We've rounded up some resources to help get you started.
Using your library card, you can access Lynda.com's Information Literacy course (1hr, 47min), taught by librarian Elsa Loftis. She'll share her expertise on how to conduct research, find and evaluate information sources, and use the information you find.
If you want to take a deeper dive, the popular YouTube channel Crash Course offers two fun and informative courses available for free online:
Crash Course Media Literacy (2hr, 4min), where you can learn about the history of media literacy, finding reliable information, and the effects of media on those of us who consume it; and
Crash Course Navigating Digital Information (2hr, 24min), which teaches you how to evaluate the information you encounter on social media, websites, and elsewhere. In the words of host John Green, "We're going to fact checker school!"
And be sure not to miss the resources on the official Media Literacy Week website, including a tip sheet for educators – Key Questions to Ask When Analyzing Media Messages.
And of course, library cardholders can always access news and magazines from Consumer Reports, Flipster, The New York Times, and Newsbank!
— Jennifer M., Collection Management Coordinator