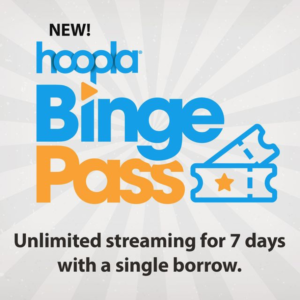 Introducing hoopla BingePass! Using just one hoopla Instant borrow, Bucks County residents can now stream certain kinds of content for 7 days.
Digital Magazines
Read current issues of more than 40 popular magazines, like Reader's Digest, HGTV, Popular Mechanics, Good Housekeeping and Time for Kids. The hoopla reading experience is specifically designed for phones and tablets, and you can even listen to the articles. Read as much as you'd like from multiple magazines with one BingePass.
The Great Courses
With The Great Courses, there's never any homework or tests – just in-depth instruction from some of the world's greatest educators. Each course is broken into multiple easy-to-watch video lessons so you can choose how much you want to learn at once.
BingePass grants you access to select courses in science, history, travel, health, art and more. Sample various courses or complete an entire course with one BingePass.
Try BingePass
BingePass is a new format on hoopla. You can search for BingePass items just like you would audiobooks, e-books or movies. To get started, update the hoopla app on your device, then tap "More" in the navigation menu.
Never used hoopla? Give it a try today! Bucks County residents can access hoopla's free e-books, e-audiobooks, music, movies, television, comics, and now magazines and The Great Courses.