Hey there, Kindle eReader users… we need to talk!
You might have heard that Overdrive will no longer be available through the Bucks County Free Library. For most of our eBook readers, the transition to cloudLibrary should be pretty smooth, but for those of us who love reading on our Paperwhites – it hurts a little, because Overdrive is the only service that allows borrowing library books in a Kindle eReader format.
I understand your disappointment – I originally purchased a Paperwhite so I could learn how to help patrons get library books onto this popular eReader. It quickly became my chosen device for reading ebooks – most likely for the same reasons so many of you love it: it's lightweight and the screen is easy on the eyes and visible in even the brightest sunlight, long battery life – and, just like you, I've been known to slide it into airplane mode occasionally if I haven't quite finished a library book by its due date. I know you don't want to be told "just read on a tablet". I know many of you have tablets already, but it's the simplicity of reading on a Paperwhite that you love – it's the closest in experience to a real book, without the distractions a tablet provides – like email, Instagram, and games.
I am here to help you find free books for your Kindle. But before we go any further, grab that tablet or laptop and write an email. If you would like to read ebooks on your Kindle eReader through cloudLibrary, email kindle-feedback@amazon.com and request that Amazon allow compatibility with cloudLibrary. Okay…finished? Let's find some books!
The Easiest Solution – Free Library of Philadelphia (FLP): Anyone who lives in the state of Pennsylvania can get a FLP card without charge. And FLP has Overdrive! And you can apply for a card online! (time to drag out that tablet again!). Here's the link.
To be honest, this solution will satisfy most of you. You can continue using Overdrive, you'll just need to add a new library and enter your FLP card number. But if you're looking for even more options, there are a few more.
Amazon: This is the path of least resistance! Amazon has a proprietary eBook format because they want you to buy from them. And even though you may be feeling good about them because they delivered dog food to your house during the pandemic, that doesn't mean you want to buy books from them – you're a book borrower – not a buyer!
Amazon has a lot of free books. The easiest way to find them is to look at their Top 100 Free Kindle Books.
You can also filter for "books" in the search bar and type "free Kindle books". You can add "classics", "mystery" or whatever other genre you enjoy. No matter what method you use, some of them will display the Kindle Unlimited logo next to the price. This is your signal to slow down and make sure you click the correct button.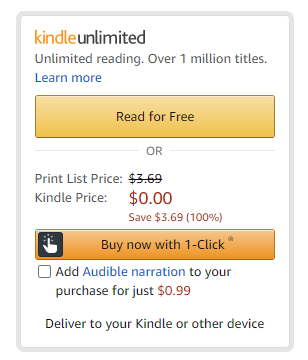 Even though what you want to do is "read for free" do not click that button (unless you have Kindle Unlimited). Click "Buy now with 1-click". But first, look at the Kindle price – if it says $0.00 (as it does in the image to the right) – it's free – click "Buy now with 1-click". Sometimes it will have an amount, so be sure you check. (You may decide that $2.99 for the classic I Capture the Castle: Deluxe Edition by Dodie Smith with a forward by Jenny Han is worth it – but maybe that's just me.)
If you are an Amazon Prime member be sure you're getting the full benefit of your membership by using Prime Reading and Kindle Owners' Lending Library. Another possibility is Kindle Unlimited, which allows unlimited reading of Kindle Unlimited titles for a monthly fee (kind of like Netflix for books). Luckily, Amazon is offering a 2-month free trial of Kindle Unlimited through September 30, 2020. If it's not for you, you can cancel.
If these options are making your head spin, this article explains the difference between the various Amazon subscriptions pretty clearly.
World Book Day: April 23,2021 is the next World Book Day. Last year on this day Amazon made nine books in translation available for free. Set a reminder now!
Project Gutenberg: If you love the classics, Project Gutenberg is for you. It has thousands of free books that are out of copyright – so you can find many oldies but goodies on this site. I get these books onto my Kindle through Calibre, an eBook management app I downloaded to my laptop. Step by step directions can be found here. Easy and fun!
Other Sources: There are many, many websites that provide lists of free Kindle books – you will find many by googling "free Kindle books". Most of these sites are very advertising heavy and they offer the same free books that you will find in Amazon. But you can often specify genres you're interested in and sign up for their email newsletter that will update you about new offers in the genre you specify. A couple of examples (but there are many, many others):
I hope you find some of this information helpful. And if you accidentally got addicted to your tablet while you were emailing Amazon, signing up for a library card, and googling for free books, you might decide to try out CloudLibrary after all! Everything you need to know to get started is right here.

Happy Reading!
— Pat H., Library Manager, Yardley-Makefield Branch