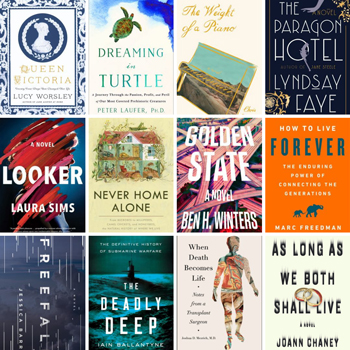 When it's too cold to venture outside, it's the perfect time to stay inside and read. Settle in with a blanket and your favorite hot beverage, and get ready to be pulled into one of these great reads.
FICTION
As Long as We Both Shall Live by Joann Chaney
Chaney grabs readers with her opening line: "If you try to kill your wife without a plan, you will fail." It's advice Matt Evans neglects to heed.
Matt and Marie have been married more than twenty years. They have two daughters in college, and like many couples, their marriage has become routine. To try to rekindle some of the magic, they plan a hiking weekend, something they both enjoy. They head for Rocky Mountain National Park near their home. Marie, taking a selfie, falls off a cliff into the river very far below. No one could survive such a fall.
Naturally Matt is a suspect, despite his protestations. But something doesn't add up for homicide detective Marion Spengle and her partner, Ralphie Loren. What doesn't add up is that twenty-five years earlier Matt's first wife, Justine, caught him with another woman, and the next day their house burned down with Justine in it. The lead detective at the time, Abraham Reid, never believed Matt's alibi but was never able to prove anything. Reid is now retired and living in Phoenix and joins Spengle and Loren in the search for Marie, dead or alive. Did Marie fall or was she pushed? Is she alive or dead? Together they work to ferret out the truth. Chaney expertly toggles back and forth between 1995 and 2018 to gradually reveal the truth.
"Marriage laid bare, with a riveting account of evasion and pursuit—and a zinger of a coda." — Booklist
Golden State by Ben H. Winters
California. The Golden State. Except now it is not a state, it is a nation unto itself. In this speculative fiction book, the United States has undergone an unknown disaster, seemingly related to the spread of misinformation and the erosion of objective truth. In response, California has become a separate nation.
It's a nation where contradicting the proclaimed truth is a heinous crime. Telling even a small lie can result in jail time. There is constant surveillance and rigid adherence to the collectively understood facts, referred to as Objectively So. Speculator Lazlo Ratesic, a special agent of the Golden State, is charged with rooting out lies and deception and upholding the state. Ratesic's special gift is being able to ferret out lies even as they are being conceived. He is committed to prosecuting untruths in all their forms.
Ratesic's emotional life is at odds with his professional success. He struggles with feelings he still has for his ex-wife and he lives in the shadow of his brother, a genius Speculator who was killed in the line of duty. One the day he is assigned a new partner to mentor. On the same day, a roofer falls to his death. Called in to investigate his death, Ratesic and his new partner find that the seemingly accidental fatality is filled with anomalies, which leads them to uncover a conspiracy with staggering implications.
"In many ways, Golden State is a reflection on contemporary preoccupations about fake news and alternative facts. In one passage, Ratesic struggles to picture a society without the Objectively So: Because just imagine–just imagine the alternative, the world in which a man encounters some scrap of information, about the murder rate in his neighborhood, or about the presence of troops on the northern border, or what time the bus is supposed to come… and then the next hour or the next day he hears something different, and it is impossible, literally impossible, to know which version is the real one. Madness creeps in very quickly at the edges of such speculation." — Shelf Awareness
Recommended for fans of dystopian fiction, especially the classics of the genre such as 1984 and Brave New World and the oeuvre of Philip K. Dick.
Freefall by Jessica Barry
We meet Allison Carpenter standing at the edge of a small plane crash in the Rocky Mountains. She has survived the crash of the plane while her fiancé, the owner and pilot of the plane, did not. She is bruised and not dressed for hiking in the mountains, but she suspects that the crash was not an accident. She rummages through the wreckage for what food she can find and sets off as the remains of the plane catch fire, obliterating all traces of the crash. While most people in Allison's situation would hope to be found, she suspects that the people who caused the crash are now looking for her and her intention is to somehow evade them.
Half a continent away, Maggie Carpenter, Allison's mother hears about the plane crash on the news, but instinct tells her that her daughter is not dead as reported. Maggie and Allison have been estranged for two years, and Maggie cannot believe the things she hears about Allison. The daughter she knows is a young woman who lived paycheck-to-paycheck and wanted to save the world. How did she end up engaged to the CEO of a pharmaceutical company, arm candy for the ultra-wealthy Ben Gardner? Maggie begins seeking the truth about Allison's life.
Soon everything Maggie thought she knew about her daughter begins to crumble and she uncovers a world of money, power, and deception that implicates everyone from the FDA to people much closer to home.
Maggie's voice alternates with Allison's, allowing Barry to show the full dimensions of her characters, and the complexity of unraveling family dynamics. Barry's meditations on mother-daughter relationships and female roles add great dimension to what otherwise would be a shallow plot. Still, this psychological thriller is perfect for fans of Liane Moriarty and Claire Mackintosh. This is a debut novel by the pseudonymous Barry and an Indie Next pick. And the cover is simple but very illustrative of the title, too!
The Paragon Hotel by Lyndsay Faye
It's 1921, prohibition is in full swing, and 'Nobody' Alice James, once a spy for a Mafia mastermind, is fleeing New York as fast as possible, aiming to get as far away as possible. She has a bullet hole in her side and a satchel containing $50,000. Boarding a train, she figures the West coast ought to be far enough away.
On her cross-country trip, she is befriended by an African-American porter, Max. He steers her to the Paragon Hotel, a haven for Portland's small but increasingly besieged black population. There, the owner, Dr. Pendleton, treats her wound, even though it is dangerous for a black man to associate with a white woman. So begins Alice's story at the Paragon.
The Ku Klux Klan is growing bolder in Oregon, so accepting a white boarder seems like a proposition fraught with danger for everyone at the Paragon, including Alice. Cautious at first, the residents gradually take to Alice, especially Blossom Fontaine, a charismatic cabaret singer. For her part, Alice has a heart full of gratitude. Using her skills honed as a spy, one of which is her ability to keenly observe things while remaining unnoticed, she poses as a journalist to investigate the disappearance of a young mixed-race boy who has been brought up communally by the residents of the Paragon, although he is special to Blossom.
As the investigation goes on, Alice runs afoul of Portland's violent anti-black element and becomes embroiled in the mystery of Blossom's past. As she gains access to Blossom's secrets, she also is thrown in contact with Evelina Vaughan, a white philanthropist, who has her own interest in the missing boy. What starts as a bit of Prohibition-era crime romp becomes increasingly relevant as issues of mental illness, race, and gender identity take on a heightened significance.
"As only the best historical fiction can do, The Paragon Hotel captures a certain period in time and gives the reader ample opportunity to draw connections with the present day. Faye's talent sparkles like champagne bubbles and bugle-bead fringe on a flapper's gown." — Jaclyn Fulwood, blogger at Infinite Reads
Looker by Laura Sims
There's nothing innocent about "looking" in Looker, the unsettling story of a woman obsessed with her celebrity neighbor. No Fatal Attraction bunny here, but there's a shrine created by the narrator who's stalking her neighbor, the Famous Actress. The unnamed narrator of Sims' debut novel, destabilized by her infertility, impending divorce, and her dead-end job as a poetry professor in night school, becomes obsessed by her new neighbor, the Famous Actress. Also never named, Famous Actress, seems to have it all. She's moved from unknown indie actress to superstar and has a handsome husband, three beautiful children, a cook, a nanny, and a gorgeous home into which Narrator can see from her stoop, where she sits to smoke endless cigarettes.
Narrator's heartbreak curdles into resentment and self-loathing. But she's also a poet with a wry, dark humor and a keenly observant eye. That vision slowly narrows to one obsessive point. She collects items from the Famous Actress's trash left on the curb and builds a shrine to her in her apartment. Famous Actress and Narrator finally meet at a neighborhood block party, and Narrator's attempt at friendship goes badly.
"Somewhat surprisingly, the most disturbing thing about Looker is the creeping sense of complicity that Sims engenders in the reader. Her first-person, present-tense narration forces readers to join the narrator as she grows more daring, as though we too are peering in the actress's kitchen windows and stealing things from her front yard. However, the actress is never more than an image, while the narrator's psychological unraveling is starkly, brutally real. By the end, Sims compels us to ask: have we been deranged, predatory voyeurs into the actress's life–or into the narrator's?" — Shelf Awareness
The Weight of a Piano by Chris Cander
In Russia in 1962, eight-year-old Kayla is bequeathed a Bluthner piano by her neighbor. Kayla lives to play, compose, and later, teach music. The piano is her prized possession. When Kayla is twenty-six, she flees Russia with her husband, who promises that her piano will soon follow. But circumstances conspire against Kayla, and the promised reunion does not happen.
In 2012, twenty-six-year-old Clara Lundy, a gifted car mechanic living in California, is thrown out of her boyfriend's apartment. In moving, she suffers a broken hand while moving her beloved piano. Unable for work and desperate for money, she decides to sell her piano, but after placing an ad on Craigslist, she has second thoughts. It is the only physical connection she has to her parents, who died in a fire when she was twelve.
The ad is answered by Greg, a photographer. Because she has changed her mind about selling, they negotiate a lease agreement which leads them on a journey through Death Valley, photographing the piano in places that Greg once visited with his mother.
Although readers will likely figure out the relationship Greg has to the piano rather quickly, the author beautifully explores the unexplainable genesis of artistic inspiration and examines how family legacy "…the physical objects people inherit, the genetic traits people carry on, and the generational lore people internalize… can both ignite the imagination and limit its scope." This is a beautifully told story of two strong women working to rebuild their shattered lives.
NONFICTION
When Death Becomes Life: Notes from a Transplant Surgeon by Joshua D. Mezrich
Over the last few years, medical memoir has become a genre unto itself, and this is one of the best. Mezrich is a transplant surgeon who cannot only replace an organ, but can write a mesmerizing story about the field of transplant surgery.
The author reminds us that, except for the occasional live donor, tragedy usually precedes every transplant. "Someone who had just died had saved the life of someone he had never met," he writes, "and we were the ones that made it happen."
Transplantation is a complicated field of medicine, and the author gives us a thorough history of organ transplantation starting with skin grafts and ending with liver transplants. Woven into this history is the invention of breakthrough treatments, such as dialysis and the invention of medications to prevent rejection.
Stories of the early days of hit-and miss-transplantation, actually begun in the late 1800s, through great advances made during WWII and continuing until today, complement his personal stories. The sections offering a history of transplants will enthrall most readers, except perhaps animal rights proponents, who will despair of the number of animals sacrificed along the way. However, Mezrich reminds us that plenty of human recipients also died miserable, painful deaths in the decades before doctors realized that immunosuppression drugs were required. In the 1960s and 1970s, half of the recipients died with the early versions of anti-rejection drugs then available, but since 1983, when the immunosuppressant drug, cyclosporine, was approved by the FDA, successes now exceed 90 percent, a staggering increase in the survival rate.
This is not just a story about doctors but tales of patients and donors, respectfully told. Ethical questions are also confronted, such as who should be at the top of the list of recipients.
"Success through perseverance is this book's main theme, and Mezrich does a commendable job sharing his death-to-life experiences in a vital field." — Publishers Weekly
Queen Victoria: Twenty-Four Days That Changed Her Life by Lucy Worsley
Victoria is back for season three on PBS, and Worsley presents a unique account of Queen Victoria, which focuses on twenty-four of the most important days of her life using research based on correspondence, as well as previously published books and articles.
Worsley is the Chief Curator of Historic Royal Palaces in England, so she has a unique access to the royal history of England. Victoria created a new role for the monarchy, one that relied more on influence than power and stemmed from her ability to garner people's respect despite their discomfort with a woman on the throne.
When she inherited the throne in June of 1837, upon the death of William IV, she avoided a regency by her mother, having turned eighteen only the month before. Headstrong, she out maneuvered the plotting of her mother and her father's friend, John Conroy, to control her own rule. She immediately distanced herself from them, choosing her own advisors.
When she married Albert in 1840, she struggled to reconcile her public role as queen with her private role as wife. And once she became a mother, she ceded government and family to Albert. She didn't enjoy her children except that they made Albert happy.
Widowed in 1861, her grief at Albert's death is legendary, but it also made her realize that no one could have mastery over her. It took another decade and the near death of her eldest son before Victoria adjusted to ruling on her own again, which she then did for another forty years. Her reign was longer than any other king or queen of England until her great-great granddaughter, the current queen, Elizabeth II, surpassed her in 2015.
Among the days covered in the book are Victoria's birth in 1819, her ascension to the throne, her coronation, her marriage to Albert and the prince's death in 1861. In addition to these specific days and twenty-one more, Worsley examines the complex relationship between Victoria and her mother, as well as taking a close look at court etiquette, customs, and family dynamics.
"Fans of biography and history, especially related to British history, should find this fascinating reading. Those interested in Queen Victoria will find this to be a wonderful addition to the literature." — Library Journal
How to Live Forever: The Enduring Power of Connecting the Generations by Marc Freedman
Freedman is an enthusiastic advocate for mixing rather than segregating the generations. His book expands his well-known TED Talk on the subject. He argues that the wholesale warehousing of our elderly into elder-only communities, segregated from the rest of the population is a grievous wound that we are inflicting on ourselves. The proliferation of these communities denies the young easy access to the wisdom and experience of their elders. They also make it difficult or impossible for the elders to employ the social, intellectual, and emotional skills gained over a lifetime.
One of the strengths of Freedman's book is his use of specifics. He relates story after story of communities that are working at mixing the young and the old and of programs he thinks are working.
"…his enthusiasm is infectious and affecting, and his agenda bristles with sincerity and significance. A book that grabs us by the shoulders, turns us toward an important issue, and grips us until we truly see and understand." — Kirkus/BPI Communications
The Deadly Deep: The Definitive History of Submarine Warfare by Iain Ballantyne
In his American debut, British naval historian Ballantyne tells the story of undersea warfare entertainingly without skimping on the technical details. He begins his history as far back as the ancient Egyptians and Greeks and their efforts to wage war underwater. Leonardo da Vinci is credited with the first design of an underwater craft, but he thought that it was a weapon that would make war even more devastating than wars had been in the past and ultimately destroyed his blueprints.
Ballantyne explores the role of the submarine in the American Revolution and the Civil War, but devotes much of the book to the use of the submarine in WWI and WWII. The devastation caused by the submarine in WWI, especially from the German U-boats, was so complete that it led to serious consideration of banning submarines as an "uncivilized disgusting outrage," putting them in the same class as poison gas.
The failure of the Allies to keep Germany in check allowed the Nazis to ignore the restrictions on submarine manufacture set forth in the Treaty of Versailles. In answer to Germany's renewed vigor of submarine manufacture, every major combatant fielded a submarine fleet by the end of the war, although some were much more effective than others. Both Germany and the U.S. made particularly effective use of the 'wolf pack' strategy to gang up on convoys.
Ballantyne brings his story up to the present with the placement of nuclear cruise missiles during and after the Cold War. He speculates on whether or not a new balance can arise between Russia and the West and whether other nations will use submarines to upset the balance.
"Much of the appeal of the book lies in the stories of submariners and their feats, such as the Japanese aviator who took off from a sub and fire-bombed an Oregon forest. Years later, he returned to apologize—and was made a citizen of the town he endangered. The book is full of such entertaining and moving stories, especially of the British submariners. An indispensable book for anyone interested in naval history and a great read for everyone else." — Kirkus/BPI Communications
Dreaming in Turtle: A Journey Through the Passion, Profit, and Peril of Our Most Coveted Prehistoric Creatures by Peter Laufer, Ph.D.
Most of us know a few basic facts about turtles: they have shells and are slow moving, egg laying, cold-blooded reptiles. For most of us, our knowledge ends there. Laufer, a documentary filmmaker and broadcaster as well as an author, has traveled the world in an attempt to understand the impact of humans on turtles, an order of reptiles that has existed since the time of dinosaurs. He hopes that his work will serve as "a call to action" to stop the trafficking that has brought many species to the brink of extinction.
Laufer says that everyone has a turtle story, and he focuses on these stories, interviewing herpetologists, conservationists, pet owners, turtle poachers and smugglers, and even chefs. For millennia, turtles have been trapped, fished, and hunted. They are revered in many cultures for their supposed medical value. The concept of conspicuous consumption exists in the taste for turtle meat, for pretty things made of tortoiseshell, such as combs and glass frames, and the selling of turtles as exclusive, exotic pets.
He studies the huge number of turtle species and their habitats, many disappearing, ranging from the desert tortoise in the southwest United States, to a Yunnan box turtle breeding project in China, to the Olive Ridley sea turtle in Gabon, Africa. The dialogue is interspersed with illustrations, facts, and statistics. Providing some comic relief and establishing an emotional connection with the reader, Laufer relates his own turtle stories involving his pet box turtle, Fred.
Laufer's book is "…a love letter to the species that will appeal to those fascinated by turtles and who care about the conservation of endangered animals." — Library Journal
Never Home Alone: From Microbes to Millipedes, Camel Crickets, and Honeybees, the Natural History of Where We Live by Rob Dunn
Forget Macaulay Culkin. We are never home alone as the cover of this book suggests! Through his research, Dunn, an ecologist at North Carolina State University, enlightens us as to the thousands and thousands of creatures that live alongside us in our homes all the time. Even if you pride yourself on your clean home, and thoughts of living with creepy crawlies, bad bacteria, and runaway fungi make you cringe, you will find this book to be fascinating. It will perhaps enable you look at your surroundings differently and appreciate the biodiversity of our indoor worlds.
'Indoors' is one of the fastest growing biomes today. Dunn has identified some 200,000-plus species that share our homes. While pathogens have been widely studied, many more potentially beneficial species are virtually unknown. Dunn looks for life-forms in basements, shower heads, drains, drywall, windowsills, light fixtures, and under beds and finds them everywhere. And don't forget all the things dragged indoors by our dogs and cats.
In trying to keep our houses spotless, we too often inadvertently kill off the benign and even helpful bacteria, insects, and fungi. For instance, spiders help keep mosquitoes and flies under control and certain species of wasps eat the larvae of German cockroaches. In our zeal to sterilize everything, we are losing valuable life forms.
Even in baking microbes play a part. In overseeing a study of sourdough bread baking, Dunn concluded that each starter was slightly different and contained microbes from different waters used, different microbes in the air in different parts of the country, and even the microbes from each baker's hands. All of these things contributed to slightly different tastes of sourdough products.
Throughout his book, Dunn encourages readers to become more aware of the world around them and makes a strong case for biodiversity. The book will fascinate biologists and general readers alike.
— Books recommended by Regina S., Collection Management Specialist