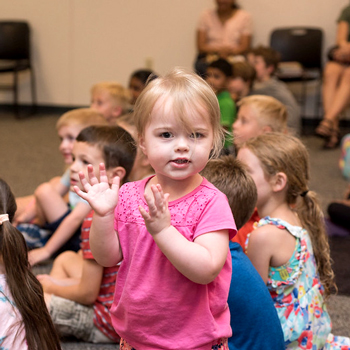 Do you have an energetic toddler on your hands? Or how about a restless child who just won't sit still for storytime? No need to fret, there are books for everyone! Here is a list of our favorite books for movers and shakers, guaranteed to get you and your child up and moving along with each story!
Spunky Little Monkey by Bill Martin, Jr. and Michael R. Sampson: Our first title is a lively story about a sleepy monkey who just needs a little exercise to wake up and start his day. Find your rhythm and follow along with the moves of this energetic book.
From Head to Toe by Eric Carle: One of Eric Carle's classic stories, this book challenges you to move like the animals do. From bending your neck like a giraffe or arching your back like a cat, everyone will enjoy testing their flexibility with this read aloud.
Farmyard Beat by Lindsey Craig, illustrated by Marc Brown: There's no stopping the beat in this farmyard story! The animals on the farm are having a hard time falling asleep as each one wakes up the next with the catchy rhythm. Naturally pleasing to the ears, this story makes it easy to sway along and keep the beat.
Hop, Hop, Jump! by Lauren Thompson, illustrated by Jarrett J. Krosoczka: Super interactive, every page of this story gives directions for movement! With simple commands and accompanying illustrations, kids will enjoy directing their friends how to move. It's like gym class in a book!
Shake the Tree! by Chiara Vignocchi and Silvia Borando: A new release in the U.S. last year, this untraditional shaker book is suspenseful and engaging. Each animal in the story shakes the tree trying to get their next meal. The reader mimics this by shaking the book right and left. Give it a shake and try it out!
You Are a Lion! And Other Fun Yoga Poses by Taeeun Yoo: Yoga for kids is a recent popular trend in library storytimes. Use this book to learn some simple poses. The colorful step-by-step illustrations make it easy to move like your favorite animal.
A Hop is Up by Kristy Dempsey, illustrated by Lori Richmond: Follow along with a lively puppy as he takes a walk around his neighborhood. This story invites you to jump, leap, and spin like the doggie on the leash. Move like the pup and give this story a try!
So, the next time your child is full of energy and looking for something to do, don't hesitate to grab a movement book. It might be a bit of unexpected, but also just want they need. Check out one today!
— Recommended by Sharon F., Programming Assistant, Children's Services