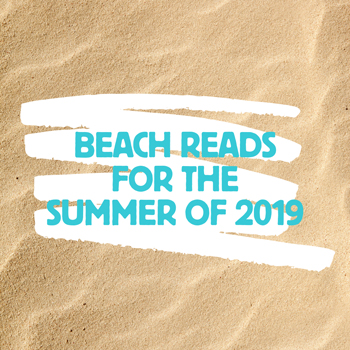 As you're packing for the shore, make sure you remember the essentials: snacks, sunscreen, and something to read! If you're looking for something fun and easy to toss in your beach bag, consider making one of these page-turners your next beach read.
The Bride Test by Helen Hoang: If you loved last year's The Kiss Quotient, don't miss Helen Hoang's latest. At the instigation of his matchmaking mother, Khai is spending the summer with Vietnamese immigrant Esme, even though he's sure his autism means he's just not wired for love. Meanwhile, Esme is trying to find her American father while going back to school in pursuit of a better life for herself and her young daughter. By turns funny and steamy, The Bride Test follows these unlikely lovers as they navigate cultural differences, misunderstandings, and personal secrets to a well-earned happy ending.
Midnight Blue by Simone Van Der Vlugt: Fans of Girl with a Pearl Earring should be sure to check out this novel, which follows widowed Catrin as she moves to seventeenth-century Amsterdam and enters the artistic circles of Rembrandt and Vermeer, while past secrets threaten her newfound success. Fast-paced and with a strong sense of place, it's sure to hook lovers of historical fiction.
Pride, Prejudice, and Other Flavors by Sonali Dev: Sometimes we all just want another Pride and Prejudice adaptation, and this one promises to be all we could hope for and more. Dev transplants the setting to present-day San Francisco's Indian expat community in a story that takes on issues of race, class, and privilege while still delivering the satisfying romance that Austen fans crave.
Red, White & Royal Blue by Casey McQuiston: This funny, charming enemies-to-friends-to-lovers tale has gotten rave reviews from our librarians. When the son of the first female president of the United States and his nemesis the Prince of Wales cause an international incident at a royal wedding, they have to pretend to be best friends in order to smooth things over. Their fake bromance turns into a real romance, but soon enough the power of love will have to face up to the power of campaign season. Sweet, optimistic, and hilarious, McQuiston's debut definitely deserves a place on your summer reading list.
Welcome to Lagos by Chibundu Onuzo: If all this romance isn't your speed, take a look at Chibundu Onuzo's American debut. This fast-paced caper follows former army officer Chike Ameobi and his odd band of runaways – military deserters, civilians fleeing domestic violence, and a teenage troublemaker – as they try to make their way in the megacity of Lagos and redistribute millions embezzled by a former government minister. Welcome to Lagos is a found-family story that also offers readers a nuanced portrait of an African city too often stereotyped by Western observers.
Did you know you can use Novelist, available to Bucks County library card holders, to find more books you'll love? Go beyond genre to browse by writing style, pace, and tone, or look up your favorite book to find others like it!
And for instant gratification, browse Hoopla's collection of beach-ready eBooks and eAudiobooks – they're always available and don't take up any extra room in your beach bag!
-Books recommended by Jennifer M., Collection Management Coordinator (check title)