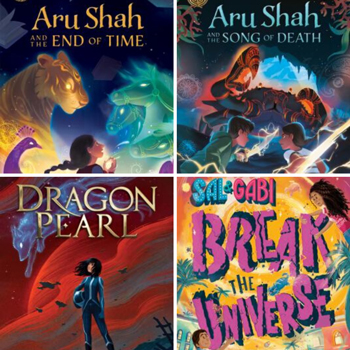 If you like Rick Riordan's Percy Jackson, try the Rick Riordan Presents books, published by Disney-Hyperion. These books are packed with middle grade adventure, humor, and action, featuring gods, heroes, and folklore from underrepresented cultures or backgrounds. These original fantasy stories are written by various authors that share their own heritages and world mythologies. These books are available from our catalog in print and electronic format.
The Fire Keeper by J.C. Cervantes
In this cleverly plotted sequel to The Storm Runner, the gang is back together again with spirited new characters, sneaky gods, Aztec royalty, unlikely alliances, and secrets darker than Zane could ever have imagined. Secrets that will change him forever. This story features gods from both Maya and Aztec myth.
Tristan Strong Punches a Hole in the Sky by Kwame Mbalia
This epic middle grade fantasy is set in a richly-imagined world, populated with African American folk heroes and West African gods. The book stars Tristan, a seventh-grade boy, who accidentally creates a hole into the Midpass, a world where ancient African gods clash with gods of African-American legend. He must repair the rip before the iron monsters wreak havoc in the Midpass and take over the world.
Race to the Sun by Rebecca Roanhorse
Seventh grader Nizhoni Begay and her brother, aided by various Navajo gods disguised as relatives, must stay one step ahead of a shape-shifting monster as they follow in the footsteps of the legendary Hero Twins to save their family. Timeless themes such as the importance of family and respect for the land resonate in this funny, fast-paced, and exciting adventure set in the American Southwest.
Aru Shah and the End of Time by Roshani Chokshi (Book 1)
Rick Riordan introduces this adventure about twelve-year-old Aru Shah, who has a tendency to stretch the truth in order to fit in at school. Aru quickly discovers that she should never have lit the ancient lamp in the Museum of Ancient Indian Art and Culture, which has proved to have dire consequences. She gets launched into a mystical world of the gods, while her classmates and mother are frozen in time. It's up to Aru to save them, but how is one girl in Spider-Man pajamas supposed to do all that?
Aru Shah and the Song of Death by Roshani Chokshi (Book 2)
In this sequel to the book above, the Otherworld goes into full panic mode. Aru and several others battle demons, travel through a glittering and dangerous serpent realm, and discover that their enemy isn't at all who they expected.
Dragon Pearl by Yoon Ha Lee
Rick Riordan Presents this space opera about thirteen-year-old Min, who comes from a long line of fox spirits. But you'd never know it by looking at her. To keep the family safe, Min's mother insists that none of them use any fox-magic, such as charm or shape-shifting. They must appear human at all times. This sci-fi adventure, with the underpinnings of Korean mythology, will transport you to a world far beyond your imagination.
Sal and Gabi Break the Universe by Carlos Hernandez
This brilliant sci-fi romp with Cuban influence poses this question: What would you do if you had the power to reach through time and space and retrieve anything you want, including your mother, who is no longer living (in this universe, anyway)? A sassy entropy sweeper, a documentary about wedgies, a principal who wears a Venetian bauta mask, and heaping platefuls of Cuban food are just some of the delights that await in this mind-blowing novel of love and laughter.
For more information on this series visit: http://rickriordan.com/rick-riordan-presents/.
— Recommended by Kathleen L., Collection Management Librarian