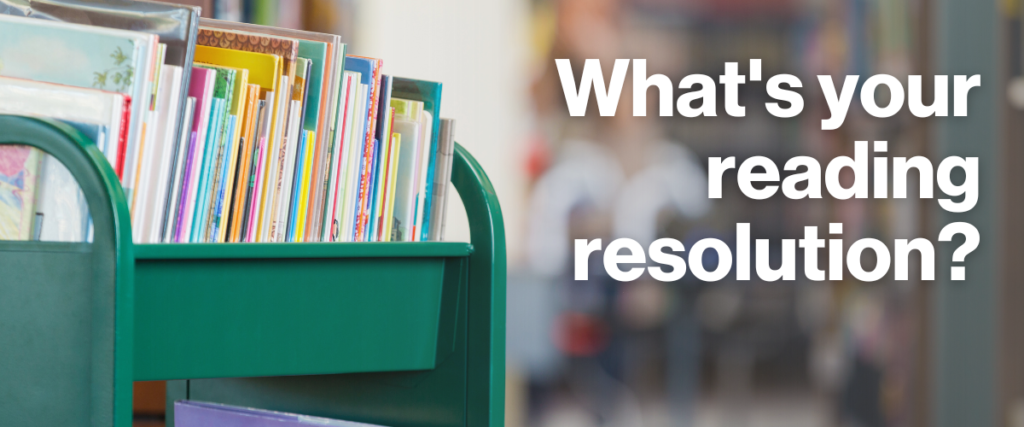 Many avid readers set a goal for how many books they want to read each year. But there are other ways to encourage yourself to read! If you're looking to change up your reading goal for 2023, make one of these reading challenges your New Year's resolution.
If you get stuck or want some suggestions for what to read next, talk to the staff at your branch. We'd love to help you pick books that meet one of these challenges!
The A-Z Challenge
This popular challenge is straightforward: read at least 52 books, with each title beginning with a different letter of the alphabet. Get all the way from Animal Farm to Zen and the Art of Motorcycle Maintenance!
The Own Voices Challenge
Resolve to read books written by authors whose life story differs from yours. Look for writers of different races or ethnicities, nationalities, genders, orientations, religions, or physical/mental abilities.
These library lists are a great place to start:
The DNF Challenge
If you're the type of reader who refuses to give up on a book, challenge yourself to let go this year. In the online reading community, DNF stands for Did Not Finish, and it's a good thing! You should dedicate your time to books you really enjoy. Think of it this way: no author wants you to slog through their work. It's better to pass it along to someone who will love it.
The Read the World Challenge
There are two ways to read the world: choose books that take place outside the United States, or books whose authors are not from or living in the United States. Translated novels are a great place to start!
The Audiobook Challenge
If you always read e-books or physical books, try audiobooks this year! (Yes, listening to an audiobook counts as reading.) Audiobooks are great for pairing reading with exercising, driving to work, or chores around the house.
Your local branch offers audiobook CDs. You can also download audiobooks right to your phone or tablet through the cloudLibrary app.
To take on this challenge, listen to at least one audiobook every month, or pick a number of audiobooks you'd like to read in 2023. Here are some audiobook titles to get you started.
The Genre Challenge
Each month, read a book in a genre that you rarely or never read. For instance, if you typically read literary fiction, try a graphic novel or a historical thriller. Or mix in some poetry and short story collections – they'll give you a new appreciation for longer fiction!
The Crème de la Crème Challenge
Resolve to read award winners from 2023 and years prior. No matter your preferred genres, there are awards that can guide you toward excellent reads. From the Booker Prize to the Bram Stoker Award, make room on your TBR (to be read) list for celebrated titles.
The No New Books Challenge
Resolve not to buy any new books in 2023. Instead, take advantage of used book sales, your TBR pile, and, of course, your local library. You could also shift your purchases to local bookstores only and resolve not to buy new books from big box stores and major online retailers.
The Tastemaker Challenge
Write a review for every book you read this year. Reviews can help you reflect on what you're reading AND they contribute to the reading community, especially if you loved a book and want to support the author.
In addition to reviewing books on Goodreads, you can rate and review books in the library's online catalog after setting up a community profile. Or you could share your reviews with the reading communities on Instagram or TikTok.