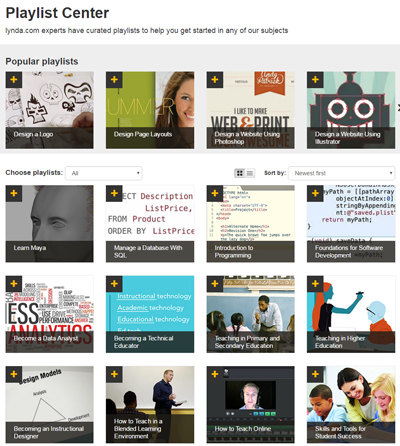 When is a playlist not a list of songs inviting you to dance, sing, or run? When it's a group of videos inviting you to learn.
If you've tried learning a new skill online using the free educational resources in our e-Library, you may have found the number of choices so overwhelming that you didn't know where to start. A playlist, a list of educational resources by topic, can help narrow your choices.
Lynda.com – Free with your Bucks County Library Card
With 4,449 courses and 172,646 videos, Lynda.com can help you learn about business software, photography, game development, and small business marketing, among many other subjects.
Say you'd like to improve your photography skills – which of the 622 photography courses should you start with? That depends on what you want to focus on – and that's where playlists can help.
Choose photography playlists and you'll see you can learn how to: Take Better Portraits, Learn Lighting for Photography, Improve Your Travel Photography, or Master Macro and Close-Up Photography. Suddenly, those 622 photography courses have order, and you can choose based on the specific skills you want to master.
Other popular playlists can help you to Design a Logo, Learn Programming, Prepare for a Network Exam, Develop an App, Learn How to Teach Online, and Design a Newsletter.
View all Lynda.com playlists, and try something new today.
To use Lynda.com for free, access it through our e-Library. You'll need your library card and PIN.