Missing storytime? We are too!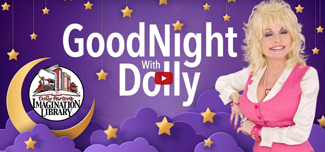 Although there is absolutely no substitute for gathering together to read each week with our library friends, we have been excited to see some of our favorite celebrities and authors stepping up to share stories and activities while the world is hunkered down at home. Stories can provide comfort and can help us find joy — or even just a little distraction — when times are rough and scary. Here's a rundown of some of the best of what's out there!
Not to play favorites, but first off you simply have to visit Dolly Parton's "Goodnight with Dolly." for a bedtime story… any time of day! Dolly has a long history of bookish philanthropy, so it goes without saying that some of us at the library are big fans. Along those lines, self-described "Reading Rainbow Guy" Levar Burton is sharing magical stories and reading goodness for all ages on his Twitter account: Mondays for children at noon, Wednesdays at 6 p.m. for YA, and Fridays at 9 p.m. for adults. Take a look, it's in a book… 🎶🌈
The Screen Actors Guild Foundation's Storyline Online offers an expanding collection of stories read by some of your favorite actors and actresses. On their site you can catch Chris Pine reading "Clark the Shark," Viola Davis reading "Rent Party Jazz," David Harbour reading "Snappsy the Alligator (Did Not Ask to Be in This Book), Dulé Hill reading "As Fast as Words can Fly," and of course, QUEEN Betty White reading "Harry the Dirty Dog."
Follow the Save With Stories Instagram for stories right on your feed from celebrities like Kate Winslet, Mindy Kaling, Henry Winkler, and, more impressively, some amazing community helpers, like Headstart teacher Mr. V and educators Mrs. Sironi and Mr. Castles. They even have a story with baseball mascot Mr. Met – Gritty, are you ready for your close up?
Disney stars are throwing up some amazing stories – check out their YouTube channel for fantastic performances from Ming-Na Wen, Yvette Nicole Brown, Auli'i Cravalho, Bobby Moynihan, John Stamos, and more.
Don't forget PBS Kids! They have some great storytime content on their YouTube channel, including videos with Pinkalicious author and illustrator Victoria Kann, Wild Kratts co-creator Martin Kratt and Squeaky the Cat, and a new weekly series every Monday, Read Along with Michelle Obama!
Meanwhile, if it's Hogwarts you're longing for (Hufflepuff represent!), Wizarding World's Harry Potter at Home has some amazing stories and activities to keep you casting spells and drawing Nifflers. Does your house contain a Dog Man fan? Visit Dav Pilkey at Home, where Dog Man and Captain Underpants' creator presents a ton of new stuff for kids each Friday. And you can find more picture book excellence from Mac Barnett and Oliver Jeffers, who have some super videos and live readings of favorites like "Extra Yarn" and "The Day the Crayons Quit."
Finally, we just have to include the very charming Little Angel Theater. Their readings of classic fairy tales, make-your-own puppets and puppet show tutorials, and spectacular cardboard theater performances of Jon Klassen's "I Want My Hat Back" and "This is Not My Hat" really made our imaginations bloom.
We hope that you're reading together at home, and really look forward to when we can get together at the library again. If you're nearing the end of your picture book pile, be sure to check out the library's digital resources like Hoopla and cloudLibrary for picture books, read-a-long stories, and more — we've got you covered!
— Michelle K, Youth Services Librarian