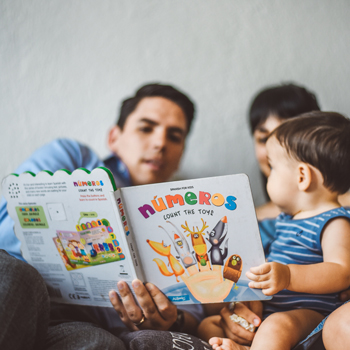 We know it's hard to be stuck at home with little ones who have become used to a daily routine. We thought providing resources for doing an "at-home" storytime might help any families or little ones missing their weekly storytime routine at the library!
Below are some songs, rhymes, and stories you can access from the comfort of your home! All you need is a library card! We recommend breaking up stories with 2-3 songs or rhymes in between; however, you know your little ones best!
Songs
A lot of the songs we choose in storytime are so that children get up and moving and are engaged. We also try choosing songs that build vocabulary and connect words to their meanings or actions.
Best of Raffi

"Shake Your Sillies Out": this is a great action song to get the kids dancing around that also allows them to start recognizing the connection between words and actions.
"Wheels on the Bus"
"If You're Happy and You Know It"

"Sleeping Bunnies" performed by Jbrary: this is a storytime favorite that the kids really love to do!
"Head, Shoulders, Knees and Toes" by Music For Little People Choir (100 Toddler Favorites album)
Rhymes 
A lot of these rhymes are good for building some fine motor skills. We do "Open Shut Them" to build hand muscles for when your little ones begin to write and "The Itsy Bitsy Spider" to help them focus on finer movements and dexterity.
Laurie Berkner's Favorite Classic Kids' Songs

"There Were Five in the Bed"
"The Itsy Bitsy Spider"
"Open Shut Them"

"Roly Poly" performed by Jbrary
"Popcorn Kernals" performed by Jbrary: this is another fan favorite at storytimes. If you don't have a scarf of some kind at home, try using a tissue or a wash cloth or maybe even a few scrunchies or socks. 
Stories
We are lucky to have a wonderful resource called BookFlix that turns picturebooks into viewable videos! Of course, you can also use some e-Book picturebooks as well. Below are some favorites:
BookFlix Titles:
Bear Snores On by Karma Wilson*
Click, Clack, Moo Cow that Type by Doreen Cronin*
How Do Dinosaurs Say Goodnight? By Jane Yolen & Mark Teague*
Inch by Inch by Leo Lionni
Painting a Rainbow by Lois Ehlert
Chicka Chicka Boom Boom by Bill Martin
Knuffle Bunny by Mo Willems*
The Red Hen by Rebecca & Ed Emberley
I'm Brave by Kat & Jim McMullan
Giraffes Can't Dance by Giles Andreae
*these titles are also available in Spanish
e-Book Titles:
We hope that some of these stories, songs and rhymes can help you at home. While storytimes are currently canceled for the time being, we hope these resources will allow you to continue sharing some of the joy and learning of storytimes to your little ones at home! Have fun and stay safe!
— Nicole S., Youth Services Librarian, Quakertown